Star Wars: Episode 9 - What We Know So Far About The Rise Of Skywalker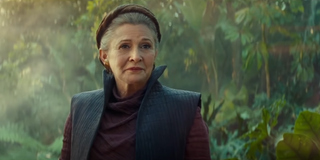 Star Wars: Episode IX is still several months away but it's never too early to look forward to what the Star Wars galaxy will be bringing to our movie screens. While most of the details are still being tightly guarded, that doesn't mean we don't know anything about the movie that's set to be the end of the Skywalker Saga.
A lot of what we do know comes from the either first teaser, which was released at Star Wars Celebration in April, or the new trailer from D23, which has a very intriguing ending that we'll get into a bit later. Check it out!
Let's Talk About That Title
One of the biggest questions about Star Wars: Episode IX was what the movie itself would actually be called. The question was answered at the end of the teaser, with the subtitle The Rise of Skywalker. Of course, with that answer comes a host of new questions.
What exactly does that mean? With Luke Skywalker apparently dead, it seems unlikely the title refers to him. With Carrie Fisher's role of Princess Leia limited due to her death, it would be difficult for the film to focus too much on her. There are many theories already about what the title could mean. We likely won't know the truth until we actually see the movie.
One interesting suggestion that has been thrown around is that Rise of Skywalker could reference the Rise of a new order of Force users, one that is neither Jedi or Sith. Perhaps it takes its name from the family that personified both sides of the previous separation.
What Is The Star Wars: Episode IX Rating And Release Date?
There was a time when the one thing that we knew for sure about Star Wars: The Rise of Skywalker was its release date. It was set for May 24, 2019. Following the delay in Star Wars: The Last Jedi which shifted it from a summer to a holiday release in 2017, the Star Wars franchise was set to move into the summer of 2018 with Solo: A Star Wars Story and Star Wars: Episode IX was set to hit almost exactly a year later.
However, due to one very big change the movie is going through, which we'll be getting into in a minute, Star Wars shifted back to a holiday release schedule. The movie is currently set to debut on December 20, 2019. This will see it open against the cinematic adaptation of the Broadway show Cats, and a week after Jumanji: The Next Level.
While it's far too early to know the MPAA rating of The Rise of Skywalker, thus far, every Star Wars film under Disney has obtained a PG-13 rating. At this point, we have to assume that Star Wars: Episode IX will also be a PG-13 film.
Who Is Directing Star Wars: Episode IX?
At least when George Lucas was in charge, we knew the answers to such complicated questions as, "who's directing this?" Star Wars had been looking to fairly new, but accomplished, directors to make a lot of their new movies. Following names like Gareth Edwards and Rian Johnson, Jurassic World director Colin Trevorrow had been tapped as the man taking the reins to close out this new trilogy. However, in September of 2017, it was announced that Trevorrow and Lucasfilm had mutually agreed to part ways.
Trevorrow's last movie, The Book of Henry was critically slammed, leading many to wonder if the director's chair would be reconsidered, and while it's not clear what role, if any, that movie played in the decision, Trevorrow has now followed Josh Trank, Phil Lord, and Chris Miller into the "almost Star Wars directors" club. A few days after the announcement of Trevorrow's departure it was confirmed that Star Wars: The Force Awakens director J.J. Abrams would be returning to finish the trilogy he started.
What Is Star Wars: Episode IX About?
Well, that is the question now, isn't it? On the one hand, we know exactly what Episode IX will be about, as it will close out this third Star Wars trilogy, bringing the stories of Rey, Finn, Poe, Luke Skywalker and everybody else to some sort of conclusion. We fully expect the First Order to be defeated and for a new era in the galaxy to begin.
But, as far as how any of that might happen, we have almost no clue. Certainly, with Star Wars: The Last Jedi having left things in a particular way, we can now speculate where the final movie will start, based on where the previous one ended. There's a lot that can still happen to our favorite characters. The new movie is set to pick up about a year after the events of The Last Jedi. This means we'll find our characters in a very different place compared to how we left them, but how much has changed?
Individual pieces of the footage we've seen have appeared to show a return to the ruined Death Star from Star Wars: Return of the Jedi, and possibly even a new Death Star weapon. We also know we'll finally see the Knights of Ren make an appearance, but these are just pieces, there's no clear thread connecting any of them
What About Carrie Fisher?
Star Wars fans were rocked in December of 2016 when Carrie Fisher passed away. While she had completed her work in Star Wars: The Last Jedi, nothing had even begun to get started on Star Wars: Episode IX. This left us with a finale to The Last Jedi that left Leia's story open for the next chapter, but now without an actress to finish it out.
For a long time, things were left up in the air, it was clear that even Lucasfilm needed to sit down and figure out what to do. In the end, the studio found a way to include Carrie Fisher and General Leia.
It was an odd coincidence that, in the days immediately prior to Carrie Fisher's death, we saw another actress play the role of Princess Leia in Rogue One: A Star Wars Story. Thanks to advances in CGI, the actress playing the part looked just like Carrie Fisher circa 1977. This led to the obvious question of whether or not Lucasfilm might try to do the same thing for an entire movie, allowing General Leia to finish out her story arc, looking like Carrie Fisher but being played by somebody else. Disney eventually quelled the fears and confirmed that this would not happen.
Instead, it was decided that there was enough unused footage of Carrie Fisher from the two previous Star Wars films that could be re-purposed to bring Leia back for the final entry in the film. We got to see a brief moment of this in the new teaser and another in the D23 Expo footage.
All of this is especially sad and confusing because, based on comments by Lucasfilm chief Kathleen Kennedy, Episode IX was originally going to spotlight General Leia. According to Kennedy...
Just how much Leia will be at the center of the story of The Rise of Skywalker remains to be seen, but simply the fact that she'll be there at all is a comfort.
Rey
Rey has been our focus character since the beginning of Star Wars: The Force Awakens and we expect that will continue through the end of this trilogy. In the first movie, she became aware of her Force abilities and in Star Wars: The Last Jedi she was trained by Luke Skywalker. In many ways, her arc appears to mirror that of Luke himself. If we continue this idea through The Rise of Skywalker then we would expect to see Rey as a powerful Force user in the movie leading toward a final confrontation with Kylo Ren.
Another thing we learned about Rey in The Last Jedi is that her parentage was apparently of no consequence. While many theories had Rey herself as a Skywalker or a Kenobi, that seems not to be the case. However, J.J. Abrams recently said there is still more to Rey's story that we will learn in the final movie. Perhaps it will be something that helps the title make sense.
However, the thing that now has everybody talking about Rey is the final shot from the Rise of Skywalker footage that dropped at D23 Expo. It shows Rey with a new kind of lightsaber, that shifts from a double bladed sword into a Darth Maul style staff. But more importantly, the lightsaber in question is red and Rey is looking less like a Jedi and more like a Sith.
Is Rey going to the dark side? Is this a clone? Or maybe it's a vision of what could be, similar to the one Luke Skywalker had in that gave on Degobah.
Finn
Finn may be the biggest question mark of a character in Star Wars: Episode IX. He started his life as a brain-washed drone, a Stormtrooper working for the First Order. In The Last Jedi, Finn tried, and failed, to rescue the Resistance alongside new ally Rose Tico. His ultimate goal then was to be reunited with his friend Rey. At the end of the last film that finally happened, and Finn has found his place with the Resistance. The D23 footage showed him alongside new character Jannah, who is another character we have a lot of questions about.
Poe Dameron
Poe was a popular character in Star Wars: The Force Awakens, even though he had relatively little screen time in the movie. Poe did a lot more in Star Wars: The Last Jedi, though he was fighting Leia and her decisions the entire way. Mutiny? Poe, you surprise us. Where will this pilot go in Episode IX? He's an important part of Leia and Rey's new band of Rebels. And with the promise of new Force sensitive younglings, Poe could be a mentor to many a young freedom fighter. He certainly looks like he's taken on the role of a leader in the brief scenes we see of him in the new trailer.
Kylo Ren
While Snoke used to be the brains behind the First Order, Kylo Ren is the real villain of the story (and Snoke died, unceremoniously, at the saber of the former Ben Solo). His conflicted nature regarding the Dark Side of the Force might lead us to believe he's headed for some sort of redemption story, similar to the one that his idol, Darth Vader, eventually had.
However, that's going to be much more difficult here as Kylo Ren is ultimately responsible for the death of Han Solo, something that we don't think the other characters of the trilogy, or the fans watching it, would be quite as willing to accept. Also, in The Last Jedi, Kylo Ren seemed to reject both the Light AND the Dark side of the Force, begging Rey to join him in the founding of something entirely new. Will that quest continue in Episode IX? How will the First Order be different under the complete leadership of Ben Solo?
Rose Tico
Kelly Marie Tran had an important role in The Last Jedi. Tran played a Resistance maintenance worker named Rose. She seems like an odd sort of character to make a focal point of the story, but she was important because of the ways that she contributed to the Resistance and showed Finn, and the audience, the way the galaxy at large really functioned.
Rose never appears in the new teaser trailer, including in scenes when the rest of our heroes are together, so how she fits in is anybody's guess at this point.
Luke Skywalker
Star Wars: The Last Jedi ended with an epic confrontation between Luke Skywalker and Kylo Ren that was made all the more amazing when it was revealed that Luke wasn't even there. Light years away, we would watch Luke vanish and his robes fall to the ground, much as his mentor, Obi-Wan Kenobi, had done so many years before.
The expectation by many is that we'll see Luke Skywalker in Episode IX as a Force Ghost, the same way Alec Guinness appeared in the original Star Wars sequels. The fact that we heard Mark Hamill's voice in The Rise of Skywalker teaser would seem to confirm that, though it should be pointed out that Mark Hamill lent dialogue to the original teaser for Star Wars: The Force Awakens, and we all know how much he actually spoke in that movie.
Lando Calrissian
While some of our biggest and most popular characters from the original trilogy may be gone, Star Wars: Episode IX will see at least one return. Billy Dee Williams will reprise his role as Lando Calrissian in the new film. The teaser showed him back at the helm of the Millennium Falcon alongside Chewbacca. Exactly how, or why, Lando returns to join our new band of heroes has not bee reveled, but certainly, fans will be glad to see him back. Almost as glad as Lando appears to be to finally be flying the Falcon again.
Emperor Palpatine
The single biggest piece of information revealed in the first trailer was a laugh. At the end of the teaser, just before the title was revealed, we heard a familiar, evil, laugh. Fans instantly recognized it as belonging to Emperor Palpatine. Just to prevent any confusion, when the teaser was first shown at Star Wars Celebration in Chicago, Ian McDiarmid, the actor who played the role of the Emperor, appeared on stage. The recent D23 footage upped the stakes by including a single line of dialogue, "Your journey nears its end."
The prequels saw Palpatine enact his plan to create the Galactic Empire, and the original trilogy, seemingly, showed that Empire fall and Palpatine himself be killed. And yet, somehow, the Emperor will return for Star Wars: The Rise of Skywalker. Is the Emperor truly alive? Will he be a Force Ghost? What does this mean for everything that came in the previous episodes of the trilogy?
New Characters
While most of our questions about Star Wars: The Rise of Skywalker focus on the characters we already know, there will also be new characters for our heroes to contend with. Naomi Ackie was on the stage at the recent Star Wars Celebration, though all she could really do was confirm her character's name, which is Jannah. Rumors that Jannah might be Lando's daughter went unanswered. We did get the one still image, above, of Jannah to give us an idea what she looks like, but that's about it.
One other new character that we know even less about will be played by Keri Russell. She's a frequent collaborator of J.J. Abrams, so seeing her join the cast is no real shock. However, all we know is that the character's name is Zorri Bliss and she has a really cool costume.
What Happens Next
Once the current Star Wars trilogy ends, fans will almost certainly wonder what's going to happen after that. At this point, we simply don't know. We do know that Star Wars: The Rise of Skywalker will mark the end of the Skywalker Saga, but that doesn't mean we won't ever see the likes of Rey and Finn again. However, it appears that Disney will be taking a break from Star Wars movies for a while. Star Wars will return in 2022 with a movie created by David Benioff and D.B. Weiss, the showrunners of Game of Thrones, but what that movie will even be about, we have no idea.
Be sure to bookmark this guide, as we'll be updating it when relevant new information comes in regarding Star Wars: The Rise of Skywalker!
Your Daily Blend of Entertainment News
Content Producer/Theme Park Beat
CinemaBlend's resident theme park junkie and amateur Disney historian. Armchair Imagineer. Epcot Stan. Future Club 33 Member.