The Pennywise Smile Without Makeup Is Even Creepier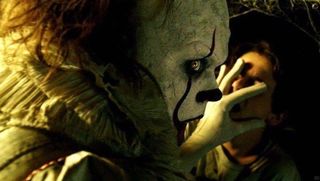 IT made over $117 million at the box office this weekend, shattering initial estimates and contributing to a strong weekend for movie theaters. It also means that a lot of people got to see Bill Skarsgard as the iconic clown Pennywise already. However, what you haven't seen is Skarsgard doing the Pennywise smile without any makeup on. And we've got to say, it's even creepier. Check it out.
As part of a recent appearance on the Swedish Radio series PP3, the radio series shared a first look at Bill Skarsgard ahead of his appearance on the show. He doesn't just sit there and look secure in the knowledge that he scored a part in a wildly successful series, either. Instead, he gives the people what they want! This is apparently a full look at his face contorted into the Pennywise smile, but without the makeup that fans usually see the character in.
Bill Skarsgard's Pennywise performance is certainly different from the version Tim Curry popularized in the miniseries back in 1990. In fact, Curry relied more on dialogue to control the pace and the scares in the plot, while Skarsgard relies more on this contorted face and jump scares to get Pennywise's villainous antics across. Getting compared to Curry wouldn't be easy for anyone, but the new version of IT is more of a horror project with wide appeal. It's also a horror project that incorporates quite a bit of humor.
Bill Skarsgard reportedly landed the coveted gig because director Andy Muschietti felt he embodied the character, bringing in two traits that were necessary to bringing Pennywise to life on the big screen. Those traits were none other than unpredictability and madness, of which we can see a little above.
If you'd like to see how the insidious no makeup look compares to Pennywise smiling in the sewers in the movie, we have you covered.
As we mentioned prior, IT did quite well at the box office this weekend, exceeding expectations and pulling in the highest box office weekend for a movie ever in September. Early estimates had the film making around $50-$60 million, and although those estimates grew as we got closer to this past weekend, none were as high as the movie ended up pulling in. A lot of the film's success is likely due to the marketing, and a story that heavily relies on an amusing group of friends. But none of that would be possible without the icon of Pennywise, the strange and twisted presence infecting Derry, Maine, and Bill Skarsgard seems happy to ride that train all the way to the sequel.
Reality TV fan with a pinch of Disney fairy dust thrown in. Theme park junkie. If you've created a rom-com I've probably watched it.
Your Daily Blend of Entertainment News
Thank you for signing up to CinemaBlend. You will receive a verification email shortly.
There was a problem. Please refresh the page and try again.