Nic Cage Has Some Wild Nic Cage Comments About The Superman Movie He Almost Made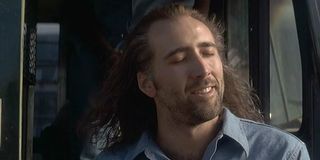 As one of the first mainstream superheroes to don a cape, it only makes sense that Superman has a long cinematic history. From George Reeves to Christopher Reeve, Brandon Routh, and Henry Cavill, the last son of Krypton has been played a variety of different ways by a slew of actors. However, many of us will never stop wondering about Tim Burton's Superman Lives, a Superman project that would've starred Nicolas Cage in the title role. That said, Cage recently opened up and admitted that the film's legacy is arguably even better than it would've been if the movie happened. Cage explained:
That's precisely the trippy and out-there statement that we expect from a guy like Nicolas Cage, but these comments to EW about Superman Lives do make quite a bit of sense. By his estimation, the film has taken on a life of its own in the years since it fell through, and fans who have kept up with its legacy have formed their own versions of it in their minds. Like the monster lurking in the shadows, nothing can compare to what we come up with in our imaginations. Because the ill-fated project is not limited to the vision of one single artist, it is (in Cage's opinion) greater than the sum of the other Superman films.
To say that Superman Lives (also titled Superman Reborn at one point) would've been an eccentric exercise is an understatement. Aside from featuring Nic Cage (sporting a mullet, no less) in the lead role, the film would've loosely followed The Death of Superman story arc, and seen the Man of Steel go up against Brainiac, Lex Luthor, and Doomsday. Concept art for the film has gradually leaked over the years (particularly with the release of 2015's The Death of Superman Lives: What Happened? documentary), and it's clear that Burton's vision would've made this the most singularly unique Superman adventures ever committed to film.
Don't believe me? Just look at some test footage of Cage trying on his Superman Lives suit back in the 1990s. It's bonkers.
Ironically enough, one of the main reasons why Superman Lives drew criticism and scrutiny back in the 1990s was its overall tone. At the time, many argued that it was too dark of a take for Superman -- which was a criticism similarly leveled at Tim Burton's Batman before its blockbuster success. Little did those naysayers know that Man of Steel (as well as Batman V Superman: Dawn of Justice) would come out two decades later and embrace Kal-El's dark edge in a major way.
As many people already know, Nicolas Cage eventually did make his way to the silver screen for a comic book movie franchise of his very own with Ghost Rider and Ghost Rider: Spirit of Vengeance. However, given the relatively lackluster critical reception that both of those films received, we will never stop wondering what his Superman could've looked like, and Superman Lives may continue to represent the pinnacle of unmade superhero films for years to come.
Although we will never see Nicolas Cage's version of the Man of Steel in its entirety, the character is expected to make his next appearance in the DCEU when Justice League premieres on November 17. Here's what we know about the upcoming film.
Your Daily Blend of Entertainment News
Originally from Connecticut, Conner grew up in San Diego and graduated from Chapman University in 2014. He now lives in Los Angeles working in and around the entertainment industry and can mostly be found binging horror movies and chugging coffee.