This Rotten Week: Predicting Kingsman: The Golden Circle, The LEGO Ninjago Movie, And Friend Request Reviews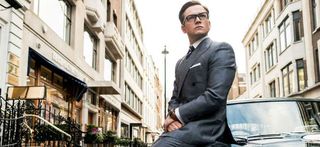 Hollywood left us in the lurch in August, and with the exception of IT there hasn't been much to be excited about on the big screen - but there's a decent amount to like hitting theaters this week, with a little something being released for everyone. We've got action galore in Kingsman: The Golden Circle, some animation for the kids with The LEGO Ninjago Movie, and horror for the teen crowd in Friend Request.
Just remember, I'm not reviewing these movies, but rather predicting where they'll end up on the Tomatometer. Let's take a look at This Rotten Week has to offer.
When we last left Taron Egerton's Eggsy in Kingsman: The Secret Service (74%), he had just completed one hell of an action sequence in the evil Valentine's bunker and stopped world domination plans by a lispy Samuel L. Jackson. It was a hell of an ending to a hell of a movie, and left wide open the opportunity for many more stories to be told. The action sequences were tight and over the top, the tone funny as hell and the whole blockbuster was rife with big screen, popcorn shenanigans. I loved it, and can't wait to see more in the sequel, Kingsman: The Golden Circle.
Eggsy and company are back again with some new evils to fight, this time with the help of their American counterparts in the super secret spy game. Kingsman: The Golden Circle looks intense without being overbearing. It has a remarkably impressive ensemble lined up, with both new faces and more than a few old (including the presumed-deceased Colin Firth). Matthew Vaughn has returned to the director's chair after helming the first, and the dude's resume is pretty stellar, with X-Men: First Class (86%), Kick-Ass (75%) and Layer Cake (80%) being a few of the highlights. I suspect this latest keeps pace with the rest of his work.
It's now been proven multiple times in the last few years that kids (and a lot of adults) love watching LEGO characters run around the screen using their LEGO bodies and pieces to make hilarious jokes while participating in super loose stories. It's worked like gangbusters for The LEGO Movie (96%, $469 million box office) and The LEGO Batman Movie (91%, $312 million box office), and now the same team is back with The LEGO Ninjago Movie doing a little kung-fu variation on the theme. It's likely to continue on with what its predecessors did, sticking to much the same beats and such. Why mess with a good thing? They could probably keep rolling these things out forever.
That being said, it's tough to stay in the same kind of rarified critical air as the first two LEGO Movies, and we should likely suspect at least a bit of a dip in the Tomatometer score for The LEGO Ninjago Movie. This is just me being realistic, considering some critics might start to see this feature as the result of a machine churning these flicks out. But this franchise is crushing it, and there are even more on the way with Lego Movie 2 and The Billion Brick Race planned for the next few years.
The most unrealistic thing about the trailer for Friend Request (and believe me, there are a lot of them) is that the "popular" girl in college only has 800 Facebook friends. Isn't that not that many in this day and age? I would have set it to at least over 1K. Now that's real popularity. Other than that, you get your standard horror fare. Girl accepts a friend request from some freak. Freak turns out to be a much bigger freak than originally anticipated. Popular girl unfriends the freak and then the freak starts killing everyone. How does it end? My guess is with plenty of In Memoriam pages.
There's so little to get excited with Friend Request, as it looks directly marketed crowds of teenagers during Halloween season who'll hopefully go all atwitter (see what I did there?) with each online friend who gets the knife. As good as horror has been so far in 2017, with movies like Split, Get Out, and IT successfully killing it, it doesn't look like we will be adding this title to the list of successes.
We had one hit and one miss last week, though the latter was at least on the closer side. It turned out that Daren Aronofsky's mother! (Predicted: 65% Actual: 69%) scored right in range after predictably falling in score over the course of the week. The movie earned some dubious buzz from movie-goers, and also lent itself to plenty of theories about what the hell it's even about. Critics were generally positive, though, again, it's worth noting the audience hated this thing, scoring 41% on that part of the Tomatometer (a really low score for that category). Aronofsky is arguably a polarizing director: you either love his stuff or you hate it. That's been true for many of his other flicks, and mother! seems no different.
Meanwhile, American Assassin (Predicted: 49% Actual: 35%) fell just out of range, with more critics thinking it your standard, brainless action film without much, if any, merit. I thought the flash-bang nature of the film and slick styling would win over some of this crowd, but that wasn't the case. The tone of the reviews felt as if critics even went in wanting to like it, but just couldn't get there. That left the score suffering.
Next time around we've got American Made, Flatliners, A Question of Faith and Til Death Do Us Part. It's gonna be a Rotten Week!
Your Daily Blend of Entertainment News
Doug began writing for CinemaBlend back when Terminator: The Sarah Connor Chronicles actually existed. Since then he's been writing This Rotten Week, predicting RottenTomatoes scores for movies you don't even remember for the better part of a decade. He can be found re-watching The Office for the infinity time.