How Robin Williams' Character Will Be Referenced In Jumanji, According To The Rock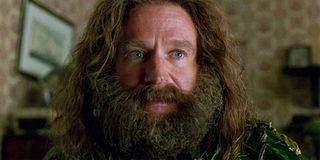 Jumanji: Welcome To The Jungle was always going to provoke a divisive response from fans. Not just because the 1995 original film was so beloved by so many, and quickly became a firm family favorite across the world, but also because the death of Robin Williams in August 2014 instantly made the original much more resonant to audiences. Those involved in the Jumanji: Welcome To Jungle were always aware that they'd need to at least reference Robin Williams' Alan Parrish in the film.
Last October, we flew to Hawaii alongside a group of other journalists to visit the set of Jumanji: Welcome To The Jungle, where we sat down with the film's cast and crew to discuss its origins. After some back and forth conversation, the Jumanji: Welcome To The Jungle team decided that they would use Alan Parrish's previous adventures in the first Jumanji as a starting point for this sequel. In fact, Dwayne Johnson even teased that the four avatars, who are played by Johnson, Kevin Hart, Karen Gillan, and Jack Black, ultimately learn that Robin Williams' Parrish previously discovered there are a number of other Jumanji worlds. Johnson told us:
During our discussion with Dwayne Johnson, the action behemoth also admitted that making sure that they did justice to Robin Williams and his legacy with Jumanji was the sequel team's main priority. Johnson explained:
While Dwayne Jonson was careful not to reveal too much or spoil anything regarding Jumanji: Welcome To The Jungle, his comments suggest that plans and discussions have already been held about expanding Jumanji: Welcome To The Jungle into multiple films. That's a decision that will clearly only be reached once Jumanji: Welcome To The Jungle has been released, and its box office receipts have been calculated. In the meantime, why not enjoy the trailer for Jumanji: Welcome To The Jungle, which looks like a rollicking fantasy, action, adventure, comedy.
Jumanji: Welcome To The Jungle will be released on December 20.
Your Daily Blend of Entertainment News