SNL's Funny IT Parody Features Kellyanne Conway As Pennywise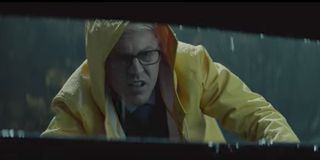 Saturday Night Live has gotten a whole lot more political with its comedy during this last election cycle and has seen its ratings increase as a result. One of the more popular parodies has been Kate McKinnon's rendition of Kellyanne Conway over at NBC, and this weekend the late night sketch series decided to mix some of its political comedy up with a pop culture nod to Stephen King's IT, which is still making the rounds in theaters as the Halloween holiday is coming up. Check it out, below.
The sketch in question starts with Anderson Cooper exiting his work building after a long day in the office. It's raining, and he puts on a rain coat that is intentionally reminiscent of Georgie in IT. As much as I would like to see Anderson Cooper playing with paper boats, it wouldn't really make narrative sense, and so instead, an important document that Anderson Cooper is working on gets forced into a drain where Pennywise--or in this case Kellywise--waits. Kellywise, who also calls her the dancing clown, explains to Cooper that she really just wants to be on his TV show and is wiling to do a lot to get there. At one point, Rachel Maddow even shows up in the sewer, telling Cooper that he'll float, too, if he lets Kellyanne on his show, another popular nod to IT. It's much funnier if you watch it rather than read a quick rehashing, so if you haven't spent time actually viewing the comedy sketch, now would be a good time to do so. Or, you know, you can just check out Kate McKinnon's sick makeup job.
I'm sure it's not Kellyanne Conway's favorite thing to see herself parodied as a murderous supernatural clown on TV, but Kellyanne Conway has been a fairly good sport about the late night sketch series doing impressions of her. (It's silver fox Anderson Cooper who has been less keen.) Plus, I'd imagine the name "Kellywise" was doubtless too good for the SNL writers to pass up, and really you know you're a household name if Saturday Night Live is turning you into a parody version of one of Stephen King's most popular characters. In fact, I'm a little surprised there haven't been more IT parodies since the popular movie started breaking box office records in September. It's not just a popular horror film, IT is becoming one of the most popular fall movies to ever be released.
Give it a couple of weeks, and SNL won't be the only place you can find someone dressed up in Pennywise clown face. The horror movie character has already been anticipated to be the most popular Halloween costume for 2017. At some locations, Pennywise costumes sold out right away, forcing stores to order more stock. So expect to see a lot of Pennywise this fall, and maybe even a Kellywise costume or two.
Now in its 43rd season, Saturday Night Live is still airing over at NBC, and this season it is airing live coast-to-coast. To find out more regarding who is hosting the series in the coming weeks, take a look at our full guide.
Your Daily Blend of Entertainment News
Reality TV fan with a pinch of Disney fairy dust thrown in. Theme park junkie. If you've created a rom-com I've probably watched it.
Your Daily Blend of Entertainment News
Thank you for signing up to CinemaBlend. You will receive a verification email shortly.
There was a problem. Please refresh the page and try again.