5 DC Movies That Need To Be Fast Tracked After Justice League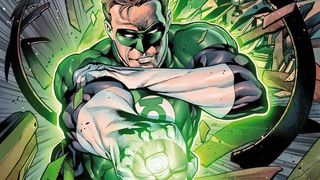 After years of planning, Warner Bros. and DC finally brought the core members of its Justice League together for the ensemble adventure fans have been dreaming about. Superman (Henry Cavill), Batman (Ben Affleck) and Wonder Woman (Gal Gadot) fought alongside Aquaman (Jason Momoa), Flash (Ezra Miller) and Cyborg (Ray Fisher) in a battle against the wicked tyranny of Steppenwolf. And in the process, DC laid a foundation for a slew of stories that can -- and should -- build off of what was presented here.
There are three movies on the DC Extended Universe slate, including next year's Aquaman movie (directed by James Wan), a Patty Jenkins-helmed Wonder Woman 2, and Shazam! -- which will introduce that new hero into this expanding universe. But after finally seeing how Justice League plays out, it became clear that there are a number of interesting films in the DCEU that need to be moved up the release schedule and fast-tracked into production, because their stories were started on screen in Zack Snyder's imagination, and we don't want to wait until 2020 to see how they play out. Wouldn't you buy a ticket to one of these films ASAP?
Green Lantern Corps
The concept of the Green Lanterns was established in Justice League during that flashback battle sequence that accompanied Wonder Woman's monologue. A Lantern loses his life during the melee, and his ring floats off of his finger and into space. Great. What does that mean? Casual viewers likely recognized the power of the Green Lanterns, whether it's from the DC comics, the animated fare, or even the Ryan Reynolds solo film (which is NOT part of the DCEU, and is largely ignored because it's terrible). We know that there's a planned Green Lantern Corps movie in play at Warner Bros., and that it has been described as "Lethal Weapon in space." But a movie that starts to explore the potential cosmic side of the DCEU should happen soon, especially so that the Lantern can take his (or her) spot at the larger Justice League table that Bruce Wayne is building in his Hall of Justice.
A Superman Solo Movie
Mistakes are corrected in Justice League. DC finally brought Henry Cavill's Man of Steel back from the dead, and "reprogrammed" him so that he's FINALLY the Superman the DCEU needs him to be. Hope and optimism abound. So, don't put him on a shelf until a Justice League 2 (which might not happen for years). We have had to endure a sullen and morose Kal-El for 2.5 films. We want the solo Superman movie that we've been waiting for since Superman 2. Hire Matthew Vaughn, who has expressed interest in the franchise. Bring in Brainiac or Metallo. Take advantage of Henry Cavill's youth. Deliver on the promise of a winning Superman movie, before this rejuvenated fan interest subsides.
A Flash/Cyborg Team Up Movie
I don't quite understand the call for a Flashpoint movie at this stage of the game. DC and Warner has just spent years establishing the DCEU, putting its heroes in place and setting the stage for stories yet to be told. And you want a movie that reboots it all? Wonder Woman has had one successful movie. Aquaman hasn't even had his first stab yet. Yes, there's a Batman issue, because DC opted to "start" with an older Bruce Wayne. But retconning all of the DCEU with a Flashpoint reboot is unnecessary... at least, right now. However, Ezra Miller and Ray Fisher showed plenty of chemistry as the "mistakes" on the Justice League team, and if you gave them a team up movie a la Thor: Ragnarok (which found room for Hulk in a traditional Thor sequel), that'd be a great adventure that also allows you to keep Flashpoint in your back pocket, for when it's really needed.
The Batman
Ever since Batman v Superman: Dawn of Justice, the DCEU has laid serious groundwork for an outstanding Batman story in movies like Suicide Squad and, now, Justice League. We have a cool Commissioner Gordon (in JK Simmons). We have a controversial Joker (in Jared Leto). We have this moody Gotham that Snyder has established, and a backstory for Bruce that includes a dead Robin and countless other horrors from his past. So give the keys to Matt Reeves and see what he can whip up... soon! Program in The Batman. Use it to launch the Nightwing movie, and maybe even the Batgirl movie. But make sure it comes first, that it explores the Bat Family, and that it acts as a foundation for all of the Batman-related DC movies still to come.
Injustice League
The final post-credits sequence in Justice League confuses me. Yes, it might just be fan-service to see Lex Luthor (Jesse Eisenberg) and Deathstroke (Joe Manganiello) sharing the screen. But what if it's actually meant to tease a real movie? Good. Do that, and soon. Instead of either Justice League 2 or Suicide Squad 2 (which no one wants), announce Injustice League. Make it about Lex, the Joker, Deathstroke and other key villains teaming up to face off against the Justice League members. If done properly, it could be the Civil War of the DCEU, a sprawling epic that unites numerous faces from the DC Universe in one massive story. Good versus evil. Light versus dark. But get it into theaters before 2022, or no one will continue to care.
This poll is no longer available.
Sean O'Connell is a journalist and CinemaBlend's Managing Editor. He's frequently found on Twitter at @Sean_OConnell. ReelBlend cohost. A movie junkie who's Infatuated with comic-book films. Helped get the Snyder Cut released, then wrote a book about it.
Your Daily Blend of Entertainment News
Thank you for signing up to CinemaBlend. You will receive a verification email shortly.
There was a problem. Please refresh the page and try again.