Why Lethal Weapon Is A Better Christmas Movie Than Die Hard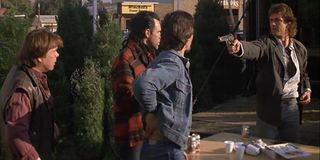 The holidays are upon us, which means film buffs have once again started to dust off their favorite yuletide movies ahead of Santa's arrival. For more adult-oriented Christmas viewing, one of the more popular (though highly-debated) choices is none other than John McTiernan's Die Hard -- which follows Bruce Willis' iconic John McClane as he takes on terrorists one by one at the Nakatomi Plaza holiday party on Christmas Eve. The 1980s action thriller has handily turned into a bonafide Christmas classic in the years since its initial release, but I'm here today to tell you that Richard Donner's Lethal Weapon is actually the superior action Christmas movie. After all, it's a Shane Black flick; did you think we wouldn't bring that up?
Comparisons between Lethal Weapon and Die Hard have persisted for decades -- mostly because of the shared IMDB DNA between them. Between the presence of producer Joel Silver behind the scenes, the inclusion of actors like Mary Ellen Trainor, Al Leong, and Grand L. Bush, and the fact that both are Los Angeles-based Christmas cop movies that released only one year apart, it's easy to lump them into similar categories. Both movies are absolute classics, and there's even a case to be made that Die Hard is a technically and structurally superior film (though this writer still prefers Lethal Weapon on an entertainment level). However, in terms of echoing themes and ideas that have become synonymous with the holiday season, Lethal Weapon is the better film (not to mention one of the greatest action franchises of all time).
This all boils down to where we find Mel Gibson's Martin Riggs at the beginning of the movie. It's the Christmas season; he's all alone in the wake of his wife's recent death in a car accident (which Lethal Weapon 2 will flesh out two years later), and he's ready to put a gun in his mouth to put an end to his pain -- until a Bugs Bunny holiday special on his TV punctuates the tension and convinces him to go on for one more day. Though we only see one scene like this, it's clear that this has become a regular occurrence for Riggs; he even has a special, hollow-point bullet that he plans to use for the occasion.
Riggs' attempted suicide is a shockingly dark moment for a 1980s action movie, but it also provides a near-perfect examination of how some people feel during the holiday season. He's depressed, he's drinking too much, and he doesn't have a family to call his own until he meets the Murtaugh clan. Then, as he moves through the story, Roger becomes the friend that he needs to make it through the holiday season and eventually becomes a brother to help Riggs rediscover that life is worth living... as Riggs, in time, gives Roger the hollow-point bullet with the promise that he no longer needs it.
That's specifically what Lethal Weapon is all about: belonging to a family. Amid all of the action, explosions, murdered prostitutes, and heroin-smuggling special forces operatives, Lethal Weapon is all about a lonely and depressed man who finds a sense of belonging in the arms of an adopted new family just in time for Christmas. It's no mistake that the film ends with Roger inviting Riggs (and his dog, Sam) into the house to share Christmas dinner with his family. Riggs now has a reason to live, and it's a Christmas miracle.
On the other hand, Die Hard uses numerous Christmas motifs and references ("Now I have a machine gun. Ho Ho Ho.") throughout its story, but very few of them feel specifically linked to the message of the film. The use of Christmas Eve as a backdrop helps create a ticking clock and a sense of urgency when the time comes to shut the power down on an entire city grid, but very little of John McClane's arc as a character feels tied to Christmas itself. In that regard, Christmas feels more like an aesthetic choice for Die Hard than an actual narrative device.
John McClane is a lousy husband who needs to learn to admit to his mistakes and get back to his wife, but that idea never really comes full circle and relates to Christmas in the same way that Riggs' arc does in Lethal Weapon. From that perspective, Richard Donner's 1987 buddy cop classic feels like the film that's specifically more deserving of recognition during this colder and more festive time of year.
Of course, none of this means that you should strike Die Hard from your annual Christmas movie schedule. Both of these films epitomize why we love 1980s action cinema, and both efficiently use their specific settings to accomplish their respective narrative goals. As for films that have the potential to become new classics, you can check out our 2017 movie premiere guide and our 2018 movie premiere guide to see what's on the horizon over the course of the next year!
This poll is no longer available.
Your Daily Blend of Entertainment News
Originally from Connecticut, Conner grew up in San Diego and graduated from Chapman University in 2014. He now lives in Los Angeles working in and around the entertainment industry and can mostly be found binging horror movies and chugging coffee.