The Best Christmas Movies On Netflix Right Now - December 2020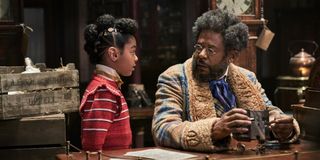 CinemaBlend participates in affiliate programs with various companies. We may earn a commission when you click on or make purchases via links.
Tis' the season, am I right?
When it comes to Netflix, there's no doubt that everyone knows it has its fair share of movies to watch. But sometimes when you want to embrace your inner Christmas geek and make some hot cocoa and sit down, you just need to watch a Christmas movie. We've all been there. And honestly, after the year that 2020 has been, I think all of us deserve the chance to sit down and take a load off.
But when you don't know what movie to pick – considering Netflix has thousands of movies to choose from – this is where this list comes in handy. It's time to see what the best Christmas movies are on the popular streaming site, from Netflix originals to feature films, because there are at least twelve that are worth the watch – and a partridge in a pear tree.
The Princess Switch (series)
Alright, admittedly when I first saw the trailer for the first film in this series, I thought it looked so silly. I thought that this was just going to be another one of those stories where it's just a princess and the pauper switch places for a day and it's all fine and dandy. And to an extent, it is, completely, but I'll admit that Vanessa Hudgens' charisma captures you and the Christmas aspect does make it feel a million times better than you'd expect it to be. I don't know, maybe I just like baking a lot.
Stream it on Netflix here.
The Christmas Chronicles (And the Sequel)
Kurt Russell is the Santa you never thought you would think would be great, but he is. I was captured by his performance as the famous Mr. Claus throughout each movie, and the sweet addition of his partner, Goldie Hawn as his partner in the movie, Mrs. Claus, made the on-screen chemistry the cutest I have ever seen. Not only is the story adorable for a Christmas movie, it really provides a refreshing look at a modern Christmas tale.
Stream it on Netflix here.
Jingle Jangle: A Christmas Journey
I swear, the music in this is just absolutely fantastic. I could write a whole entire article about this movie because I loved it so much. Not only is it a fantastic act of representation within Christmas media, having a near-full POC cast, but it's also jolly and original. Of course, the main trope is there – someone's apprentice steals their master's ideas and makes it big while the master loses it all – but it's the way it's told that really makes Jingle Jangle: A Christmas Journey stand out above the rest. And the cast is by far one of the most stellar ensembles in a Netflix film ever. Besides, who wouldn't want to cuddle with Buddy?
Stream it on Netflix here.
Klaus
A little bit of a smaller one on this list, Klaus is delightfully animated. In a world that's dominated by 3D animation and Pixar and Disney, it's nice to see something like Klaus rise up and above the ranks. Klaus tells the charming story of a postman who is truly the worst, so the academy he is a part of posts him up in a frozen town, where Santa Claus himself seems to be hiding out. This 2D animated beauty will surely knock your socks off with how amazing it looks, along with a heart-warming story that will heat up your Christmas heart.
Stream it on Netflix here.
A Christmas Prince (And Its Sequels)
I'm going to throw my hat down and say this is what started the crazy amount of Christmas movies that we have gotten from Netflix in the last years because this movie blew up. A Christmas Prince tells the story of a journalist (Rose McIver) traveling to a small European country, and over there she ends up falling in love with a prince (Ben Lamb) while trying to get the scoop. The sequel movies that follow are all about a wedding and a baby, but it's Christmas themed and the settings are beautiful. While the story is a little unrealistic (as most of these romance Christmas movies are, honestly), it is a sweet love story and will definitely warm your grinch heart this season.
Stream it on Netflix here.
How The Grinch Stole Christmas (Jim Carrey Version)
You've heard of it. It's been around for twenty years now. Jim Carrey's version of How the Grinch Stole Christmas is one of the best versions out there, despite what some critics may think. The backstory of the grinch? Unbeatable. The love story between him and Martha? Spectacular. The sass that Jim Carrey brings to the classic Christmas character? Freaking amazing. I swear I have never felt more of a connection with a character than I did with Jim Carrey in this movie, and that's why it's worth a watch with all your buddies – oh, but what would you wear?!
Stream it on Netflix here.
Let It Snow
When I first found out this was happening a couple of years back, I was understandably a bit excited as a John Green fan, who had read the book back in high school. But Let It Snow reminds viewers of what first loves are like, and the awkwardness of high school combined with puberty – it's a recipe for a Christmas disaster. But it's truly the most adorable little movie you could watch. There are three separate stories for you to follow throughout the whole entire movie, so you'll never be bored.
Stream it on Netflix here.
Dolly Parton's Christmas On The Square
Dolly Parton is a bloody national treasure. There, I said it! This movie wasn't on my watch list for a decent amount of time just because I didn't know how I'd feel with Dolly making a Christmas musical, but I never should have doubted the queen. The storyline is a Christmas classic – a woman selling her hometown land without regard to others, so she receives a visit from an angel – but the music adds a whole different degree of joy to the film that you wouldn't expect. It's definitely worth a watch.
Stream it on Netflix here.
A Bad Moms Christmas
This movie is freaking hysterical. I mean, I'm still young so the idea of becoming a mom is still a bit scary to me, but watching these movies makes me feel that even when I do, I can never do worse than these three. But the shenanigans that Mila Kunis, Kristen Bell, and Kathryn Hahn get into is just too amazing not to watch. And of course, the addition their own character's mothers into this just makes it all the more ridiculous and funnier.
Stream it on Netflix here.
The Holiday Calendar
Again, another silly Netflix movie that you wouldn't expect to be good, but in all honesty, I genuinely enjoyed The Holiday Calendar by the end. The premise is that the main character receives a calendar from her grandfather, one that turns out to tell the future – which obviously predicts another romance (because of course). But what really makes his movie stand out is that it's a pretty unique take on what others would call an Advent calendar, and not only that but the cast list is pretty great too (Kat Graham, Quincy Brown, Ethan Peck and more). You'll enjoy this clever take on a future-prediction storyline.
Stream it on Netflix here.
A Cinderella Story: Christmas Wish
You've seen the story before. Everyone has. But A Cinderella Story: Christmas Wish has Christmas and it's ridiculous, about teen (Laura Marano) falling for the "handsome" new Santa. I swear, it sounds silly but that's the whole point of the movie. I feel like it's not meant to be taken seriously and that's where the joy of it comes from. And I can get down with that, especially around the holidays,
Stream it on Netflix here.
Christmas In The Heartland
Think The Parent Trap but Christmas-themed. Everyone loved the original idea, but this version of it has the two lead characters really switching lives and going from prim and proper to modest and small. Christmas in the Heartland (aka The Christmas Trap) is a nice little take on the original idea and adds a bit of Christmas flair to it that makes it perfect for this time of year. When you're missing your family, this is the movie to watch that reminds you just how great family is. Give 'em a call when you can.
Stream it on Netflix here.
With how many Christmas movies there are just in general, Netflix will forever be one of the best places to go to find some awesome ones. Happy holidays and have fun Netflix and chilling (but with hot cocoa and cuddles, not that kind)!
Big nerd and lover of Game of Thrones/A Song of Ice and Fire. Will forever hate season eight. Superhero and horror geek. And please don't debate me on The Last of Us 2, it was amazing!