The 10 Best Horror Movies Of 2017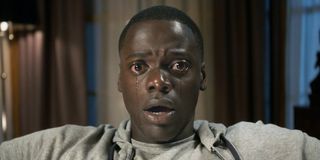 In general, the horror genre has been on a massive upward swing over the course of the last few years, and 2017 may represent the apex of that ascent. This year saw a ton of great scary movies debut on the silver screen (as well as a variety of outstanding streaming services), and we think that it is safe to say that our bones are now thoroughly chilled. With that in mind, we are here today to discuss the top ten horror movies of 2017 and give credit to the films that caused us to lose more than a few night's worth of sleep over the course of the last 365 days.
On that note, let's dive in and kick things off with a movie that approached horror from a fresh and exciting perspective.
10. XX
When compared to the other films that will show up on this list of top horror films from 2017, XX feels incredibly distinct because of its status as an effective anthology horror project, which can sometimes be a hit or miss concept in this particular genre. Consisting of our separate vignettes helmed by female filmmakers and taking place from the perspective of female characters, there has never really been a horror film quite like XX. While not every vignette is quite as strong as the one that preceded it, XX deserves a considerable amount of credit for mostly accomplishing what it sets out to do, as well as taking bold swings with its storytelling by embracing humor, horror, and a female perspective that's mostly missing from the modern scary movie landscape.
9. It Comes At Night
It's a real shame that It Comes At Night was marketed as a straightforward horror thriller about people fighting against monsters (something that it most certainly is not) because conversations about misleading trailers dominated the discussions surrounding it at the time of its release. In reality, It Comes At Night is a fantastically unsettling slow-burn horror flick about a group of families slowly unraveling in the face of a contagion -- all told through the eyes of a son whose mental state gradually deteriorates in the wake of his grandfather's death. While it's not as conventionally exciting as the trailers would lead you to believe, It Comes At Night is still one of the most horrifying and legitimately scary movies of 2017, and a masterclass in leaving you with more questions than it answers.
8. Tragedy Girls
Although they seem like they should exist at opposite ends of the spectrum, there's a long history of comedy and horror cross-pollinating with one another to create some genuinely biting satire about the very concept of scary movies. That is something that Tyler MacIntyre's Tragedy Girls understands better than most, and the high school-based slasher adventure (which stars X-Men franchise actresses Alexandra Shipp and Brianna Hildebrand) is arguably the best piece of horror satire to debut since Wes Craven's Scream hit theaters back in 1996. Tragedy Girls is chock full of hilarious commentary on how the millennial generation consumes tragedy and accumulates likes through social media, and yet it still manages to deliver the thrills, chills, and scares whenever it needs to get its hands dirty and bloody. #TragedyGirls
7. Happy Death Day
When the first trailers for Happy Death Day debuted, some people leveled accusations that the film was just a horror-themed ripoff of Groundhog Day. While that's somewhat true in the sense that the college campus-themed slasher flick pays direct homage to the Harold Ramis/Bill Murray comedy classic, it's also so much more than that. The film features a fantastic star-making lead performance by Jessica Rothe, as well as some great set pieces that utilize the 24-hour reincarnation trope to maximum effect. Happy Death Day knows what it wants to be, and it uses that to provide laughs and scares, and while the film would've almost certainly benefited from an R-rating to help ramp up the violence and tension, the fact that it's as good as it is with a PG-13 label says something about the craftsmanship behind it.
6. Raw
Movies with a heavy emphasis on gore, violence, and overall gratuity of content have a tendency sometimes to draw the ire of the critical community. However, when a film manages to use those concepts to enhance its story expertly, magic happens. That's precisely what Raw managed to accomplish earlier this year, and the result is a profoundly unsettling film about a lifelong vegetarian discovering dark secrets about herself upon eating meat for the first time. Raw is a difficult movie to handle for even the most die-hard fans of the horror genre (the trailer alone is enough to turn your stomach), but if you can stick through its visceral depiction of cannibal horror, then you will be rewarded with one of the most intense scary movie experiences of the entire year. Just don't watch it with a snack.
5. The Devil's Candy
Okay, so we are going to count this one as a bit of a technicality because The Devil's Candy actually first screened for audiences back in 2015 when it first premiered on the film festival circuit. That said, the film found a much broader audience in 2017, and deservedly so. The Devil's Candy centers on a family who moves into a new house with a dark past and follows the father (a struggling painter with an affinity for heavy metal) as demonic visions begin to inspire some of his best (and most gothic) work ever. This film provides some of the most unsettlingly well-constructed depictions of a devilish haunting that we have ever seen in a modern horror flick, and it's a near-perfect update on the well-worn Amityville Horror model of creepy filmmaking.
4. Gerald's Game
This year was a phenomenal time for Stephen King adaptations (which have historically been very hit or miss in the horror genre) and Netflix's Gerald's Game showed how good a King adaptation could be by taking a stripped-down (literally) approach to horror filmmaking. Centering on a couple in a remote house as they try to spice up their love life with a set of handcuffs, the film kicks into high gear when the husband falls dead from a heart attack and leaves his wife stuck in her chains -- just outside of the reach of the key. That's when the horror kicks into high gear, and Gerald's Game shows just how good a scary movie can be by relying on strong performances and competent filmmaking on a simple-yet-effective story. The last ten minutes alone are enough to make your skin crawl.
3. Annabelle: Creation
Concerning raw thrills, arguably no horror film from 2017 can match David F. Sandberg's Annabelle: Creation. Taking the lackluster Conjuring universe sub-franchise and forging a prequel for the creepy doll, Annabelle delivered some of the best rollercoaster scares and handily turned into one of the best entries in that burgeoning horror cinematic universe. Much of this can be attributed to Sandberg's own ability to sustain tension without resorting to cheap jump scares -- something that he similarly proved with Lights Out -- but credit must also be given to the film's mostly young, female cast. Actresses like Talitha Bateman, Grace Fulton, and Lulu Wilson all feel destined to become modern scream queens, and Annabelle: Creation proved what a cast and crew could do with little more than a creepy house on a hill.
2. Get Out
Who would've ever thought that Jordan Peele would go on to become one of the top horror directors of the year? A classical slow-burn horror film with a decidedly modern slant on topics of race and racial tension, Get Out is a type of subversive, scary movie that we really haven't seen before. Jam-packed with great performances by actors like Daniel Kaluuya, Allison Williams, Bradley Whitford, and Catherine Keener, the film channels a lifetime's worth of racial anxiety into the story of a young, black man traveling to meet his girlfriend's seemingly progressive and liberal parents. It's a movie full of left turns and original, allegorical set pieces (The Sunken Place will likely forever go down as a near-perfect horror movie moment) and a quintessential horror movie to encapsulate the themes of 2017.
1. IT
Hiya, Georgie! When we take critical success, commercial success, and overall entertainment value into consideration, Andy Muschietti's IT easily stands out as the best horror film to debut in theaters in 2017. The adaptation of Stephen King's seminal novel has become widely regarded as one of the best King films ever made, and it's not hard to understand why. By focusing solely on the childhood side of The Losers Club storyline, Muschietti crafted a horrifying tale of youthful terror while also delivering a story that captured the value of friendship at a young age -- which was helped mainly by some expert casting. Bill Skarsgaard's Pennywise is already destined to become a horror icon, and IT has definitely left us wanting more with IT: Chapter 2 slated to debut in theaters in 2019.
This poll is no longer available.
Your Daily Blend of Entertainment News
Originally from Connecticut, Conner grew up in San Diego and graduated from Chapman University in 2014. He now lives in Los Angeles working in and around the entertainment industry and can mostly be found binging horror movies and chugging coffee.
Your Daily Blend of Entertainment News
Thank you for signing up to CinemaBlend. You will receive a verification email shortly.
There was a problem. Please refresh the page and try again.