The 10 Best Lines Of Movie Dialogue In 2017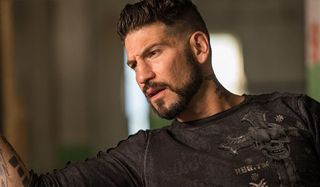 The year 2017 saw some fantastic movies released into theaters, and fans should take a moment to thank some of the undersung heroes of the industry: the writers. While it's sometimes easy to forget thanks to a blistering performance or awesome direction, scripts are the foundation of what makes a film great, and most of the best material starts on the page. This includes the bulk of the fantastic dialogue that one hears, and it's that particular area of the craft that we're here to celebrate.
We heard many amazing back-and-forths and one-liners on the big screen in 2017, but as we do every year, we have taken on the task of isolating what we see as the 10 best bits of dialogue. Did you favorite make our list? Read on and find out!
"You punched me in the face, you made me walk through shitty water, brought me to a fucking crackhead house, and now... I'm gonna have to kill this fucking clown. Welcome to The Losers Club, asshole!" -- IT
Andres Muschietti and his team of filmmakers made many brilliant decisions in the casting of IT, but picking Finn Wolfhard as Richie proved to be a truly inspired choice. The Stranger Things star did a brilliant job bringing to life the most foul-mouthed member of The Losers Club, and there are countless moments where he elicits a big laugh. Of all his fantastic lines in the movie, however, we're picking the spine-tingler he delivers just as his friends attack Pennywise and save Bill in the final battle.
In the moment, the evil entity that has been haunting Derry, Maine for centuries has the upper-hand, offering to spare everyone if they would be willing to sacrifice Bill. At first it looks like Richie may be preparing to take the deal, noting the horrible things that he's experience under Bill's leadership, but his quick turnaround makes for one of cinema's best moments and lines in 2017.
"So, this is what it feels like." -- Logan
Few actors get to play a fantastic character for two feature films let alone nine, which serves to highlight just how amazing Hugh Jackman's run as Wolverine really is. Sure, not every movie was amazing, and some roles were basically cameos, but it has still been a thrill to watch the big screen character's evolution over the last 17 years. It's particularly impressive because of the awesome end note provided to him in James Mangold's Logan, which gives him not only an excellent send-off, but includes some phenomenal last words from the legendary hero.
Outside of the three razor-sharp claws he has jutting from his knuckles, Wolverine is best known for his healing factor and practically being immortal -- which makes his end so much more impactful in Logan. He had been alive for nearly two centuries, and while he witnessed constant death and destruction, he could never fully realize what it was like for himself. Thus, "So, this is what it feels like" makes for a perfect goodbye.
"I'm TS-motherfuckin'-A. We handle shit. That's what we do. Consider this situation fuckin' handled." -- Get Out
Part of what makes Get Out such a surprise is the fact that it's a horror film coming from a filmmaker best known for doing comedy, but it's important to note that Jordan Peele didn't totally leave laughs behind in his directorial debut. The movie features many funny, tension-breaking moments where Peele demonstrates his gifts for levity, with the most chuckles coming courtesy of LilRel Howery's Rod Williams. The character has many fantastic moments and great lines throughout the feature, but none better than what proves to be the final bit of dialogue in the piece.
While the Transportation Security Administration has been the subject of a good amount of rage and satire in the last 16 years, Rod Williams is an agent very proud of his job and his organization. He smells trouble right from the start when he learns that his best friend, Chris (Daniel Kaluuya), is visiting the parents of his white girlfriend, and it's those instincts that lead him to save the day.
"If you don't see me again, it's because I'm dead." -- Baby Driver
Foreshadowing is one of writer/director Edgar Wright's favorite tools as a screenwriter, but in Baby Driver he accomplishes what can basically be described as anti-foreshadowing. Following the movie's stunning opening heist/chase scene and wrap up, Jon Bernthal's Griff tells his fellow criminals, "If you don't see me again, it's because I'm dead." It's an odd line to be sure, and you don't really think about it much in the moment, but it turns out that it's a brilliant way-homer joke that only comes together when you realize that the character never appears again after that scene.
Since Baby Driver's release, the line has been the subject of some fun arguments, particularly because of Edgar Wright's comments regarding Baby Driver 2. If a sequel is made, it's totally possible that Griff could make a comeback, but as long as he doesn't appear he remains dead. Basically, he's cinema's equivalent of Schrodinger's Cat, which is a rather fascinating idea to generate from one simple bit of dialogue.
"I'm Mary Poppins, y'all!" -- Guardians of the Galaxy Vol. 2
In the first Guardians of the Galaxy, Michael Rooker's Yondu is painted as a cross between Boba Fetta and Jabba The Hutt, but it's in Guardians of the Galaxy Vol. 2 where writer/director James Gunn gives him true opportunity to flourish. We not only get a great deal of backstory that explains where he's been and why he does what he does, but he also gets to deliver the best line in what is a superhero blockbuster full of memorable one-liners.
The moment comes in the third act when Yondu is using his Yaka Arrow to fly and assemble with the other Guardians of the Galaxy. Hanging from his whistle-controlled weapon, he looks as though he might as well be flying with an umbrella, leading Chris Pratt's Star-Lord to make the Mary Poppins comparison -- a comparison Yondu fully embraces. It's a bittersweet scene in retrospect, given the father-son bonding and the blue alien's eventual sacrifice, but in the moment its hilarious and one of the funniest lines of 2017.
"Never." -- Darkest Hour
As depicted in Joe Wright's Darkest Hour, the number of world-changing decisions thrust upon Winston Churchill when he became Prime Minister was astonishing. European allies were under siege by Nazi forces, British soldiers were being slaughtered and pushed back to the beaches of Dunkirk, and opponents in his own government demanded acquiescence to Adolf Hitler in order to prevent invasion. This all starts to seem like to much for Gary Oldman's Churchill in the third act of the movie, but some very simple advice from some very ordinary people inspires him to do what he knows is right in the face of extreme opposition.
It may not be based on a specific true story, but Winston Churchill's venture to the London Underground towards the end of Darkest Hour still makes for a remarkable, impactful sequence. While the great leader is suffering doubts in the face of possible Nazi appeasement, he is amazed to discover that the citizens of London do not even flinch when posed with the same question. You never bow down to a great evil -- you fight it with everything you have.
"The only way to protect the right to publish is to publish" -- The Post
The central conflict at the heart of Steven Spielberg's The Post is a simple one, but also one with world-changing consequences. The esteemed members of the Washington Post -- including Editor in Chief Ben Bradlee (Tom Hanks) and owner Kay Graham (Meryl Streep) -- must decide if publishing classified documents for the benefit of the American people is worth potentially spending years in prison. It's an issue that obviously creates a lot of consternation and side-choosing, but it's ultimately a simple message that drives the journalists to do the right thing.
In an age when journalism is constantly under fire, The Post is a film that reminds us of the importance of the Fourth Estate, and the idea of publishing to protect the right to publish is obviously a huge part of that. It's the strong moral philosophy that the protagonists of the story choose to follow, and it's their determination to do so that makes the Spielberg movie one of the best of the year.
"I did not hit her. It's not true. It's bullshit! I did not hit her. I did not. Oh, hai Mark." -- The Disaster Artist
Yes, this is an iconic line from writer/director Tommy Wiseau's notoriously terrible The Room, but that's part of the joy that is James Franco's movie about moviemaking, The Disaster Artist: an opportunity to rediscover all of the 2003 film's worst/best moments. This includes the scene that has inspired a million memes thanks to its ridiculousness and dialogue delivery -- but Franco's film shows that the true backstory behind the line is more insane than you could imagine.
Watching The Room, you may have thought that this line reading must have been the result of a short budget and the crew being unable to get more than a few takes. As The Disaster Artist reveals, this couldn't be further from the truth. Tommy Wiseau was actually given more than 30 attempts to try and nail this horribly written dialogue that he himself wrote, and it was only after he added a water bottle to the mix that he was able to get it done. It's a moment perfectly recreated in James Franco's film -- and it makes us hope even harder that his production somehow managed to create a shot-for-shot remake of the inspirational feature.
"This didn't put an end to shit, you fucking retard; this is just the fucking start. Why don't you put that on your Good Morning Missouri fucking wake up broadcast, bitch?" -- Three Billboards Outside Ebbing, Missouri
As previously seen demonstrated in films like In Bruges and Seven Psychopaths, writer/director Martin McDonagh has a wonderful way with swear words -- and that's a tradition very much kept up in his latest, Three Billboards Outside Ebbing, Missouri. Mildred Hayes, the protagonist played by Frances McDormand, has one hell of a mouth on her, and there is never an opportunity where she frets away from using it. This includes driving past a reporter who is trying to shut the book on a story that she wants to keep open for as long as fucking possible.
They say comedy is all about timing, and Frances McDormand's delivery of this drive-by diatribe is utterly perfect, and it's easy to imagine a pro like McDormand nailing it on the first try. It's a hilarious line that perfectly sums up everything that Mildred is about, and hopefully is a profanity-laced path that leads the Oscar-winning actress to another Academy Award nomination.
"What's my stance on 9/11? Oh um, anti. It was a tragedy, I mean we lost 19 of our best guys." -- The Big Sick
Michael Showalter's The Big Sick is a film naturally fully of awkwardness. After all, it's a movie about a guy who meets and has to spend time with the parents of his ex-girlfriend who has been put in an emergency medically-induced coma. It only makes sense that Kumail Nanjiani (playing himself) be nervous around the characters played by Ray Romano and Holly Hunter -- but the film also doesn't dance around when it comes to racial issues. Instead, it takes them head on, which is how we got the amazing quote you see above.
Nervous about getting to know Kumail, Terry (Ray Romano) realizes that he's never spoken to an Islamic person about what happened on September 11th -- but Kumail awkwardly counteracts this with a stupid joke making him sound like an al-Qaeda sympathizer. As you might expect, it goes over like a lead balloon, and Kumail is forced to course-correct, but it's still a hilarious and bold line with the honesty that makes The Big Sick such a treat.
Your Daily Blend of Entertainment News
Assistant Managing Editor
NJ native who calls LA home and lives in a Dreamatorium. A decade-plus CinemaBlend veteran who is endlessly enthusiastic about the career he's dreamt of since seventh grade.
Your Daily Blend of Entertainment News
Thank you for signing up to CinemaBlend. You will receive a verification email shortly.
There was a problem. Please refresh the page and try again.