Shazam Director Asks DC Fans To Push Pause On The Hate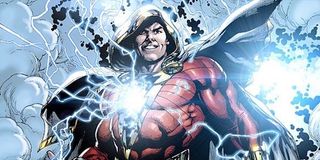 A very intriguing post-Justice League solo film for the DCEU is none other than David F. Sandberg's Shazam. Offering up the first live-action Captain Marvel (Asher Angel in kid form, and Zachary Levi in hero form) in decades, the film has a chance to create stories that we have never seen in the modern age of comic book cinema. However, some fans have already started to voice concerns over the growing belief that Shazam will adapt elements from the often-maligned version of Billy Batson from the New 52, and Sandberg has taken to social media to urge fans to hold their judgments. The Annabelle: Creation director wrote on Twitter:
Though most versions of Billy Batson are playful and likable, the version seen in the New 52 feels starkly different. He's far more brash, mean, and oftentimes downright cruel to others in those books, and some fans have started to worry that the growing number of New 52 elements being introduced into the film (such as members of the Marvel Family) might suggest a full-fledged adaptation of this polarizing arc. In the face of these concerns, Sandberg seems to want fans to take a step back and trust that more information (aside from a few revealed characters) will ease their worries about the direction of the character.
These complaints and fan concerns have become a frequent topic of conversation for David F. Sandberg, as this is not the first time that the man behind Lights Out has had to defend his take on Billy Batson. Specifically, when questioned by fans about the personality of the teenage hero on social media, Sandberg responded by explaining that "he's not a huge dickhead" in the way that some New 52 readers might expect.
For the sake of context, you can take a look at the tweet that prompted David F. Sandberg's response below.
Aside from David F. Sandberg's tweet urging fans to reserve judgment, there's also an argument to make that expecting a straight adaptation of a New 52 storyline doesn't necessarily make sense when we look at the modus operandi of the DCEU. Thus far, all of the interconnected DC films have borrowed liberally from a wide variety of source materials, and while the New 52 does feature prominently as a source for many of these movies, most of the adaptations are intermixed with other stories.
Even Batman v Superman: Dawn of Justice, which was touted as a live-action take on Frank Miller's The Dark Knight Returns (which it admittedly does adapt extensively), made some serious alterations to the material that it adapted by crossing over with The Death of Superman and various World's Finest stories. Shazam might use elements from the New 52, but Warner Bros. and the directors that it hires seems to see room for blending and changing storylines. Though some of us may have read the Shazam books, it doesn't guarantee that we know exactly what to expect from the film.
As of right now, it looks like Shazam expects to begin shooting in February, so we will bring you more information about David F. Sandberg's DC film as more details and imagery become public. Shazam is currently slated to debut in theaters in April 2019. Here's everything that we know about the upcoming superhero adventure.
Originally from Connecticut, Conner grew up in San Diego and graduated from Chapman University in 2014. He now lives in Los Angeles working in and around the entertainment industry and can mostly be found binging horror movies and chugging coffee.
Your Daily Blend of Entertainment News
Thank you for signing up to CinemaBlend. You will receive a verification email shortly.
There was a problem. Please refresh the page and try again.