The New Death Wish Trailer Sees Bruce Willis Use Darts And Cars As Weapons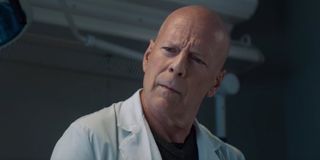 The lone hero with a gun and a willingness to use it has become a fairly well-worn and familiar trope to moviegoing audiences. Several franchises have embraced it over the years, and one of the most beloved of the bunch is about to return in the form of Eli Roth's Death Wish remake. The film looks like an insanely violent time, and a brand new trailer has officially dropped showing new Death Wish hero Bruce Willis wielding everything from guns to darts and even car jacks. Take a look at all of the carnage, below.
As usual, Death Wish intends to keep things simple. The wife (Elizabeth Shue) of Dr. Paul Kersey (Bruce Willis) dies at the hands of a roving gang of thugs, and the formerly peaceful man decides to take the law into his own hands. However, to compensate for that straightforward narrative, it seems that Eli Roth has once again embraced his knack for grisly filmmaking by turning anything and everything into a weapon for Bruce Willis' action hero. A dart? Plunge it directly into someone's hand. Is someone under a car? Drop it on them. Are there guns lying around? Then you can bet that pretty much all of them will go off at some point.
Aside from all of the violence, chaos, and action promised by this trailer, it looks like the film is also going to spend a healthy portion of its runtime examining the ethical and moral implications of a man who decides to take the law into his own hands. The scenes that don't follow Paul Kersey's take-no-prisoners crusade against crime involve numerous talking heads discussing the nature of his deeds, and in a manner almost reminiscent of Frank Miller's The Dark Knight Returns, it offers up opinions on each side of the argument to focus on something bigger than just the action.
One of the exciting things to note about Eli Roth's Death Wish (at least for many longtime fans) is the fact that it seems to have embraced its status as a full-blown remake of the 1974 original. Bruce Willis' character is named Paul Kersey, which is precisely the same moniker of the hero played by Charles Bronson, thus indicating that the film is meant to serve as a recreation of the original continuity. This film is not just Death Wish in spirit (which we received in 2007 with James Wan's Death Sentence); this is a modern version of the classic story.
Bruce Willis will bring his arsenal of weapons back to the silver screen when Eli Roth's Death Wish debuts in theaters on March 2. Make sure to mark the film's release on your calendar, and take a look at our 2018 movie premiere guide for more information on all of the other movies set to debut this year.
Originally from Connecticut, Conner grew up in San Diego and graduated from Chapman University in 2014. He now lives in Los Angeles working in and around the entertainment industry and can mostly be found binging horror movies and chugging coffee.
Your Daily Blend of Entertainment News
Thank you for signing up to CinemaBlend. You will receive a verification email shortly.
There was a problem. Please refresh the page and try again.