Bruce Willis Is Remaking Death Wish, Here's What We Know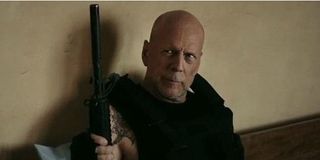 Paramount and MGM have found the perfect action hero to step into the Death Wish shoes that were vacated by the sad passing of Charles Bronson in 2003. That's because the studios' reboot of the beloved franchise will now be led by none-other than Bruce Willis. And I for one can't think of anyone more perfect for the role.
Deadline was the first to report that Bruce Willis in being pursued by both Paramount and MGM for Death Wish, which is being written and directed by Big Bad Wolves' Aharon Keshales and Navot Papushado. Paramount and MGM have been forced to work together like the studio version of The Odd Couple because, even though Paramount released 1974's Death Wish alongside the Dino De Laurentiis Company, MGM now owns those rights.
The rebooted version will once again be adapted from Brian Garfield's novel, and it's been a long time in coming. Both studios have had their issues put to one side for years in their pursuit of making a new Death Wish film. However the film's development has repeatedly been stunted.
Originally, Joe Carnahan (Smokin' Aces, The A-Team, Narc) was brought in to write and direct Death Wish. Subsequent drafts of the film have since been penned by Dan Gilroy (Nightcrawler) and Graham Yost (Speed) too, which means that some hugely impressive writing talent has overseen its development.
However, it's still not known how much of these versions of the script have been kept on by Aharon Keshales and Navot Papushado. The duo made their cinematic debut with Rabies, which they then followed up with 2013's Big Bad Wolves, both of which they wrote and directed. The latter received sensational reviews, and was even labelled by Quentin Tarantino as the best film of 2013.
This will be the Israeli duos first foray into American cinema, and the pair have picked a cult franchise with which to prove their movie-making mettle. Arguably Charles Bronson's most famous role came as Death Wish's Paul Kersey, a man who becomes a vilgilante and takes on bad guys himself after his wife is murdered and his daughter is sexually assaulted during a burglary, and the criminals are not held accountable.
Charles Bronson would go on to star in five Death Wish films. But while the franchise maintained it popularity over a 20 year period, it still skewed away from the book quite heavily. The novel denounced vigilantism, while Michael Winner's film advocated it. It's believed that Aharon Keshales and Navot Papushado's Death Wish reboot will be closer to Brian Garfield's 1972 novel.
Of course, this isn't the only franchise that Bruce Willis currently has on the burner. That's because he is also working on yet another Die Hard film, which is believed to be both a prequel to the 1988 classic, and a sequel to the underwhelming fifth instalment, 2013's A Good Day To Die Hard.
Your Daily Blend of Entertainment News
Thank you for signing up to CinemaBlend. You will receive a verification email shortly.
There was a problem. Please refresh the page and try again.