What DC's Big Behind-The-Scenes Change Might Tell Us About Aquaman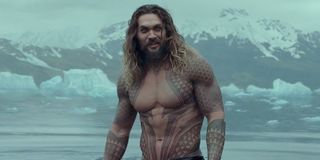 The DCEU has gone through a series of significant behind-the-scenes changes since its initial inception. What started as a simple platform to launch Man of Steel has consistently evolved with the release of every subsequent movie, and the fallout from Justice League has led to one of the most substantial alterations yet. Specifically, we're referring to the promotion of Walter Hamada to head of DC film production.
Though many of you have likely never even heard of Walter Hamada, we think that his promotion could have some notable implications for the future of the DCEU -- especially with regard to how those implications may relate to James Wan's Aquaman. On that note, let's dive in and discuss what Hamada's new role may tell us about Arthur Curry's first solo adventure ahead of the film's December 21 release!
They Believe In Wan
First and foremost, it needs to be said that Walter Hamada's resume as a producer very much goes hand in hand with the work that James Wan has done as a filmmaker over the years. The two have collaborated on several films over the course of the last decade, and Hamada's promotion inherently seems to imply a sense of faith in the work that James Wan has done as Aquaman's director.
The overall tone of the Aquaman set seems like a proper indicator of this fact. Over the entirety of Aquaman's development, we heard almost no negative stories or bad announcements come off of that set. Everything seems to have gone incredibly smoothly for James Wan's first foray into the DCEU, so from a Warner Bros. point of view, it makes sense that this group of people may now seem like the right crew to back as this superhero world evolves to cope post-Justice League.
They Like What They've Seen From Aquaman
Building off of that, the decision to promote a longtime collaborator of James Wan could indicate that Warner Bros. feels comfortable with the work that Wan has turned in for the film. Aquaman has entered the post-production phase of its filming process, which means that the folks at Warner Bros. have likely had a chance to see much of the film through dailies, if not a full assembly cut.
Warner Bros. has almost certainly had the opportunity to get a sense of what it has on its hands with Aquaman, so the decision promotes someone from within James Wan's side of the WB could seemingly indicate that there's quite a bit of confidence in the final product. Maybe it's Jason Momoa's continued comfort in the role, or maybe it's Wan's new underwater effects. Either way, compared to the rumors of low confidence associated with films like Justice League and Wonder Woman (the latter of which turned out to be wrong), there seems to be a sense of excitement going into Aquaman.
They're Trusting People Who Have Built Cinematic Universes
We don't necessarily think that anyone is going to label The Conjuring franchise as the most complex cinematic universe in existence, but that doesn't change the fact that it's a promising cinematic landscape with an intricate timeline. Over the course of four movies (with several more on the way, like The Nun and The Crooked Man), The Conjuring franchise has subtly turned into a cinematic universe workhorse, as it has become increasingly elegant in how it uses its movies to lay the groundwork for other corners of its mythology.
Walter Hamada has played a role in the development of every single installment in the world of The Conjuring, and there's something to be said about hiring someone with experience dealing in that type of interconnected narrative to put together a comic book world. Because Annabelle: Creation director David F. Sandberg was similarly hired out of the Conjuring world to work on Shazam, this could show a strong willingness to embrace people with this type of experience.
Originally from Connecticut, Conner grew up in San Diego and graduated from Chapman University in 2014. He now lives in Los Angeles working in and around the entertainment industry and can mostly be found binging horror movies and chugging coffee.
Your Daily Blend of Entertainment News
Thank you for signing up to CinemaBlend. You will receive a verification email shortly.
There was a problem. Please refresh the page and try again.