The 5 Funniest Moments From The 2018 Golden Globes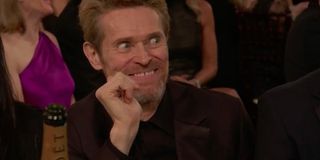 The Golden Globes are typically a rather raucous affair, with actors and filmmakers using the show to drink a bit too much and get silly. That wasn't really the tone of the 2018 proceedings, with the run of recent news out of Hollywood casting a shadow over the event, but that didn't stop some legitimately funny jokes from being told, and hilarious moments from going down. Seth Meyers was sharp in his opening monologue, and the talented folks populating the event brought the giggles.
There were many laugh-out-loud moments from tonight's show, but below and across the next few pages we've highlighted our five favorites. Read on, and tell us what you think were the funniest bits of the 2018 Golden Globes in the comments section below.
The Harvey Weinstein In Memorium Joke
Nowadays, Harvey Weinstein's name might as well be a curse word in Hollywood, and Seth Meyers treated it as such at the Golden Globes. He rightly pointed out that it's going to be a long, long time before Weinstein is mentioned at any awards show for years to come. Specifically, it will be 20 years from now during the In Memorial reel... and receive a round of boos. As noted by Meyers, the joke got a reaction from the audience that accurately predicted what it will sound like then -- but it just got laughs here at home.
Willem Dafoe Reacts To His Own Name
In recent months, distressing news has been erupting from Hollywood regularly, with actors constantly being called out for their absolutely horrible and horrific behavior out of the public eye over the years. It's gotten to a point where a context-less mention of any male star in public conversation will immediately illicit some worried requests for more details. Seth Meyers recognized this current atmosphere in his opening monologue, using a namedrop of "Willem Defoe" as an example -- and it turned out to be a perfect choice. The look on Dafoe's face was priceless, and gave us one of the funniest moments of the night.
"I've done a lot of indies and it's nice to be in a movie people see."
Sam Rockwell has a handful of $100 million movies on his resume, including Iron Man 2, The Green Mile, and Charlie's Angels, but the bulk of his career has been spent making smaller features with smaller budgets. This has resulted in him never really getting a ton of mainstream attention... but that changed majorly tonight. Winning the Best Supporting Actor prize for Three Billboards Outside Ebbing, Missouri, Rockwell took home his first major award, and helped earn one of the best movies of the year a lot of positive attention (the wins for Best Actress -- Drama, Best Screenplay, and Best Picture -- Drama didn't hurt either). Of course, the big funny here is that Three Billboards has only made $25.3 million to date domestically - though that number could certainly grow much bigger in coming weeks if Fox Searchlight continues to put it in more theaters (as it did this past weekend).
Seth Rogen Describes His First Experience With The Room
There are plenty of movies that wind up with odd distribution methods, utilized in order to qualify for awards season, but the way The Room found its way to audience was far stranger than anything even remotely similar. Writer/director Tommy Wiseau funded a billboard campaign that had his phone number on it, allowing people to call and ask for tickets, and apparently Seth Rogen was one of the people who actually dialed the number. Rogen told this story while preparing the crowd for a preview of Best Picture -- Comedy/Musical The Disaster Artist, and just reflecting on the absurdity of it all made for one of the most smile-inducing moments of the entire show.
James Franco Keeps Tommy Wiseau Away From The Mic
As anyone who has seen The Room or The Disaster Artist can attest, Tommy Wiseau is a bit of a wild card. An enigma in every sense of the world, you never really know how he is going to act or what he is going to say at any given moment. Because of this, it's definitely best to keep him away from any live microphone, and that's exactly what James Franco did this evening. While the Best Actor -- Comedy/Musical winner was giving his acceptance speech, Wiseau made his way to the stage and tried to say something about the moment himself, but Franco made the wise decision to stop him. We may never know what he was going to say.
Assistant Managing Editor
NJ native who calls LA home and lives in a Dreamatorium. A decade-plus CinemaBlend veteran who is endlessly enthusiastic about the career he's dreamt of since seventh grade.
Your Daily Blend of Entertainment News
Thank you for signing up to CinemaBlend. You will receive a verification email shortly.
There was a problem. Please refresh the page and try again.