Luc Besson's EuropaCorp Laying Off Employees After Valerian's Box Office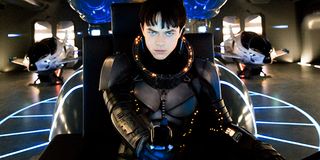 A film from visionary director Luc Besson, offering all the weirdness and world-building of cult classic The Fifth Element, but with the benefits of a huge budget and modern special effects. Such was the promise of Valerian and the City of a Thousand Planets. But instead of captivating audiences with a stunning original world they didn't want to leave, a la Avatar, Valerian fell short both critically and financially. Despite a valiant effort, it would be disingenuous to call the film anything short of a bomb. Sadly, the failure of Valerian will result in Luc Besson's EuropaCorp, laying off a number of employees.
This news comes after the company posted an $83 million net loss in its six month financial results and a $136 million loss for the fiscal year that ended on March 31 last year (before Valerian hit theaters). As reported by Deadline, EuropaCorp has begun a consultation procedure that could see 22 employees, or 28% of the company's French staff, laid off. The $83 million loss for the six months ending on September 30 last year was largely attributed to the box office failure of Valerian. But Valerian was not the only cause of their woes. The Emma Watson and Tom Hanks film The Circle, which EuropaCorp distributed, also failed to light up the box office. As a result, the company's Chief Executive and Deputy CEO both left the company, and in November of last year EuropaCorp sold off its French television division.
Valerian was the most expensive film in French history with a $177 million budget. Yet, despite having all the action and CGI trappings of a huge blockbuster, the film managed to only make $41 million domestically and $184 million overseas. Last year we heard that Valerian wasn't that much of a financial gamble because 96% of the budget was covered with pre-sales. But unfortunately the film business is still a business, and sometimes there are human consequences to such a major failure. Luc Besson also noted last year that if the film flopped, the studio would lose credibility to make that type of film. Sadly that is part of the high risk, high reward nature of blockbuster filmmaking; you only get one shot, and if you fail you may not be given another.
Ultimately, a film has to be good and liked by audiences for the best shot at success. Valerian received very mixed reviews and currently sits at a 49% on Rotten Tomatoes, but more damning is the audience score, which is 55%. This is an unscientific metric, but it reflects the overall mixed audience reaction towards the film. So some of the film's problems are due to its own shortcomings, but Valerian is an interesting lesson, and what its failure portends is rather dismaying.
While the film is based on a French comic series, it was not a property that was widely known, particularly in the United States. The majority of blockbuster films nowadays are all franchises based on name brands and well-known properties. New and original films don't often get the big-budget treatment, so when gambles like Valerian fail, it hurts the chances of other bold visions finding their way to the big screen. So while Valerian failed in a number of ways, let's hope that companies like EuropaCorp keep getting opportunities to fail, otherwise our blockbuster landscape will become quite predictable and boring.
Nick grew up in Maryland has degrees in Film Studies and Communications. His life goal is to walk the earth, meet people and get into adventures. He's also still looking for The Adventures of Pete and Pete season 3 on DVD if anyone has a lead.
Your Daily Blend of Entertainment News
Thank you for signing up to CinemaBlend. You will receive a verification email shortly.
There was a problem. Please refresh the page and try again.