Danny McBride's Crocodile Dundee Project Just Added A High-Profile Marvel Star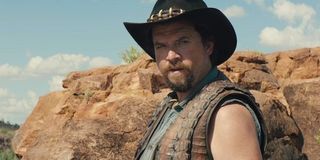 Normally when a movie is being made, the studio announces it years ahead of time. Rarely does news of a movie's existence come out only months before it's released, but that's seemingly what happened a few days ago when it was revealed that a new Crocodile Dundee story starring Danny McBride has been slated for a summer 2018 release. Quite frankly, we're still not entirely sure if this is a legitimate movie or some elaborate hoax, but either way, now we can look forward to Chris Hemsworth, a.k.a. Thor in the Marvel Cinematic Universe, taking part in this project as Wally Jr., the son of John Meillon's Walter Reilly from the original Crocodile Dundee movies.
As we learned late last week, Dundee: The Son of a Legend Returns Home will follow Danny McBride's Brian Dundee, the son of Mick Dundee, the main protagonist of the original Crocodile Dundee movies. When the elder Dundee goes missing in the Outback, it's up to Brian, the loudmouthed, American son no one knew Mick had, to head to Australia and find his father. To accomplish that, he'll team up with Wally Jr., who is the heir to his own father's outdoor tour company and prides himself on knowing everything there is to know about the land down under. Needless to say, though, that he'll have his hands full keeping Brian out of trouble, but you can check out the video below to see them meeting for the first time.
Yeah, we don't blame Chris Hemsworth's Wally Jr. for repeating "Really?" while looking at Brian Dundee. On surface level at least, it's hard to imagine this guy being the son of a legendary bushman. In any case, Hemsworth has previously shown off his comedic chops in Ghostbusters and a few Marvel movies (most notably Thor: Ragnarok las fall), so starring in Dundee: The Son of a Legend Returns Home should be another great opportunity to provide some laughs, even though Wally Jr. will presumably serve as the straight man alongside Danny McBride's foolishness as Brian Dundee.
The first Crocodile Dundee movie was released in 1986, and two sequels followed in 1988 and 2001, respectively. And in case it wasn't clear, Paul Hogan will be back as Mick Dundee in Dundee: The Son of a Legend Returns Home. Nevertheless, despite the teasers looking movie-quality and the project's website being called DundeeMovie.com, we're suspicious that this is a story that will actually be released in theaters in summer 2018. After all, Chris Hemsworth and Danny McBride have been busy with the upcoming Avengers movies and the new Halloween movie, respectively, so when would they have had time to shoot a feature-length fourth Crocodile Dundee installment? I'm intrigued by the theory going around that this is just some elaborate ad campaign that will air during the Super Bowl next month, but until that Sunday comes round, we remain in the dark about what's really going on here.
Stay tuned to CinemaBlend for more news about Dundee: The Son of a Legend Returns Home, and in the meantime, you can find out what movies are definitely being released in theaters this year by scanning through our 2018 premiere guide.
Connoisseur of Marvel, DC, Star Wars, John Wick, MonsterVerse and Doctor Who lore. He's aware he looks like Harry Potter and Clark Kent.
Your Daily Blend of Entertainment News
Thank you for signing up to CinemaBlend. You will receive a verification email shortly.
There was a problem. Please refresh the page and try again.