Driver Mows Down Cop While 'Reenacting' Fast And Furious Scene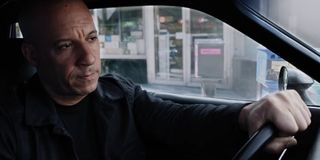 It is no secret that the characters in the Fast and Furious movies do some pretty badass stunts behind the wheels of cars. Between taking on submarines and piling up armies of vehicles in New York, those movies are chock full of car-based mayhem. That said, the stunts are dangerous, and potentially harmful if people try to replicate them in real life, which is precisely what happened when a cop in New York was run over by a driver trying to recreate a sequence from The Fast and the Furious.
The incident occurred last Saturday night. Arfhy Santos, a 20-year-old alleged drug dealer, was reportedly driving his friend's car when he rammed the vehicle into NYPD officer Ian Wallace, who was attempting to stop Santos for reckless driving. After striking Wallace, Santos' vehicle dragged the cop through Times Square, but according to Santos' lawyer, Santos' driving was a stunt attempting to recreate a scene in The Fast and the Furious.
According to the NY Daily News' report, Santos has been charged with assault and was held on $100,000 bail. The owner of the car, William Lopez (who already has similar charges against him in other cases), was in the vehicle at the time of the alleged assault and was held on $5,000 bond or $2,500 bail. Despite being struck by the car and dragged through Times Square, it sounds as if Wallace survived the incident and escaped with only minor injuries.
This case is only the latest in a series of recent reports related to how the Fast and Furious franchise may actually influence people behind the wheels of their cars. In fact, just two days ago we reported on the release of a brand new study suggesting that watching movies in the Fast and Furious franchise appears to have a correlation with a driver's inclination to speed on the road. So, if you have too many points against your license, you may not want to watch The Fate of the Furious anytime soon; you might get some subconscious ideas and floor the gas pedal.
As for the silver screen Fast and Furious crew, there's quite a bit to get excited about within the next few years. Specifically, the Dwayne Johnson and Jason Statham-fronted Fast and Furious spinoff focusing on Luke Hobbs and Deckard Shaw is currently gearing up to hit theaters next summer on July 26, 2019. From there, Fast and Furious 9 is set for an April 10, 2020 release date, and Fast and Furious 10 will round out the trio of upcoming Fast and Furious films by debuting one year later on April 2, 2021.
While we wait for the next flick to come out, we'll let you know if anyone else attempts a Fast and Furious stunt. We just hope it won't be this one.
Originally from Connecticut, Conner grew up in San Diego and graduated from Chapman University in 2014. He now lives in Los Angeles working in and around the entertainment industry and can mostly be found binging horror movies and chugging coffee.
Your Daily Blend of Entertainment News
Thank you for signing up to CinemaBlend. You will receive a verification email shortly.
There was a problem. Please refresh the page and try again.