Fast And Furious Movies May Cause Audiences To Speed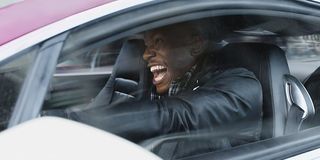 Ask any The Fast and the Furious fan, any real The Fast and the Furious fan, and they'll tell you tuna sandwiches should be crustless and Universal's biggest franchise makes them want to overnight parts from Japan and put the petal to the metal. Obviously we love to live vicariously through Dom and his crew and part of that is because of how fun the driving in this successful franchise looks. But a new data analysis indicates that the Fast and Furious films may actually cause audiences to drive more like the cinematic street racers. The analysis puts forth the possibility that Fast and Furious films actually cause an increase in speeding. You don't say.
The New York Times analyzed traffic violation data from Montgomery County, MD to look at all speeding tickets from 2012 to 2017. The methodology of the analysis was quite simple. The authors looked at speeding ticket data, including average miles per hour over the speed limit, location, and instances of extreme speeding in relation to the release of one of the franchise's films to ascertain any potential correlation. From 2012 to 2017 three films in the Fast & Furious franchise were released and with 192,892 speeding tickets to work with, the authors found some interesting links. Comparing speeding tickets from the three weekends prior to a Fast release with the three weekends after, they found a 20% increase after the films hit theaters. The average miles per hour over the speed limit increased from an average of 16mph over to 19mph over.
The analysis also found that rates of extreme speeding increased as well with rates of drivers ticketed for driving more than 40mph over the speed limit nearly doubling. Looking into it further, the authors found that the increases in extreme speeding were concentrated in areas close to movie theaters, where Dom and the family were living their lives a quarter mile at a time. Not only was extreme speeding less common in the three weekends prior to a Fast release, it was also less localized on Route 270, a major highway near several large movie theaters.
Now with any study it is important to note the potential sources of bias or error and the authors of the piece did just that. Analyzing speeding tickets given out around the releases of The Hunger Games films, the authors found no such increase in speeding. Nor did they find those weekends to be more common for speeding during years where a Fast film was not released. As with any risk-glorifying media, there is always the possibility that those who seek out such fare are more prone to risky behavior in the first place. Correlation is not causality and this study is far from conclusive. A more comprehensive scientific study would be needed to strengthen the argument, but it stands to reason that the Fast and the Furious films seem to cause an increase in speeding.
I always suspected that the early Fast and the Furious films caused an increase in the amount of people standing next to their terrible looking and sounding cars in parking lots, but an increase in speeding also seems plausible. And to be fair, that's the kind of effect an immersive film, especially an action movie, can have on you. Just like when you get out of watching The Raid or John Wick, you want to fight something. It may not even be an entirely conscious response but after watching gorgeous and expensive cars drive fast and do absurd things in Fast & Furious films, your foot may understandably feel a little leaden.
So be careful on the roads when Fast & Furious 9 hits theaters on April 10, 2020 and if you want to live like Dominic Toretto, ride the Universal ride, or you know, watch out for speed traps. Stay tuned to CinemaBlend as we next dive deep to discover, 'Do Star Wars movies make people want to own lightsabers?'
Nick grew up in Maryland has degrees in Film Studies and Communications. His life goal is to walk the earth, meet people and get into adventures. He's also still looking for The Adventures of Pete and Pete season 3 on DVD if anyone has a lead.
Your Daily Blend of Entertainment News
Thank you for signing up to CinemaBlend. You will receive a verification email shortly.
There was a problem. Please refresh the page and try again.