F9: Release Date, Cast And Quick Things We Know About The Latest Fast And Furious Movie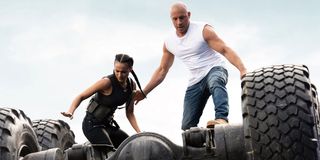 In 2001, if you were to tell us that the Fast and Furious series would go on to become one of the most successful film franchises in the modern Hollywood landscape, we're not sure that we would have believed you. The car racing franchise has gradually evolved beyond its street-level roots, and shows no fear of adapting to the changing of the times. As a result of that willingness to change (while still retaining a core theme of family) the Fast and Furious franchise has handily become a significant win for Universal and especially the films' star, Vin Diesel.
Now, coming off the heels of multiple billion-dollar successes at the box office, all eyes are on the long-awaited F9 (also known as Fast and Furious 9) and how the franchise aims to reach new heights with one of the first big theatrical releases since the start of the COVID-19 pandemic. And while it has seemed like we would never get to see F9, in theaters at least, the time has finally come for the star-studded and action-packed spectacle to be released.
The F9 Release Date Is Set For June 25, 2021
By the time F9 races into theaters on June 25, 2021, it will be more than two years later than originally expected when the ninth installment in the Fast and Furious franchise was announced several years ago. Over the past couple years, F9 has jumped from one release date to the next for a myriad of reasons ranging from the debut of Hobbs and Shaw in 2019 to the COVID-19 pandemic forcing Universal to reshuffle its schedule on multiple occasions. F9 was previously scheduled to premiere May 22, 2020, April 2, 2021, and May 28, 2021 before landing on the current June 25, 2021 date.
The F9 Cast Includes Vin Diesel, Charlize Theron And John Cena
The F9 cast is stacked, even for Fast and Furious standards, and is once again being led by Vin Diesel, who is returning to play "Mr. Quarter-Mile At A Time" Dominic Toretto. Instead of going face-to-face with Luke Hobbs (Dwayne Johnson) this time around, the franchise star will cross paths with his long lost brother, Jakob, played by John Cena, who is teaming up with the Toretto crew's enemy from Fate of the Furious, Cipher, once again played by Charlize Theron.
In addition to the big-name talent mentioned up above, F9 will also see the return of much of the Toretto crew, including Letty Ortiz (Michelle Rodriguez), Roman Pearce (Tyrese Gibson), Tej Parker (Chris "Ludacris" Bridges), Mia Toretto (Jordana Brewster), Ramsey (Nathalie Emmanuel), and a back-from-the-dead Han Lue (Sung Kang). Magdalene "Queenie" Shaw (Helen Mirren) will also be returning to the franchise with F9.
F9 Follows Dominic Toretto As He Confronts Ghosts From His Past
The Fast and Furious franchise is at its best when it's dealing with family matters, and that will once again be the case in the upcoming F9. Previous installments have seen the expansion of the Hobbs and Shaw families, but this time around, the Toretto family is growing, for better or worse. And while those reunions have been a merry good time in the past, it doesn't look like Jakob Toretto (John Cena) is looking to catch up with his older brother, Dom and kick back with a few Coronas.
When F9 starts up, Dom and crew will face off with the younger Toretto brother, now a deadly assassin, who has teamed up with Cipher (Charlize Theron) to settle an old grudge shared by the not-so-close family members. With two ghosts of Dom's past brought together by a common enemy, this could be the street racer-turned-superhero's biggest fight yet.
Justin Lin Made His Fast And Furious Return To Direct F9
The mainline Fast and Furious series was most recently helmed by Straight Outta Compton's F. Gary Gray, and before that, it found itself in the hands of The Conjuring's James Wan. However, with the ninth film in the franchise upon us, Universal wants to go back to a formula that has worked time and time again. Justin Lin — who helmed every film from Tokyo Drift through Fast and Furious 6 -- is back in the director's chair for F9, making this the first movie he's directed since 2016's Star Trek Beyond. But this isn't a one-time return for Lin as he will be returning to helm the 10th installment in the franchise in the near future.
F9 Is Rated PG-13
To date, every entry in the Fast and Furious franchise has received a PG-13 rating from the MPAA, and that will again be the case when F9 is released in July 2021. According to the Certification and Rating Administration, the ninth installment in the saga will have a PG-13 rating for sequences of violence and action, and language.
Finally, F9 Is Taking The Franchise To Outer Space
In a franchise that has continued to up the ante with its outlandish and logic-defying stunts over the past 20 years, it was only a matter of time before Fast and Furious set out for the final frontier. Well, that time has finally come for Dominic Toretto and company to take their adventures out of this world, literally, as F9 will take the franchise to outer space.
What initially started out as a joke by Fast and Furious fans has quickly become a reality, first when Michelle Rodriguez seemingly confirmed the rumor in September 2020, and then when the April 2021 trailer dropped, showing Roman Pearce (Tyrese Gibson) and Tej Parker (Chris "Ludacris" Bridges) preparing to leave the atmosphere, spacesuits and all.
What's Next For The Fast And Furious Franchise?
The Fast and Furious franchise has become one of the biggest cash cows for Universal over the past decade, consistently bringing in bank at the box office. Since the release of Fast Five in 2011, none of the movies in the series have brought in less than $626 million worldwide, with Fast and Furious 7 and The Fate of the Furious bringing in $1.5 billion and $1.2 billion respectively. That being said, F9 is far from the final installment in Fast Saga.
There are already plans for a Fast and Furious 10 (which was initially set for a 2021 release before being postponed), with Justin Lin returning to direct. Then there is the long-rumored female-led Fast and Furious spinoff movie, as well as Hobbs and Shaw 2, which is currently in the early stages of development. By the sounds of it, we'll be watching Dominic Toretto and crew take on another series of adventures one quarter-mile at a time.
In no time at all, we will all be racing our Nissan Skylines (with all those neon lights) to our local movie theaters to see F9 after all this time. If you want to see what else you can expect to catch on the big screen this year, check out CinemaBlend's updated list of 2021 movie premiere dates.
Your Daily Blend of Entertainment News
Originally from Connecticut, Conner grew up in San Diego and graduated from Chapman University in 2014. He now lives in Los Angeles working in and around the entertainment industry and can mostly be found binging horror movies and chugging coffee.