The Rock's Fast And Furious Spinoff: Here's What We Know About Hobbs And Shaw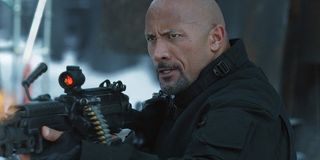 There's a reason that they call The Rock "franchise Viagra." The behemoth action star (in every sense of the word) has managed to elevate most of the film series that he has infiltrated over the years, and he has a proven ability to generate fantastic box office results in the process. One of the key examples of that phenomenon was the rejuvenation of the Fast and Furious franchise when he entered the equation as Luke Hobbs in Fast Five (widely regarded as the turning point for the series), and now he will finally be rewarded for his hard work with a spinoff movie of his very own, which is now being called Hobbs & Shaw and will feature Hobbs teaming up (once again) with Jason Statham's Deckard Shaw.
It makes sense that such a film would enter production when we look at the box office success of The Fate of the Furious, and that spinoff is the film that we intend to discuss today. And, to help move that process along, we have put together a handy list of everything that you currently need to know about The Rock's Fast and Furious spinoff movie. We will endeavor to keep the guide as up to date as possible at all times, and we will keep you up to date with new details as they become available to us. Now, without further ado, let's dive into the details of this project and start figuring out what to expect from it.
What Have We Seen From Hobbs & Shaw?
After many, many months of building anticipation, we finally got a look at what we can expect from Hobbs & Shaw when the first official trailer dropped in early February 2019. As you can see from the footage above, the movie will see the duo being forced to work together to bring in a nearly superhuman bad guy in an operation that has to employ some off the books methods. As you might expect from a movie that's a spinoff of the high octane Fast & Furious franchise, Hobbs & Shaw will feature a lot of intense action, as well as a quite a bit more humor than any of its predecessors.
When Is The Hobbs & Shaw Release Date?
The Fast and Furious spinoff is gearing up to hit theaters a lot sooner than some people may have previously assumed. In fact, Fast and Furious 9 was actually pushed back (to the chagrin of Tyrese Gibson) to make room for Hobbs & Shaw earlier on the Universal schedule -- which could mean that the folks at Universal have a lot of faith in the idea that they have been cooking. Originally, The Rock's Fast and Furious spinoff movie was slated to debut in theaters on July 26, 2019, but now the date has been pushed back a bit for August 2, 2019. We still have a bit of time to wait until the film finally debuts, but considering how recently it was announced, this is a pretty quick turnaround for a potential summer blockbuster of this scope.
What Is The Hobbs & Shaw Rating?
At this stage of the game, there is no reason not to assume that Hobbs & Shaw will not receive a PG-13 rating like all of the other entries in the franchise. The Fast films are primarily built on a foundation of broad appeal, and getting a large crowd into the theater is the key to success. R-ratings may have helped Deadpool become a box office powerhouse and allowed Logan to become a potential awards contender, but PG-13 is what Fast and Furious currently calls home. Is it impossible that someone behind the scenes may decide to go all in and let the Fast and Furious movie get a restrictive rating? Not necessarily, but PG-13 just seems like the safer bet at this stage of the film's development.
Who Is The Hobbs & Shaw Director?
Although Justin Lin has arguably become the most well-known filmmaker behind the scenes of the Fast and Furious franchise, the series has never really landed on one specific director to put a notable creative mark on the films. It's one of the more malleable franchises in existence, and it took a while for a director to be confirmed for Hobbs & Shaw, with a report from Variety in October 2017 indicating that Shane Black (Iron Man 3, The Nice Guys) was in the running to potentially get the job.
Spring of 2018, however, brought some good news, as a director was finally officially confirmed for Hobbs & Shaw. David Leitch, fresh off his work on Deadpool 2, is set to step behind the camera for the Fast and Furious spinoff. And, this sounds like a nearly perfect choice to steer what is sure to be an action-filled ship into theaters. Leitch began his Hollywood career as a stuntman/stunt coordinator, and began his work as a director with 2014's John Wick. He then moved to Atomic Blonde and Deadpool 2, making Hobbs & Shaw his fourth effort as a director.
What Is The Hobbs & Shaw Story?
While the Fast and Furious spinoff is still working its way toward theaters and all the details of the story have not been established publicly yet, as mentioned above we do know why these two will be brought together again. Luke Hobbs and Deckard Shaw will come together for a mission that requires their particular sets of skills in the hunt for Idris Elba's genetically modified villain, Brixton. And, even though the antics that the Fast and Furious crowd get up to have often made the members seem superhuman, this time it looks like Brixton really will bring some actual superpowers to the table.
Despite the fact that we don't know much about where else the folks at Universal intend to take Hobbs & Shaw from a narrative point of view, the use of those two characters could go a long way towards informing the type of movie that we see. They are more soldiers than they are drivers (though they can definitely handle themselves behind the wheel) which means we may see a movie that's a bit more traditionally oriented towards action than the vehicle-based chaos from the other Fast and Furious movies. Only time will tell for sure.
Dwayne Johnson As Luke Hobbs
Dwayne Johnson is a busy guy; you just need to look at his IMDb page to figure that out. He's recently had roles in films like Rampage and Skyscraper, as well as currently working on Jumanji 3, the guy has a lot on his plate. Having said that, one role that he has continuously returned to over the years is that of Luke Hobbs in the Fast and Furious franchise. Johnson seems incredibly eager to return to the fray, which means we can look forward to an enthusiastic lead performance when the film finally premieres.
That said, we still have no idea of what to expect from Luke Hobbs in this film. During The Fate of the Furious, we saw him go on the run like a fugitive to prove his innocence and get back to the right side of the law, which means that he likely doesn't do the same thing in the very next movie. Considering that Hobbs is now seen as a law-abiding citizen again, and the fact that taking Brixton down is an official, government effort, it makes sense that no one would need to bring the entire team into the field.
Jason Statham As Deckard Shaw
When Jason Statham first burst onto the scene at the end of the sixth Fast and Furious film, everyone knew that he was destined to become the big bad of Furious 7. Having said that, it's doubtful that anyone could've possibly anticipated the transformation that would take place for the character between then and now. Deckard Shaw is still not quite a proper good guy in the way that Luke Hobbs is (or Brian O'Conner was before Paul Walker's death), but he has definitely transformed into a fan-favorite anti-hero, as well as one of the most exciting aspects of the entire Fast and Furious franchise.
Much of that had to do with the delightfully fun chemistry between Jason Statham and The Rock on The Fate of the Furious, and it's clear that Universal knows what it has on its hands with these two action powerhouses. Now that we have some idea as to how Hobbs & Shaw plans to incorporate Deckard Shaw into the story alongside Luke Hobbs, we can reasonably assume that the plan is to have him serve as the "bad cop" to Hobbs' more straight-laced and law-abiding badass police officer.
Vanessa Kirby As Hattie Shaw
As we've seen previously, the Shaw family runs pretty deep, either by upholding the laws or going against them in major ways, and Deckard's sister Hattie is no different. She's actually an MI6 agent who will run into Brixton during a mission, which will then go awry because of his interference, and call in the help that leads to Hobbs and her brother getting involved. And, if what The Rock has to say about her character turns out to be true, she'll end up having more of a bond with Hobbs than Deckard when they all get together.
If you're wondering where you've seen Vanessa Kirby, who's taken on the role of Hattie Shaw, before, she's had a booming career as of late. She became known for her work as Princess Margaret on The Crown, and played a sophisticated arms dealer in last year's Mission: Impossible - Fallout, and has also appeared in The Frankenstein Chronicles and Jupiter Ascending, among other films and series.
Idris Elba As Brixton
Any movie of this type needs its bad guy, and for Hobbs & Shaw that's Idris Elba's Brixton. As mentioned earlier, Brixton is not your run-of-the-mill baddie. Oh, no. Brixton has undergone some sort of high tech genetic manipulation in order to become "human evolutionary change...bulletproof, superhuman," and he certainly looks the part from what we see of him in the trailer. Dwayne Johnson had said a couple of months ago that they wanted Brixton to be "the baddest villain the franchise has ever seen," and throwing superpowers into the mix can absolutely take care of that.
The snippets we see of his procedure in the trailer make it look as though Brixton took these changes on willingly, but right now we don't know who was behind the tech that allowed him to have this procedure, why he was recruited for it or what his ultimate goal is in Hobbs & Shaw. But, time will tell.
Luke Evans As Owen Shaw
Like Deckard Shaw, Luke Evans' Owen Shaw is another Fast and Furious bad guy who appears to be on a redemptive arc. After serving as a full-blown antagonist in the sixth film, he made a return to action alongside Deckard in the mission to save Brian Toretto from Cipher -- before her escape out of the plane. He's still around, which means that he has the potential to come back.
As far as willingness to appear in the Fast and Furious spinoff goes, Luke Evans seemed interested in the possibility. When addressing whether or not he would come back for Hobbs & Shaw while promoting the release of Professor Marston and the Wonder Women at the time of that film's October 2017 release, he specifically mentioned that he had not received a call to reprise his role as Owen Shaw yet, but that he would do so if presented with the opportunity. Now we're just hoping that the opportunity does present itself.
Helen Mirren As Magdalene Shaw
Kurt Russell is not the only acting icon to get a chance to enter the Fast and Furious universe as a badass character. Helen Mirren also entered the fray as Magdalene Shaw (after fighting for the role) during the events of The Fate of the Furious, and her brief appearance in that film seemingly came with the implication that she could potentially show up somewhere down the line for a much meatier role in the franchise. Like Luke Evans, she is not confirmed for a role in Hobbs & Shaw yet, but she seems like a logical choice to potentially fill out the supporting cast.
Bringing back Magdalene Shaw also just seems to make sense from a storytelling point of view. As we saw in The Fate of the Furious, the Shaw family seems to operate by a very similar (albeit somewhat skewed) version of the Toretto family code, so she could easily represent a focal point to branch the series off in a new direction while still maintaining a sense of thematic continuity with the rest of the movies in the Fast and Furious franchise.
Other New Characters
One of the exciting things we've learned recently about Hobbs & Shaw is that not only will it introduce at least one new member of the Shaw clan, but it will also bring other members of the Hobbs family to the big screen as well. Luke Hobbs is said to have five brothers and a mom who'll be showing up, and we know that one of these brothers will be played by WWE all-star Roman Reigns, who just so happens to be The Rock's real-life cousin. One of the Hobbs brothers, Jonah, reportedly has an ax to grind against Luke, but we don't know yet if Reigns is the one taking on the part of Jonah.
Actor Eddie Marsan has reunited with his Deadpool 2 and Atomic Blonde director for Hobbs & Shaw, as he signed on to play a, currently undisclosed, role in the action film. Marsan has played a wide array of villains, good guys and weirdos on screen, so it will be interesting to see just how he and his character fit into the narrative.
The Rest Of The Crew
One thing that we still don't know about the Fast and Furious spinoff is whether or not any other members of the Dominic Toretto crew will show up to make an appearance (cameo or otherwise). We know that every character in this franchise values family above all else, and The Fate of the Furious certainly established the idea that Luke Hobbs is indeed a member of that specific family. Nothing has been confirmed yet, but we would not be surprised if it were announced that at least one member of the crew intended to show up.
Having said that, there's also a clear argument to be made that it might not be the wisest thing for a member of the proper Fast and Furious franchise to show up and take part in the upcoming story. One of the most exciting aspects of Hobbs and Shaw is the chance to see more of Luke Hobbs than we have ever seen before, and pushing this movie too far into ensemble territory could defeat that purpose. A cameo has the potential to work still, but we might not want to see Dom or Letty for the bulk of the film; Luke needs his time to shine.
What Other Fast And Furious Movies Are Coming?
Although the Fast and Furious franchise intends to take a brief detour in order to focus some much-needed attention on Luke Hobbs as a central hero, that doesn't change the fact that there are other installments in the franchise on the way as well. Specifically, Fast and Furious 9 is set to debut in theaters in April 2020, and Fast and Furious 10 (which may end the main franchise) is set to premiere one year later in April 2021.
We only have a few months to wait now until Hobbs & Show hits theaters, but be sure to keep an eye on this guide as we'll update it with all the latest news on the action blockbuster!
Your Daily Blend of Entertainment News
Originally from Connecticut, Conner grew up in San Diego and graduated from Chapman University in 2014. He now lives in Los Angeles working in and around the entertainment industry and can mostly be found binging horror movies and chugging coffee.
Your Daily Blend of Entertainment News
Thank you for signing up to CinemaBlend. You will receive a verification email shortly.
There was a problem. Please refresh the page and try again.