Black Panther Box Office: Marvel's Big Cat Gets One Step Closer To A Billion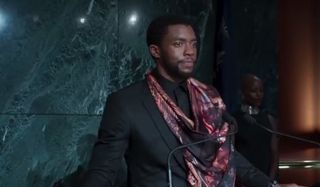 For a second there it looked like an iffy proposition, but now it's basically guaranteed. Fans have been wondering for weeks if Ryan Coogler's Black Panther would be able to reach the billion dollar mark, and now it looks like a lock. This weekend the Marvel Studios film brought in another incredible haul, and now finds itself just a little more than $100 million away from getting to a global box office milestone that only 32 other titles have reached. Check out the full Top 10 below, and then we'll dig in!
Yes, those are some real "Holy shit" numbers. In its third weekend, Black Panther managed to only drop an estimated 41 percent, allowing it to cross the $500 million mark domestically. Because of this achievement, the film was also able to leapfrog over six other titles on the domestic charts (Shrek 2, The Dark Knight Rises, The Avengers: Age of Ultron, Star Wars, Star Wars: Episode I - The Phantom Menace, and Finding Dory) and is now the 10th highest grossing blockbuster ever released in the United States. To help put that in perspective, if the Marvel feature drops another 50 percent next weekend, it will still manage to leap up another two spots, passing 2017's Beauty and the Beast and Rogue One: A Star Wars Story to become number eight on that esteemed list.
If you didn't reason it out already from the information above, it's also worth pointing out that this weekend's performance now makes Black Panther the second biggest domestic for Marvel Studios, with Joss Whedon's The Avengers still sitting pretty at the top of that particular list with its $623.4 million total. The Ryan Coogler-directed blockbuster still sits a bit lower on the worldwide chart, but will shortly join the esteemed group of Marvel Cinematic Universe titles that have previously reached the billion dollar mark - including The Avengers, The Avengers: Age of Ultron, Iron Man 3, and Captain America: Civil War. Of course, this isn't all some mystifying, accidental phenomenon. The movie is fantastic; critics absolutely loved it (it's the highest rated superhero title ever on Rotten Tomatoes); it has an "A+" CinemaScore; and already it has become a pop culture staple. Films so brilliant come around very rarely, but we're in the middle of seeing one leaving a permanent mark on Hollywood.
While putting up its amazing third weekend numbers, Black Panther had some interesting new competition, and neither of them totally crapped the bed. Taking the Number Two spot away from Game Night (which actually had a solid second week) is Francis Lawrence's Red Sparrow - another "Color Animal" feature that performed modestly. The film is carrying a pretty hefty budget (a reported $69 million before marketing), and critics were very divided, but it seems the appeal of Jennifer Lawrence and her reunion with the Hunger Games franchise director did put some butts in seats. It was never going to beat Black Panther, but it will be curious to see if it can ultimately justify its expenses. It only got a "B" CinemaScore, which means it probably won't have much in the way of legs via buzz, and the March calendar has a collection of notable upcoming titles.
Eli Roth's Death Wish remake was made for half of what Red Sparrow cost, but that's pretty much the only reason why its numbers in its opening weekend look decent. The film got smashed by critics - many pointing to the tone deafness of its release in the current political climate - but already its made back about 43 percent of its budget. That said, it's likely to fade a whole lot faster Red Sparrow, as it has "Front Loaded" written all over it. Audiences that really wanted to see this one probably went over the last three days, and most of those with lingering interest will probably wait out the time until its home video release.
As mentioned earlier, Hollywood has a diverse slate of films arriving this month, and next week we are getting a strange sample platter. Strangers: Prey At Night is going for screams; Gringo is going for laughs; The Hurricane Heist is going for thrills; Thoroughbreds is going for wry smiles, and A Wrinkle In Time is going for wonder. That's a group of releases that should significantly shake up the Top 10, so come back next week to see how it all plays out!
NJ native who calls LA home; lives in a Dreamatorium. A decade-plus CinemaBlend veteran; endlessly enthusiastic about the career he's dreamt of since seventh grade.
Your Daily Blend of Entertainment News
Thank you for signing up to CinemaBlend. You will receive a verification email shortly.
There was a problem. Please refresh the page and try again.