Joss Whedon Has Clarified Why He Left DC's Batgirl Project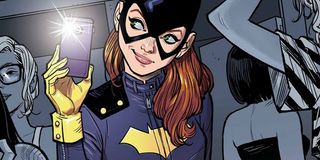 It's going to be a week filled with Marvel and, more specifically, Avengers content. Joss Whedon is one man who has dipped his toes into both Marvel and DC ponds. Last night, he was at the Avengers: Infinity War premiere, and he took a few minutes to explain what happened with the Batgirl-oriented DC movie he used to be attached to. Whedon has since quit the project, and now he has clarified exactly what went down leading to his tough decision. He said:
Previously, Joss Whedon announced he was quitting the Batgirl movie in a message to potential audiences and fans. At the time, he said he was leaving the movie project because he "didn't really have a story." Now, on the red carpet for Avengers: Infinity War, Joss Whedon revealed to Variety that he wasn't telling the truth, or at least the whole truth and nothing but the truth when he made his initial statement a few weeks ago. Instead of quitting because he said he didn't have a story, he actually says he quit because his story wasn't working, or at least elements of it weren't working. He also mentions that some facets of the story "might not work as well," which makes me wonder if this has something to do with some of the other DC projects that are currently in development over at Warner Bros. Maybe what he wanted to do didn't gel within the overall DCEU. It also should be noted that Whedon spent some time working on Justice League after Zack Snyder ceded the project, and the end result wasn't as satisfactory at the box office as Warner Bros. likely hoped, although that may not have led to Joss Whedon's ultimate decision.
Previously, Joss Whedon also revealed he had "failed" at making another mark in the DC Universe, and now he has elaborated a little bit further, talking about how his decision to leave the project was truly "heartbreaking." He said:
The end result is that Batgirl now has a new writer and is moving forward in a new direction. This isn't atypical for the studio, either. Over the past few years, DC has announced quite a few projects. Thus far, only a handful of these have come to fruition, while other projects, including the Batgirl-fronted movie and The Flash-fronted movie, have yet to move forward into production, and some, like the project listed in this article, have had trouble keeping a director attached. Currently, we know Aquaman and Shazam are definitely happening, and Wonder Woman 2 has a release date and Patty Jenkins attached. Flashpoint also has directors, and hopefully they will stick. Other movies have been announced but aren't officially coming together yet. You can take a full look at our list of what DC will hopefully eventually have coming, here.
In the meantime, Joss Whedon may not have a Batgirl movie coming up, but he does generally tend to keep busy. We'll keep you updated on what comes next for the director, writer and producer.
Reality TV fan with a pinch of Disney fairy dust thrown in. Theme park junkie. If you've created a rom-com I've probably watched it.
Your Daily Blend of Entertainment News
Thank you for signing up to CinemaBlend. You will receive a verification email shortly.
There was a problem. Please refresh the page and try again.