Bill Cosby And Roman Polanski Have Been Expelled From The Academy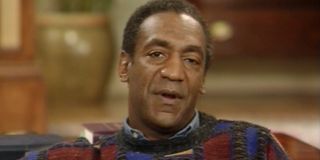 Ever since the sexual misconduct allegations against producer Harvey Weinstein were made public last October, the Me Too movement has been putting an ever-growing spotlight on sexual harassment and assault more so than ever, whether it's in Hollywood or in other industries, at work or in personal settings. But even before the Weinstein scandal broke, two high-profile entertainment figures who were in the news for sexual misconduct allegations were comedian Bill Cosby and director Roman Polanski. Now it's been announced that both men have been expelled from the Academy of Motion Picture Arts and Sciences.
In its public statement (via THR), the Academy of Motion Picture Arts and Sciences announced that Bill Cosby and Roman Polanski are no longer members of the organization, saying that "the Board continues to encourage ethical standards that require members to uphold the Academy's values of respect for human dignity." The vote to expel Cosby and Weinstein occurred on May 1 and is part of the board of governor's efforts to enforce a Standards of Conduct that was implemented following the scandal surrounding Harvey Weinstein, who was also expelled from the Academy. Polanski, however, will still keep his the Oscar he won for directed 2003's The Pianist. Cosby was also recently kicked out of the Television Academy's Hall of Fame, which included his bust being removed from display.
Also known for his work on movies like Uptown Saturday Night and TV shows like The Cosby Show, Bill Cosby was recently found guilty of three counts of aggravated assault against Andrea Constand in 2004. Cosby's first trial ended as a mistrial with a deadlocked jury last year, but it went to retrial and the jury reached its verdict after 14 hours of deliberation. Cosby has not been sentenced yet. While Cosby had been investigated for sexual assault and harassment last decade, it wasn't until additional allegations came out starting in late 2014 (with Cosby being accused of assaulting numerous women between 1965 to 2008) that significant progress started to be made. Cosby has also been stripped of his honorary degrees from Yale University and Temple University.
As for Roman Polanski, who's directed movies like Chinatown and Rosemary's baby, he fled the United States in 1978 after he plead guilty to drugging and raping a 13-year-old girl. He hasn't returned to the States since then, and requests for his extradition have been denied. Polanski will be a character in Quentin Tarantino's upcoming movie Once Upon a Time in Hollywood, which is set in 1969 around the time of the Manson Family murders (of which Sharon Tate, Polanski's girlfriend, was one of the victims) and will be released on August 9, 2019.
Stay tuned to CinemaBlend for all the latest in movies news, and if you're interested in planning your trips to the theater later this year, head over to our 2018 release schedule.
Connoisseur of Marvel, DC, Star Wars, John Wick, MonsterVerse and Doctor Who lore. He's aware he looks like Harry Potter and Clark Kent.
Your Daily Blend of Entertainment News
Thank you for signing up to CinemaBlend. You will receive a verification email shortly.
There was a problem. Please refresh the page and try again.