Han And Chewbacca Had A Much Different Origin Scene In Early Solo Script Drafts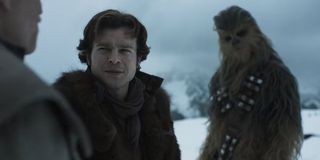 Warning: this article contains spoilers for Solo: A Star Wars Story! Turn back now if you don't want to know what happens in the latest Star Wars film!
The friendship of Han Solo and Chewbacca is one of the most fundamental relationships in the Star Wars franchise. Ron Howard's Solo: A Star Wars Story shows the origin of this dynamic, but it turns out that early drafts of the film's story had a very different version of the sequence in which the two icons meet. In fact, while the film shows Han saving Chewbacca from captivity, it almost turned that moment on its head and flipped their roles and had Chewie save Han on the battlefield in their initial encounter.
In a recent interview with Screen Rant, Industrial Light and Magic senior art director Aaron McBride addressed the relationship between Han and Chewie in Solo: A Star Wars Story and explained how it evolved over time. In earlier drafts of the story, instead of Han joining the Empire, he actually joined a diverse rebel army fighting against Imperial forces. His time as a cocky hotshot pilot eventually would get him into trouble (with comparisons made to Top Gun), and he would be sent to the fight the Empire on the battlefield in the ground war on Mimban. During his time as a foot soldier in the WWI-esque battle, he would find himself paired up with Chewbacca, and the massive Wookie would save him from a looming Imperial walker.
As many fans of the Star Wars franchise will quickly note, this represents a massive change in the status quo between Han and Chewie. In most incarnations of their relationship, Chewbacca stands by Han's side to honor a "life debt" that begins when Han saves Chewbacca when they first meet. Instead, this would make Han the one who owes Chewbacca the life debt.
Of course, things change over the course of a film's development, and Solo: A Star Wars Story eventually opted to do something more in the vein of the traditional Han and Chewie narrative. Specifically, Han gets thrown into captivity with Chewbacca for insubordination while serving in the Imperial army, and he comes up with a scheme to get them both out of danger. The final cut of the film doesn't actually mention the life debt, but Chewie's decision to stand by Han from that point forward very much echoes the moment seen in the Expanded Universe canon.
Regardless of how Han Solo and Chewbacca met in the early drafts of Solo: A Star Wars Story, you can check out the final version of the sequence in the film in theaters right now! If you want more information about the film, you can check out our full review and our To 3D guide to find out which ticket is worth your money. As for the future of the Star Wars franchise, you can catch J.J. Abrams' Star Wars: Episode IX next year on December 20, 2019.
Originally from Connecticut, Conner grew up in San Diego and graduated from Chapman University in 2014. He now lives in Los Angeles working in and around the entertainment industry and can mostly be found binging horror movies and chugging coffee.
Your Daily Blend of Entertainment News
Thank you for signing up to CinemaBlend. You will receive a verification email shortly.
There was a problem. Please refresh the page and try again.