DC's Green Lantern Corps Knows Which Characters It Is Going To Use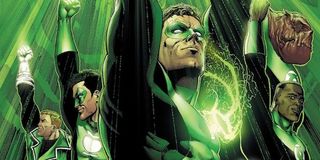 The Green Lantern mythology has been one of the cornerstones of the DC Comics universe for decades, and in 2011, the property was finally brought to the big screen, with Ryan Reynolds playing Hal Jordan as the recipient of the ring of willpower. Green Lantern proved to be a critical and commercial dud, but DC and Warner Bros haven't given up on bringing the Emerald Knight back to the big screen. Since 2014, a reboot, titled Green Lantern Corps, has been in the works, and while there's been several notable developments behind the scenes in the years since, the only major detail concerning the movie itself to come out is that it would follow multiple Lanterns rather than focus on just one. But today, it's finally been confirmed that Hal Jordan and John Stewart will be Green Lantern Corps' starring Lanterns.
Earlier today, it was announced that Geoff Johns is stepping down as President and Chief Creative Officer of DC Entertainment, but by no means is he done contributing to the DC Comics landscape. In addition to penning several comic book series and launching a "pop-up label" called The Killing Zone, Johns has his hands in several upcoming DC movies, which includes writing and co-producing Green Lantern Corps. On the website for his new production company, Mad Ghost Productions, it states that the reboot "will feature Hal Jordan and John Stewart." For years, it's been rumored and reported that these two would be the Green Lantern Corps leads, but this is the first time it's been officially confirmed. Alas, this doesn't shed any light on the story, but at least now the pairing has finally been cemented, as opposed to the reboot featuring a duo like Guy Gardner and Kyle Rayner, or Simon Baz and Jessica Cruz.
While Hal Jordan wasn't the first Green Lantern in the comics (that honor belongs to Alan Scott, whose ring was a product of magic rather than science), he was the first human member of the Green Lantern Corps, introduced in 1959's Showcase #22. Guy Gardner was tapped as Hal's backup in 1968, but when he was out of commission a few years later, John Stewart was selected as the new backup Lantern. Nowadays there are numerous human Lanterns flying around at once, but Hal and John are arguably the most well-known of the bunch, with John's popularity growing thanks to the Justice League animated series from last decade.
In January 2017, David Goyer and Justin Rhodes were hired to write Green Lantern Corps, and when they were attached, the movie was described as being a Lethal Weapon in space-type adventure, with Hal Jordan as the experienced ringslinger and John Stewart as the fresh recruit. Now that Geoff Johns is taking over scripting duties, it's unclear if that will change at all, although given Hal and John's differing personalities, those two having a Riggs and Murtaugh-like dynamic sounds about right.
Green Lantern Corps was originally scheduled for release in 2020, but with all the changes in the DC Extended Universe's development since then, it's unclear when we can expect to see it in theaters. Stay tuned to CinemaBlend for more updates.
Your Daily Blend of Entertainment News
Connoisseur of Marvel, DC, Star Wars, John Wick, MonsterVerse and Doctor Who lore. He's aware he looks like Harry Potter and Clark Kent.