Why Phase 3 Is Marvel's Best Phase So Far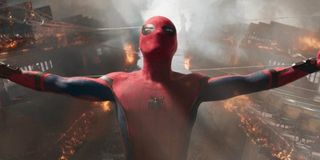 The Marvel Cinematic Universe has come a long way since Tony Stark donned his first suit of armor back in Jon Favreau's Iron Man. With almost three phases completed, it's becoming clearer that Marvel Studios knows how to branch out in new directions and try new things with each passing year. In fact, now that we're on the tail end of Phase 3, it has become evident that the third phase of the Marvel Cinematic Universe is also its best because of Marvel's willingness to embrace diversity in all of its forms.
To be clear, I'm not just highlighting the increasing diversity of Marvel's heroic roster -- though the introductions of heroes like Black Panther, The Wasp and the eventual debut of Carol Danvers next year do help. Instead, I'm actually referring to a perceived increase in diversity of thought and unique filmmaking style. In the earliest days of Phase 1, Marvel movies (largely by necessity) had to play to cliché character beats and well-known story formats in order to get audiences familiar with the landscape of the MCU. In fact, if you go back to watch some of the films that led up to the release of The Avengers, you may find yourself surprised by how many of them had the idea of a lone, exceptional, macho hero overcoming a broadly evil antagonist by punching their way out of a situation. It was a formula you could set your watch to back then.
Things got slightly better when Phase 2 kicked off in 2013 with Iron Man 3. Though the heroes remained sort of indistinguishable from one another in terms of personality, Marvel Studios started branching out and trying new things with its narrative structure. This included embracing Shane Black buddy movie tropes for the third Iron Man movie, the political thriller style for Captain America: The Winter Soldier and even the heist movie format for the first Ant-Man movie. That might also explain why Thor: The Dark World is still widely viewed as the weakest Marvel movie (and by extension, the weakest Phase 2 movie) to date; it arguably feels the most like a Phase 1 movie, with little discernible style to call its own.
That said, Phase 2 still had its own fair share of problems that bogged it down. Even though films like The Winter Soldier and Ant-Man (just to name a couple) played with genre, Phase 2's heroes were still fronted by brooding, loner heroes. Sure, some could crack wise more than others, but they were still mostly adult white male heroes who punched their way out of trouble.
Then Phase 3 debuted, kicking off with a movie that defined the differences between the Marvel heroes: Captain America: Civil War. Following the fracturing of Earth's Mightiest Heroes, we got Doctor Strange, Guardians of the Galaxy Vol. 2, Spider-Man: Homecoming, Thor: Ragnarok and Black Panther, all of them leading up to the debut of Avengers: Infinity War. Heroes introduced in Phase 3 were given far more distinct personality traits (for example: Stephen Strange outsmarts Dormammu in his solo film, while Peter Parker cries in terror when he gets trapped under rubble in his), while the returning heroes like Thor and The Guardians receive more eccentricities that build on the foundations of their earlier movies.
Ultimately, that's why Phase 3 seems to work better than any other Phase that Marvel has offered us so far. The foundational personalities and methodologies of each hero seem to become more distinct and pronounced with each passing year. A fear associated with the concept of "superhero fatigue" is the notion that superheroes are all the same. However, if Marvel can continue defining the differences in the styles and genres of each hero's particular sub-franchise, then there's arguably no reason to assume that the MCU cannot continue for years to come and continue staying as fresh as ever long after the release of Avengers 4 next year.
With only a few movies left until Phase 3 comes to an end, make sure to stay tuned to CinemaBlend for more updates related to all of your favorite Marvel Cinematic Universe franchises. Avengers: Infinity War is still in some theaters, and Ant-Man and The Wasp will debut in theaters next week on July 6. If you want more information about Scott Lang's latest adventure, then check out our full review of the movie, as well as our review roundup!
This poll is no longer available.
Your Daily Blend of Entertainment News
Originally from Connecticut, Conner grew up in San Diego and graduated from Chapman University in 2014. He now lives in Los Angeles working in and around the entertainment industry and can mostly be found binging horror movies and chugging coffee.
Your Daily Blend of Entertainment News
Thank you for signing up to CinemaBlend. You will receive a verification email shortly.
There was a problem. Please refresh the page and try again.