How DC Movies Can Win This Year's Comic-Con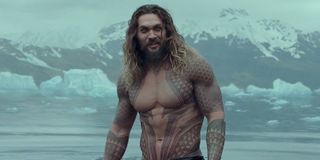 One of the biggest events in fandom is right around the corner. San Diego Comic-Con is upon us once again, and 2018 could be a huge year for the folks at DC. Specifically, with the Marvel Cinematic Universe skipping a massive Hall H panel, the DCEU is uniquely suited to take control of the pop culture narrative and make a huge impression with one of the biggest events of the summer.
With all of that in mind, we have put together a list of ways that DC and the DCEU can dominate when San Diego Comic-Con rolls around this year. We have several different points to get to, so let's get started with an Aquaman reveal that we know is coming.
Drop The Aquaman Trailer
Compared to other movies that DC has marketed over the years, James Wan's Aquaman remains relatively close to the chest. The film's December 21, 2018 premiere is right around the corner, but we've only seen a handful of images and reveals in the leadup to its release. That said, with Comic-Con 2018 happening later this month, there's no better time to finally drop the Aquaman trailer and give us our first good look at Arthur Curry in action in his first-ever solo movie. This one is pretty much a given (and DC has actually confirmed that it WILL happen), so make sure to keep an eye out for the Aquaman trailer when DC kicks its presentation into high gear in San Diego!
An Official Shazam! Photo
Looking beyond the release of Aquaman, 2019 will kick off with some lighthearted fun courtesy of director David F. Sandberg and Shazam! The live-action adventure for Billy Batson recently finished production, but the only real glimpses that we have seen of Zachary Levi as the titular hero have come in the form of leaked behind-the-scenes images from the movie's set in Canada. Those images led to some online criticism about the look of the suit (which will clearly require some post-production work to complete), but DC has remained almost entirely radio silent with regards to showing us anything from the film. The marketing campaign for Shazam! will likely be in full swing by the time WonderCon 2019 rolls around, so SDCC is best opportunity to provide a first look.
First Look At Kristen Wiig As Cheetah
One of the easiest movies to get excited about on the current DCEU schedule is Patty Jenkins' Wonder Woman 1984, the sequel to her smash hit Wonder Woman from last summer. We have already seen our first image of Kristen Wiig as Barbara Minerva in the movie, but the film (which is currently in production) also needs to show us our first good look at Ms. Minerva after her transformation into the villainous Cheetah. There is still so much speculation as to how the team behind Wonder Woman 1984 will bring the character to life (will it be practical, or will it be CG?) and a major San Diego Comic-Con reveal could end up being a major source of hype for one of the DCEU's most highly-anticipated films.
Announce The Nightwing Casting
One of the most exciting and intriguing projects currently on the DC slate is Chris McKay's Nightwing film. The LEGO Batman Movie director seems to have made slow and steady progress in the development of the spinoff movie since it was announced last year, but it remains in the earliest stages of its existence. One of the key elements that we still need to learn is who McKay will choose to step into the boots of the Bludhaven-based badass, and that casting announcement is something that could absolutely dominate Comic-Con this year (provided that it's a good choice). There have been rumors of Iron Fist and Deadpool 2 actor Lewis Tan potentially getting the role, and there would be no better time to confirm such rumors than on the stage in front of thousands of fans.
Reveal A Revised Slate
In 2017, DC showed up to Comic-Con with a semi revised slate that promised some exciting new projects like the Flashpoint movie, as well as other established properties like The Batman. However, some major changes have taken place since last year, and it now looks like some of those movies have either changed or been outright canceled by the folks behind the scenes. With so many alterations occurring in the last year (and now that things generally seem to have stabilized as DC's new creative regime has taken over), there's no better time to reveal a brand new, comprehensive slate of films than Comic-Con 2018. We don't need exact release dates, but we do want an overarching look at where this is all going.
Acknowledge Recent Missteps
While Justice League most certainly has its fair share of fans (this writer included), the consensus surrounding the film (and DC's recent efforts, in general) is that it left a lot to be desired. DC's track record in the film world has been somewhat hit or miss since the beginning of the DC Extended Universe. A lot has changed behind the scenes since Comic-Con 2017, and with DC going relatively unopposed at the 2018 festivities, there's no better time to do some damage control and acknowledge some recent missteps with films like Justice League or Suicide Squad. Plainly accepting these mistakes could go a long way towards getting fans back onboard with DC's movies and help foster a rebirth in the years to come.
Originally from Connecticut, Conner grew up in San Diego and graduated from Chapman University in 2014. He now lives in Los Angeles working in and around the entertainment industry and can mostly be found binging horror movies and chugging coffee.