Why Henry Cavill Needs To Be Good In Mission: Impossible Fallout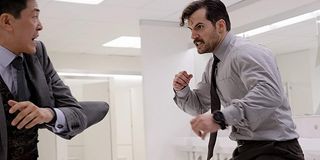 This week, Mission: Impossible - Fallout takes to theaters, showcasing the action packed antics of Ethan Hunt (Tom Cruise) and his IMF team. And along for the ride is a man by the name of August Walker, played in full beefcake with an anger-stache mode by the one and only Henry Cavill. While the Mission films are, indeed, ensemble pictures, this one is particularly important to Cavill - at least from where I'm standing. Why is Fallout the mission that needs to vindicate the man who is also playing Superman for the DC Cinematic Universe? Well, in a nutshell, it's because of that very cinematic universe and what it's done to his career. Fallout is Cavill's chance to break out, and here's why.
When Cavill is good, he can survive a movie like Justice League. But when he's absolutely on fire, he puts out a knockout performance like he did in Guy Ritchie's The Man From U.N.C.L.E. As the modern incarnation of Napoleon Solo, Henry Cavill exudes the charm, wit, and danger that should have been allowed to show itself in his performance as Superman. Without the shackles of the DC universe holding him back, the man's allowed to show off his full range, and it's a beautifully, underrated thing. Unfortunately, as The Man From U.N.C.L.E. flopped out, not a lot of people have seen that side of him, only the Superman side.
Henry Cavill's performance isn't the issue when it comes to his tenure in such films as Justice League, as Cavill's handle on Superman and Clark Kent have always been fantastic in my book. Rather, the problem has always come down to the material that he's been given, which in the post-Man Of Steel era, has done everything to dial down his trademark charm and action chops. His last two films for the comic giant have, in essence, crapped on the talented portrayal of Superman that initiated DC's big reboot in the first place. Were there other films, or a franchise he was a part of, outside of DC's big circus tent, Henry Cavill wouldn't have to worry too hard.
That said, if Cavill can't deliver a hit outside of his DC flicks, not does it potentially kill his career, it also pigeonholes him as the Superman who was less than super. Work outside of the franchise could dry up, considering his other tentpole efforts didn't prove him a draw. However, if Mission: Impossible - Fallout hits, and by all accounts it should, then Cavill should be able to stay in the game for longer. Not to mention, depending on what happens to his character in the new movie, there's always the chance that he could be brought back in the Mission: Impossible franchise, which would give him yet another tentpole to hang his cape on.
Looking at his talents, it's hard to see someone as fantastic as Henry Cavill's career unable to take off. The man who was once heralded as a front-runner for the role of James Bond earlier in his career has now become a compromised Superman. Should Mission:Impossible: Fallout live up to the hype surrounding it at the moment, it'll be a windfall for Cavill's future, providing him with plenty of more missions - should he choose to accept them.
Keeping himself in play in non-DC projects also gives Henry Cavill time to let DC's films turn around in quality, which looks like it's on the horizon with Shazam and Aquaman indicating a more crowd pleasing sea change. Should that tide of change extend throughout the DC Universe, there's a chance that even his Man of Steel could see the boost that Ben Affleck has probably always wanted, but may be convinced will never happen. For now though, it's crucial that Henry Cavill has given his all in Mission: Impossible - Fallout, in hopes that like his massive arms, he can cock his career back and reload for another round.
*You can buy tickets for _Mission: Impossible - Fallout_ on Fandango, now. *
Your Daily Blend of Entertainment News
Senior Movies Contributor
CinemaBlend's James Bond (expert). Also versed in Large Scale Aggressors, time travel, and Guillermo del Toro. He fights for The User.