This Rotten Week: Predicting Dog Days, The Meg And Slender Man Reviews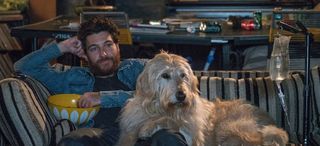 There are some silly looking movies heading to theaters this weekend - though some definitely look like they are leaning more into that tonal aesthetic than others. Either way, we have dogs, sharks, and ghouls all making appearances, so there should be some laughs and some screams. Get ready for Dog Days, The Meg and Slender Man.
Just remember, I'm not reviewing these movies, but rather predicting where they'll end up on the Tomatometer. Let's take a look at This Rotten Week has to offer.
In the making of the movie Dog Days, it looks like someone walked into the pitch room and said one word: "Dogs." The response to this pitch was, "Okay, what else?" and then the response back was surely, "Dogs." This probably went on for a while, and then the film just got made. Set in Los Angeles, it weaves five different stories together, each one of them showcasing how our four legged friends can make our lives brighter and better.
There's a strong ensemble cast for sure, but there doesn't seem to be much else working for it. I love Ken Marino as a comedic actor/personality, but the directing chops (or project selection, at least) looks like it leaves something to be desired. He helmed How to Be a Latin Lover (38%), and I can't imagine this one finishes any higher on the Tomatometer.
Man, we just love sharks. Shark Week and Sharknado are just two examples of things that really shouldn't be popular but are, and I suppose Jon Turteltaub's The Meg is an effort to capitalize on that cultural buy-in with a creature far bigger than any of those featured in those aforementioned titles. Get ready for two hours of Jason Statham hunting down the mother of all sharks , which has apparently been living deep on the sea floor for centuries.
The Meg looks like a tongue-in-cheek action/thriller especially considering how the trailer plays. I doubt anyone is taking this all that seriously, and it looks like it could have the pulp sensibilities of Deep Blue Sea while being a bit extra silly. Jon Turteltaub's resume suggests what kind of movie we are getting, having made Last Vegas (45%), The Sorcerer's Apprentice (40%) and National Treasure (44%) as some of his most recent features. It's reasonable to expect The Meg to finish somewhere in the same area.
Movies will never ever run out of creatures that go bump in the night and want to kill kids - and Hollywood also loves to take advantage of a cultural phenomenon. As a result we are now getting Slender Man, a horror film based on the creepy figure that became an internet meme a few years back. The movie features the monster stalking a group of kids who had the temerity to try and call him out and (dis)prove his existence. After that they all start getting picked off one-by-one, as usually happens in these kinds of movies.
Slender Man looks properly creepy in the trailer, and the film represents a genre move for director Sylvain White, who previously helmed The Losers (48%) and Stomp the Yard (26%). The cinematography looks tight, even if the storyline is a bit played. We get these movies coming out multiple times a year so there's no new ground being trodden. That being said I think it at least finishes near the middle of the Tomatometer because the production value looks like it's there, and we are currently in the midst of a horror renaissance.
Overall, it was a solid week for the Rotten Watch last time around, with two of the three movies falling within the range of success. Christopher Robin (Predicted: 67% Actual: 68%) was nearly a direct hit, and could even still be with one or two more negative reviews. From the tone of the write-ups, it just seems like a vanilla (often times sad) flick that failed to wow anyone, but really was so milquetoast as to not turn many completely off to the approach. They definitely paint the picture that this film will catch some eyes now but will rather quickly be forgotten.
Meanwhile, The Spy Who Dumped Me (Predicted: 29% Actual: 37%) just got there on the prediction. I had a little bit of a head start on this one, and thought it would fall much more over the course of the week. Instead, it stayed mostly still, with most reacting to it as a bad movie with very few laughs throughout. That was easy enough to see from the trailer considering the two-and-a-half minutes of footage didn't feature a single joke that landed. The marketing didn't exactly set a good precedent, but apparently it did create appropriate expectations.
And finally, The Darkest Minds (Predicted: 43% Actual: 18%) was a big-time miss. I suspected the reviews would trend negative, but didn't think it would dip down into the range of "truly awful." But such was the case in the adaptation of the YA novel about a group of kids with special powers ostracized from society and on the run from a violent government.
Next time around we've got Alpha and Mile 22. It's gonna be a Rotten Week!
Doug began writing for CinemaBlend back when Terminator: The Sarah Connor Chronicles actually existed. Since then he's been writing This Rotten Week, predicting RottenTomatoes scores for movies you don't even remember for the better part of a decade. He can be found re-watching The Office for the infinity time.
Your Daily Blend of Entertainment News
Thank you for signing up to CinemaBlend. You will receive a verification email shortly.
There was a problem. Please refresh the page and try again.