The Top 10 October Movie Openings Of All Time Include 3 From This Year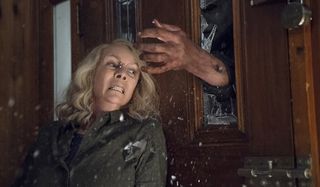 There has been a lot of talk about October box office records this month, with Venom and Halloween tearing up the charts during their opening weekends and beyond. It's talk that has been completely justified, if you look at the numbers for best October openings throughout history. In fact, you can take a look at those openings for yourself below, just to see how historic this month really has been.
As you can see from the data, both Venom and Halloween have totally dominated the conversation. In addition, A Star is Born has also made its way onto that chart. Still, let's set the stage a little before diving into the numbers and factors involving these champions. Now typically, October has been seen as a dumping ground for off-season write-offs and horror cash ins. After all, it's a month before November picks up steam with prestige season and family blockbusters galore.
In recent years though, it has become another testing ground for franchises and concepts that, outside of tentpole season, could stand a chance at success. Just look at this year's three additions to the top openings of all time: Venom, Halloween, and A Star Is Born. Two are remakes or reboots of familiar properties, and one is a spinoff adjacent to the superhero craze that has run wild in Hollywood.
While Halloween is the one film that probably would have opened this month no matter what, the other two had other choices. Yet, A Star Is Born more than likely going to be the film that really kicked off the prestige season, which has been a boon for the movie's October debut the same weekend as Venom. Meanwhile, Tom Hardy and Sony's superhero saga was positioning itself far enough outside of either tentpole season, so as to feed viewers starved for blockbusters and specifically comic book content.
Both films gambled and it paid off, with Venom even setting a brand new record for the month. Yet if you look a little deeper, there may be another, more traditional reason this could have worked in this year's movies' favor.
As you'll see on the list of 10 films above, all but two (Shark Tale and Gravity) are sequels, remakes, or adaptations (The Martian) of familiar material. Also, for a month that promises all things spooky, only two legitimate horror films are on the list for best October openings (Paranormal Activity 3 and Halloween). Even with the work done to turn this normally dormant month into a viable candidate for box office competition, sequels and spinoffs are clearly what seems to be working most.
October still hasn't seen a blockbuster opening make or cross the $100 million line, so there's still work that could be done to make the month more prominent for moviegoers in the future. With months like February and September sharing a similar profile, the successes with films like Deadpool, Black Panther, and IT haven't yet been replicated. Venom came close though, with $80,255,756 in its opening frames.
Even without a fish that big, this pond has still crossed some massive landmarks in the past decade, as eight of the top 10 titles happened in the last 10 years - with the top five being solely occupied by that time frame's bounty. So going forward, what does this mean for October?
Well, since September is now a new month to colonize with horror hits, thanks to IT and now The Nun striking it rich, October is no longer the sole month to depend on for chills and thrills. Rather, it's now another good month to test out could-be blockbusters, and could be the month that starts awards season a little earlier moving forward. That's not a bad place for October to be.
Personally, I think it looks as if October is basically the new April, as we've seen that off-season month grow into a hot competitor once Marvel Studios got its hands on it. It might even become Sony's Marvel niche, leaving Marvel Studios to keep a tight grip on the end of April or early May as the company always intended. It's all rather up in the air at this moment, but once the month produces a $100+ million opening, I'd expect trend chasers to take whatever film achieves that milestone as the gold standard.
One final note about this year's results, which were compiled by Box Office Mojo, is something that could spell new wins for an old franchise. Comparing Venom to Halloween, the estimated respective takes of $80.3 million versus $77.5 million may seem close. Consider the following: Venom had premium formats and 3D to help inflate its grosses; while Halloween only had some premium formats, a total lack of 3D support, and an R-rating it earned in blood. With fewer resources, the sequel closed its fortunes to a cap of roughly $3 million dollars. The bottom line: don't be surprised if Eddie Brock and Michael Myers happen to have a rematch in the next couple of years.
The box office calendar has diversified itself drastically over the last decade, with more and more "surprises" landing in months we wouldn't expect them to inhabit. This year brought us three in the month of October, and looking at October 2019's line-up, there's some more records to potentially be broken. With Warner Bros. testing the waters themselves with the Joker spin-off, The Addams Family and Are You Afraid Of The Dark? looking to please families in the Halloween spirit, and the long awaited Zombieland 2 currently penciled in to make its debut, we might see some of these titles knocked off the list, in favor of some fresh blood.
While we wait for next October to finally roll around, CinemaBlend will keep you updated on the new movie releases coming in 2019.
Your Daily Blend of Entertainment News
Senior Movies Contributor
CinemaBlend's James Bond (expert). Also versed in Large Scale Aggressors, time travel, and Guillermo del Toro. He fights for The User.
Your Daily Blend of Entertainment News
Thank you for signing up to CinemaBlend. You will receive a verification email shortly.
There was a problem. Please refresh the page and try again.