The Joker Movie Has Cast Its Bruce Wayne And Alfred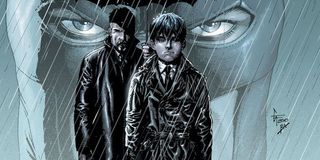 Compared to other DC Comics movies, Joker is a strange beast. Rather than sticking relatively closely to the source material, this version of the Clown Prince of Crime's origin story is taking a lot of creative liberties, particularly with Batman not being involved in his transformation. That being said, news has now come in that not only will Bruce Wayne appear in Joker, but so will his trusty butler/confidant, Alfred Pennyworth, played by Dante Pereira-Olson and Douglas Hodge, respectively.
Both of these casting updates come from Comicbook.com, confirming that these legendary DC Comics characters will play some kind of role in Joker. Outside of the eponymous protagonist, who's known as Arthur Fleck before becoming a clown criminal, the only other character from the comics who'd been confirmed for Joker was Thomas Wayne, who's being played Brett Cullen and will be depicted less sympathetically than usual. With Bruce and Alfred now on the cast, it seems we'll be peeking in on Thomas' personal life rather than just see him as a public figure.
Dante Pereira-Olson's acting career is just getting started, but he's already started getting recognition for his recurring role as Gerry Scaramucci in the Syfy series Happy!. As for Douglas Hodge, his credits include The Night Manager, Penny Dreadful, Black Mirror, the 2010 Robin Hood and Red Sparrow. It's safe to say, though, that Joker will be both of these actors' most high profile project yet.
This leaves Martha Wayne as the final member of the Wayne household unaccounted for in Joker, though I imagine we'll learn she's appearing soon enough. With this movie firmly focusing on Arthur Fleck, a failed standup comedian, being driven insane and becoming a criminal mastermind, it's hard to say just how much the Waynes and Alfred will appear. We don't even know for sure if there will be a direct connection between Arthur and this family.
That said, I can't help but wonder if Joker is taking a page from the 1989 Batman movie and will have this version of The Joker either kill Thomas and Martha Wayne or they'll be killed by someone else during his reign of terror in Gotham City. This would not just be a sharp departure from the comics, where the deed is usually done by Joe Chill, but also from Batman, as Jack Napier was still a normal criminal when he pulled the trigger.
However the Waynes fit into Joker, we know that pretty soon, Bruce will lose both his parents, leaving Alfred to raise him and pushing the boy onto the path to vigilantism. Since Joker is set in the 1980s, that means he'll be an experienced Batman in the present day. Of course, by that point, Joaquin Phoenix's Joker would be either dead or in the geriatric ward of Arkham Asylum, so either he wouldn't be the Caped Crusader's arch-nemesis or someone else will have inherited the Clown Prince of Crime mantle.
Joker hits theaters on October 4, 2019, so stay tuned to CinemaBlend for continuing coverage. You can also look through our 2019 release schedule to find out what other big movies arrive next year.
Connoisseur of Marvel, DC, Star Wars, John Wick, MonsterVerse and Doctor Who lore. He's aware he looks like Harry Potter and Clark Kent.
Your Daily Blend of Entertainment News
Thank you for signing up to CinemaBlend. You will receive a verification email shortly.
There was a problem. Please refresh the page and try again.