Epic Creed II Poster Puts Two Generations Of Boxers Head To Head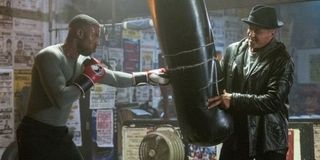 Creed II is both a sequel in a brand new franchise and the eighth film in the larger story of Rocky Balboa. These two worlds will collide in the film, but first, they collide in a new poster, that puts both generations face-to-face. Check it out.
On one side we have Michael B. Jordan as Adonis Creed, with Sylvester Stallone's Rocky by his side. Across from Rocky is Dolph Lundgren who is returning to the role which made him a star in Rocky IV, Ivan Drago. Next to Lundgren is Florian Munteanu, a Romanian boxer who is appearing in only his second film as Ivan Drago's son Victor.
Creed II will continue the story of the original Creed that sees Adonis Creed, the son of Apollo from the Rocky films, follow in his father's footsteps and become a championship level boxer. Apollo was famously killed in the ring at the hands of Ivan Drago in Rocky IV. While that part of the story is discussed in the original Creed, it will be a key plot element in the sequel, as the son of Ivan Drago will challenge to the son of Apollo for a boxing match of their own.
Of course, every villain is the hero of their own story, and while we might look at Victor and Ivan Drago as the bad guys, it doesn't appear they see things that way. Dolph Lundgren has spoken about the fact that his character's life basically fell apart following the loss to Rocky, so while Adonis Creed may feel like he has something he needs to prove, he's not the only one. We know from the trailers that Victor Drago is the one that issues the challenge to Adonis, which indicates that Drago feels he has some unfinished business as well, with the protege of the man who defeated his father.
If you're not hyped up for Creed II quite yet, then this poster may be the thing that does it. Everybody here looks ready to start throwing punches, but if we want to actually see it, we'll have to buy a ticket and see the movie. Not that I expect Ivan and Rocky to start going at it. Both actors are still in really good shape for their age, but that's probably not a fight we want to see. I'm sure the war of words will be enough.
Creed II has a tough act to follow as the previous film was one of the best entries in the entire Rocky franchise. Ryan Coogler has given up the director's chair in favor of Steven Caple Jr. who will direct a screenplay co-written by Sylvester Stallone. The first Creed earned Stallone an Oscar nomination for his performance. Whether the sequel will live up to that standard remains to be seen.
Creed II hits theaters this Thanksgiving.
CinemaBlend's resident theme park junkie and amateur Disney historian. Armchair Imagineer. Epcot Stan. Future Club 33 Member.
Your Daily Blend of Entertainment News
Thank you for signing up to CinemaBlend. You will receive a verification email shortly.
There was a problem. Please refresh the page and try again.