Why Star Wars Needs To Greenlight The Obi-Wan Kenobi Movie Now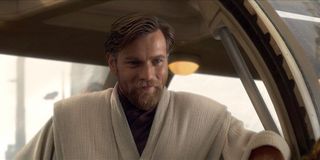 Sorry to the Boba Fett fans out there, but your beloved bounty won't be soaking up the limelight in his own Star Wars cinematic adventure. It was announced last week that the Boba Fett movie has been scrapped in favor of The Mandalorian, the upcoming Disney streaming service TV series. Maybe Boba could appear in this show, but his movie is 100% dead. Now it would be wise to slide the Obi-Wan Kenobi movie into this empty slot, as the Jedi Master is an established character just as deserving, if not more so, of starring in one of these Anthology spinoffs than the Mandalorian-armored bounty hunter.
Before going further, it's worth noting that currently we don't know what's happening on the spinoffs side of the Star Wars film series. After Solo: A Star Wars Story failed to impress at the box office, it was reported that Disney had decided to press pause on making more spinoffs and focus instead on Episode IX and the next set of "main" movies. Just a day later, Disney denied these claims and said there are multiple Star Wars movies in development beyond the Rian Johnson-helmed trilogy and the film series being worked on by Game of Thrones showrunners David Benioff and D.B. Weiss.
So for now, we're in the dark about what's up next on the Star Wars standalone movie front, but for the sake of argument, let's assume that at least one more spinoff will be released. Although a Boba Fett movie was first reported on back in 2013, and earlier this year it looked like it was finally moving forward (again), the Obi-Wan Kenobi movie actually looked like it also had a strong chance of happening for a while. Why not resume work on that project now that Boba is out of the picture?
Once Lucasfilm revealed it was making one-and-done Star Wars movies alongside the saga entries, that kicked off speculation that Obi-Wan Kenobi could be one of the subjects. Then last year, it was reported that Billy Elliot director Stephen Daldry was in negotiations to co-write and direct an Obi-Wan Kenobi movie. There haven't been any updates since then, but given how poplar the character is, you can bet that a lot of Star Wars fans would still be game to see such a movie.
Looking at Obi-Wan Kenobi's life, there are really only two periods a movie about him could cover in-depth that hasn't already been explored in the movies or Clone Wars TV series. The first is him being instructed by Qui-Gon Jinn before The Phantom Menace, but the upcoming book Master & Apprentice by Claudia Gray is already set to do that, so I doubt it would be touched upon again on the big screen. That leaves the post-Revenge of the Sith, pre-A New Hope years when Obi-Wan was looking after Luke Skywalker.
This period has already been briefly explored in Marvel Comics' Star Wars ongoing series and in the Star Wars Rebels episode "Twin Suns" (where, spoiler alert, Obi-Wan finally killed Darth Maul). Nevertheless, Obi-Wan was on Tatooine for 19 years, and while Tatooine is definitely not a tourist destination, depending on where you are and who you cross paths with, it doesn't lack for excitement. Even assuming that Obi-Wan never left Tatooine during these nearly two decades, there are plenty of adventures he could have gotten into. And given how all the Star Wars movies see its characters traveling to numerous planets, it could be interesting to watch a story unfold on just one world.
Now some of you may be asking why it's worth giving Obi-Wan Kenobi his own movie given how Solo: A Star Wars Story performed. After all, Han Solo is also a popular Star Wars character, and while his origin story was hardly a critical failure, it definitely was a commercial disappointment, thus making it unlikely that a sequel will be made.
The difference here is that while Han was played in Solo by Alden Ehrenreich, who we'd never seen in this franchise before, this Obi-Wan Kenobi movie could be led by someone we already know: Ewan McGregor, who played the young Obi-Wan in the Star Wars prequels. Those movies may not have the best reputation, but McGregor's performance was definitely among the highlights, so his involvement would play well with the more hardcore Star Wars fans.
Ewan McGregor has expressed interest numerous times in playing Obi-Wan Kenobi again, and now's the perfect time for Lucasfilm to give him a call. It's been 13 years since Revenge of the Sith was released, so he's the right age to play an Obi-Wan who's camped out on Tatooine, years removed from when he defeated his former apprentice on Mustafar, but still a ways off from mentoring Luke Skywalker. Lightsaber action, words of wisdom, an awesome beard, Obi-Wan can deliver plenty of those and more in this movie. Who knows, maybe there would even be a way to mix elements of the Boba Fett movie and that Tatooine movie into this Obi-Wan Kenobi story so that parts of those projects can still live on, though without taking away focus from Obi-Wan himself.
Episode IX will mark the end of the Skywalker Saga, and after that, who knows when or even if we'll ever follow up with previously established Star Wars characters in a theatrical setting again. It's already been confirmed that both the Rian Johnson trilogy and the Benioff/Weiss film series will focus on brand new characters, so clearly Disney and Lucasfilm are looking to branch off into new territory. Now's the time to strike while the iron is hot, and I suspect that an Ewan McGregor-led Obi-Wan Kenobi movie would put a lot of butts in seats and, if made properly, could even be the most compelling of the "Anthology" movies.
The film side of the Star Wars franchise will pick back up when Episode IX is released on December 20, 2019, although for the TV fans out there, Star Wars Resistance is currently showing on Disney XD. Be sure to look through our Star Wars movies guide to learn what else is in development.
Your Daily Blend of Entertainment News
Connoisseur of Marvel, DC, Star Wars, John Wick, MonsterVerse and Doctor Who lore. He's aware he looks like Harry Potter and Clark Kent.