Fantastic Beasts: The Crimes Of Grindelwald Looks As If It's Breaking Harry Potter Canon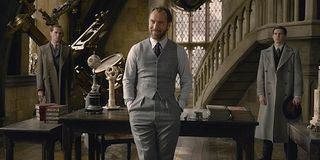 As much as we're thrilled at the idea of seeing a young Professor Minerva McGonagall in Fantastic Beasts: The Crimes of Grindelwald, how, exactly, is that possible? Because for her to be featured, it seems like J.K. Rowling would be breaking her own Harry Potter canon timeline.
It was recently revealed, via a Fantastic Beasts 2 cast list, that 35-year-old actress Fiona Glascott will be playing the younger version of Maggie Smith's feisty Transfiguration professor. Of course, this film is set long before she was a professor and head of Gryffindor House. But that's part of the confusion. The second movie in this five-film series is expected to be set around 1927. But Minerva McGonagall's birth year was calculated to be 1935.
How is she in this movie, as an adult, if she wasn't born yet?
That birth date was calculated from a mix of McGonagall's Pottermore bio and a chapter in the fifth book, Harry Potter and the Order of the Phoenix. Chapter 15 revealed that McGonagall began working at Hogwarts in December 1956, after working for the Ministry for two years immediately after graduation. Working back from there, she would've graduated from 1954, making her her first year 1947, and her birth date in 1935.
And it's not like the second Fantastic Beasts film is reported to include a massive time jump forward. (Although, the Fantastic Beasts fans who got to see The Crimes of Grindelwald in advance have been sworn to secrecy about the film's secrets and spoilers.)
In 2016, J.K. Rowling told Variety that the five-film story she's telling spans 19 years. The first film, Fantastic Beasts and Where to Find Them, was set in 1926. So 19 years later would be 1945. That would be when McGonagall was around 10, before she even got to Hogwarts. Even if her birth date of 1935 is wrong, it's hard to see how wrong it could be and still fit the current timeline.
Albus Dumbledore's official Pottermore birth date is listed as 1881. McGonagall's official bio only has her birthday listed as October 4. The guess of 1935 is based on good intel, but not confirmed. We know the second film has Jude Law playing a younger Dumbledore, teaching at Hogwarts, but someone is going to have to explain how McGonagall fits into all of it.
It's unlikely that author/screenwriter J.K. Rowling hasn't thought of this, and maybe she'll explain it after the movie, if it still isn't clear on screen. Are Time-Turners involved? Is there a flash-forward that would explain McGonagall's presence? Was her reported birthday of 1935 just way, way off? Is all of this just a misunderstanding? Is this woman actually her mother?
Sure, you could say it's not that deep. It's fiction, so relax. But Potterphiles take this world very seriously, and we're not sorry to care this much.
Fans previously griped that Fantastic Beasts: The Crimes of Grindelwald broke canon with a trailer shot of people apparating onto Hogwarts grounds. As Hermione Granger has taken pains to explain, you can't do that. But that could be explained -- for example, when Harry Potter was learning to apparate, the enchantments were lifted for lessons. Other fans weren't happy to learn that the infamous Nagini was in fact a human woman who was cursed to eventually turn into a snake.
All told, this second Fantastic Beasts film has definitely captured fan attention. We're doing exactly what they want us to do, which is speculate and get ready to have our minds-blown with all of the juicy new secrets revealed in the Harry Potter canon. Since early reactions to the movie have been darn near ecstatic, we're trusting that these questions won't get in the way of our enjoyment of the movie. Fantastic Beasts: The Crimes of Grindelwald opens in theaters November 16.
Gina grew up in Massachusetts and California in her own version of The Parent Trap. She went to three different middle schools, four high schools, and three universities -- including half a year in Perth, Western Australia. She currently lives in a small town in Maine, the kind Stephen King regularly sets terrible things in, so this may be the last you hear from her.
Your Daily Blend of Entertainment News
Thank you for signing up to CinemaBlend. You will receive a verification email shortly.
There was a problem. Please refresh the page and try again.