How Bumblebee Can Set Itself Apart From The Other Transformers Movies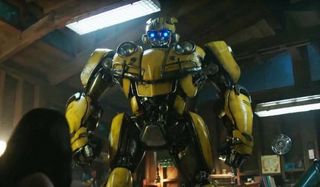 The Bumblebee prequel arrives in theaters in December, and there's reason to believe fewer people are excited for a new Transformers film than they've been in the past. The franchise's last adventure, Transformers: The Last Knight, had a much less-successful run at the box office than past sequels, and critical reception has skewed further into the negative with each entry past the original. Still, we think Bumblebee can get folks excited again set itself apart from the past movies in the following ways.
Less Transformers
Reports from Bumblebee and character information released thus far have revealed that the it won't feature a ton of Transformers. The title character is involved, of course, and will presumably go up against a handful of Decepticons with his new friend Charlie Watson. Cameos from Optimus Prime and other notable Autobots and Decepticons have been teased, but for the most part, this film is seemingly light on robots in disguise when compared to more recent features.
For the record, that's still a healthy amount of Transformers and more of a statement towards Transformers: The Last Knight. The film had somewhere in the range of 40 Transformers, which could crowd scenes and make some characters have little impact in their brief moments. Bumblebee has around nine confirmed so far, which may allow for audiences to spend less time remembering new faces and more time watching these characters play larger roles in the overall story.
A Self Contained Story
Bumblebee is lined up as a prequel that takes place before the first Transformers. While we're sure diehard fans will be treated with some references to events that predate the 1987 storyline, this also feels like a story that won't require an extensive knowledge of the franchise's universe to dive into. Audiences who may have missed the past couple films will probably be able to attend this and not feel lost while watching.
Of course, watching the movies would certainly help a viewer pick up on some of the other references, as there are plenty of past events the film universe has established prior to Bumblebee taking place. Most of which probably won't be massive enough to make a viewer feel like they missed something big, although there are some exceptions. Basically, if Bumblebee ends up pummeling a Nazi skinhead in some wild break in aggression, just know that's been established elsewhere.
Its New Director
For the first time in franchise history, Michael Bay will be out of the director's chair, and Kubo and the Two Strings ' director Travis Knight is in charge of Bumblebee. Granted, Bay is still on as a producer, and it's not as though the franchise is suddenly going to cease to be an action robot romp. There's also probably also still going to be a healthy amount of explosions, because who doesn't like that?
Still, trailers shown for Bumblebee thus far have been different than past trailers for a Transformers film. The action is somewhat toned down, and there are even some moments that appear heartwarming. Trailers can be deceiving of course, although one would think if Bumblebee is actually a gritty action thriller, trailers would reflect that. This could be a departure from the typical Transformers flick, which isn't a bad decision given audience's reception to the franchise's past few outings
Nods To The Classic Transformers
The story's setting in the late 1980s serves a dual purpose beyond tapping into that ever-popular tactic of playing on '80s nostalgia to sell a film. Bumblebee will also provide an opportunity for Hasbro to dust off some old designs and resurrect the original models of the Autobots and Decepticons from the animated series. It seems they've done a good job, as even in hologram mode, the classic Optimus Prime design looks pretty slick.
It's a brilliant way to rope in the old school fans who may prefer the olden days, and show that Bumblebee will pay homage to an era of the toy history many are fond of. Will the film lose out on sweet product placement money having Bumblebee transform into his classic love bug as opposed to the latest and greatest Camaro? Sure, but the nostalgia points they'll gain that may encourage some to give the franchise another shot is invaluable.
No Megatron (Probably)
We can't say for sure that Megatron won't have a major role in Bumblebee, but it's looking like a safe bet given the previous films. According to the first Transformers movie, Megatron was discovered encased in ice in the Arctic Circle by Captain Witwicky in 1897. Megatron was then transferred to Sector 7 in the 1930s, where he remained frozen until he was freed in the first adventure.
Sector 7 has a presence in Bumblebee, so we wouldn't be surprised if a frozen shot of Megatron was shown at some point. Beyond that though, bringing him into the plotline in any meaningful way would be problematic considering the Decepticons supposedly don't learn of Megatron's location until Transformers. A film without Megatron in the mix as an aggressor in some way will certainly shake things up, and will certainly set Bumblebee apart from past installments.
More On Bumblebee's Past
Transformers has quietly developed a fairly lengthy backstory on Bumblebee over multiple films and is only just now getting around to talking about it. Bumblebee is the movie the character deserves, and hopefully, one that will have audiences interested enough to learn more about his long time on Earth. Just remember, we could still possibly see a Bumblebee movie that takes place in World War II.
There's a chance there are even more exciting adventures to tackle beyond that, especially given the time gap between Bumblebee and Transformers. However this romp may end, we have to think it won't be long enough to cover the next couple decades that lead up to his arrival at Bolivia's Finest Quality Used Cars and Petting Zoo. The sky's the limit for future Bumblebee adventures, provided the first film gets a response that inspires Hollywood to start on other ideas.
Bumblebee is in theaters Friday, December 21, and we'll all find out whether or not it has what it takes to "transform" people's impressions of the franchise going forward.
Mick likes good television, but also reality television. He grew up on Star Wars, DC, Marvel, and pro wrestling and loves to discuss and dissect most of it. He's been writing online for over a decade and never dreamed he'd be in the position he is today.
Your Daily Blend of Entertainment News
Thank you for signing up to CinemaBlend. You will receive a verification email shortly.
There was a problem. Please refresh the page and try again.