This Rotten Week: Predicting Creed II, Ralph Breaks the Internet and Robin Hood Reviews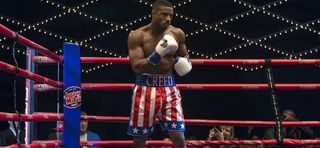 Two sequels and a remake don't necessarily sound like the best recipe for a big slate of movies, but there are plenty of reasons to get excited for this week's lineup of films. A young boxer returns to the ring. A former video game bad guy hits the interwebs. And a dude robs from the rich and gives to the poor. Get ready for Creed II, Ralph Breaks the Internet and Robin Hood.
Just remember, I'm not reviewing these movies, but rather predicting where they'll end up on the Tomatometer. Let's take a look at This Rotten Week has to offer.
When we last left Adonis "Creed" Johnson, he'd become light heavyweight champion of the world, he gained a surrogate father figure in Rocky Balboa, he got the girl, and he avenged some of his past demons concerning his father's death. Creed (95%) was excellent, and a sharp return to critical glory for the Rocky franchise, resetting the films with Sylvester Stallone still maintaining a dramatic presence. I loved it.
Now we catch up with Adonis years later, coming to grips with the fame and fortune that follows overnight success. The sequel finds him still aiming to put the past behind him, this time with a chance to fight the son of Ivan Drago, the man who ended Apollo's life in the ring years before. Critics are generally positive on the followup, though not as over the moon as the original. The Tomatometer sits at 73% through 33 reviews, with critics agreeing it's not as strong as Creed, but fits well within the Rocky-verse.
Video game wrecker-of-it Ralph got his redemption in Wreck-It Ralph when he saved Sugar Rush and earned some love among his arcade peers. It was an awesome movie, hitting 87% on the Tomatometer and telling a rather redemptive story about a misunderstood character and his quest to break out of certain video game stereotypes. This is something of a theme of Walt Disney Animation Studios movies that just crush with critics. Their last four (after the original Wreck-It Ralph) are:
That's some kind of critical run, and Ralph Breaks the Internet looks like it will fall right in line. It's sitting at 92% after around 60 reviews have come in. I can't imagine it'll slip on the bricks much as this studio continues to churn out hits.
If nothing else, at least this remake's filmmakers thought enough to get a U.K. actor to play Robin Hood, which is more than can be said of Kevin Costner and Russell Crowe's incarnations of the outlaw. Here, Robin of Loxley operates in a plain sight as a wealthy nobleman by day, and as a leader of (merry?) men at night, in an open revolt of the crown. He's got Jamie Foxx by his side as Little John. This flick looks like mostly like someone pitched it "Arrow set in the 15th century."
Robin Hood seems like it'll pull off as many kung-fu moves and explosions as possible while also trying to keep the film rooted in the middle ages. The film looks entertaining but silly, a chance to plaster the Robin Hood name on something new after Ridley Scott's film failed to kickstart interest in 2010. I can't imagine it wins over critics in any meaningful way with that tricky balance, though I suspect it's at least a fun watch.
Last week was decent for the Rotten Watch, with two out of the three movies falling within the range of the predicted score. The issue was that the one miss was off by a country mile. Let's start with that one first. From the trailer, Instant Family (Predicted: 20% Actual: 81%) looked like a pandering, joke-less, mess of a movie about a family taking in three siblings from the foster system. It just seemed rather-off in all the wrong ways so I went super low with the score.
Man, was I ever wrong. It is going to finish as one of the top-reviewed comedies of the year, and critics thought it was a heartwarming story about family and caring. Frankly, I'm shocked. Maybe I misread how they'd handle the foster-system, or maybe I just missed on the jokes. But this will go down as one of my worst misses ever.
Meanwhile, Fantastic Beasts: The Crimes of Grindelwald (Predicted: 50% Actual: 40%) landed within range. As I predicted, the score did drop over the course of the week, dipping even more than I suspected. I just made it within ten percent. Some critics seemed to give it a pass because it stuck close enough to the Harry Potter world. But they were in the minority with many critics panning the disconnected story and meandering plot. This is a big miss and a hit to the franchise as a whole.
And finally, Widows (Predicted: 94% Actual: 91%) was nearly on the mark, though I admittedly did have something of a head start with a lot of reviews already in at the time of post. Director Steve McQueen follows up 12 Years a Slave (95%) with another critical darling. His first four movies have an average Tomatometer score of 89%. It's tough to find a director with this kind of success this early in a career.
Next time around we've got The Possession of Hannah Grace. It's gonna be a Rotten Week!
Doug began writing for CinemaBlend back when Terminator: The Sarah Connor Chronicles actually existed. Since then he's been writing This Rotten Week, predicting RottenTomatoes scores for movies you don't even remember for the better part of a decade. He can be found re-watching The Office for the infinity time.
Your Daily Blend of Entertainment News
Thank you for signing up to CinemaBlend. You will receive a verification email shortly.
There was a problem. Please refresh the page and try again.