John Cena Really Wants The Transformers And G.I. Joe To Team Up On Screen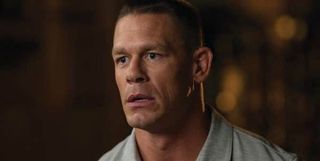 In today's modern movie-making age, studios need bankable franchises. And when proven brands can be combined -- in ways that make sense -- it has the potential to be a win-win for both the studio, and the moviegoer. There has been a rumor of a Transformers and G.I. Joe team up movie for a while now, and during the Bumblebee press day, we asked John Cena for his thoughts, and learned:
John Cena wouldn't go so far as to confirm the notion that the Autobots will be fighting alongside the Joes on the big screen any time soon, but he for sure wants to see it, eventually. Cena made the most sense to ask about this idea, as he holds down the military side of the equation in Bumblebee. His character, Jack Burns, works for the mysterious Sector 7, which patrols the galaxies. He'd be a very natural bridge between the Bumblebee world, and that of the G.I. Joe team.
And that means we might see a John Cena and Dwayne Johnson team up movie.
The Rock was a late addition to the G.I. Joe franchise, playing Roadblock in the sequel G.I. Joe: Retaliation, to pick up the slack from a lackluster franchise launch. That sequel also brought in Bruce Willis, but it didn't take off the way that Paramount and Hasbro likely hoped.
There was talk that G.I. Joe 3 would have introduced the Transformers into that world. But that movie never happened, so now we are going the Bumblebee route.
The idea of a Transformers/Joe crossover makes too much sense not to happen, particularly when you tap into the fiercely loyal wrestling fan base that would show up to support John Cena and The Rock in a combo film. Here's Cena making his pitch for the team up. He's getting us hella excited:
However, these rumors have been going back for YEARS, and we haven't seen movement on it. The G.I. Joe franchise is dormant, for the time being, and The Rock is getting older. He's also involved in a half dozen franchises, so making time for yet another Joe adventure could be a challenge.
Still, if Bumblebee takes off at the box office, expect these conversations to be had behind the scenes. Travis Knight's movie reaches theaters on December 21. If any news breaks on a Transformers and G.I. Joe team up, we'll have it here for you, first.
Managing Director at CinemaBlend. ReelBlend cohost. A movie junkie who's Infatuated with comic-book films. Helped get the Snyder Cut released, then wrote a book about it.
Your Daily Blend of Entertainment News
Thank you for signing up to CinemaBlend. You will receive a verification email shortly.
There was a problem. Please refresh the page and try again.