The Predator Meets Rudolph In Violent NSFW Short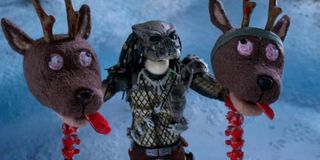 It's the holiday season and that means it's time for everybody to warm themselves with familiar music and specials on TV. However, The Predator Holiday Special may not be quite what most people are looking for to celebrate the joy of the season. Unless you're looking for stop-motion blood and guts and the senseless murder of reindeer. If that's your idea of the holiday season, then you're all set. Check this out.
The movie has the classic stop-motion look that we associate with old-school TV specials like Rudolph the Red-Nosed Reindeer or Santa Claus is Coming To Town. The elf we first see hanging out with Blitzen is certainly supposed to remind us of the character from the Rudolph special. Of course, we never see a red nose here, just red lights of the Predator's laser sight lining up a shot on Blitzen before blowing a hole through him.
The Predator makes short work of most of the reindeer but is then taken down by Santa and...Larry, whoever that is, who celebrate with the classic Arnold Schwarzenegger/Carl Weathers handshake from the original Predator. We also get an "ain't got time to bleed" line from the elf, as the short continues to have fun with the original Predator. Other Predators appear and give Santa an Easter basket, apparently as some sort of trophy for defeating one of their number. Of course, it turns out one of the eggs may contain a special gift of its own. I smell a sequel.
My favorite bit has to be the three reindeer that go all commando on the situation, but are quickly torn to shreds by the Predator. It's not even clear they know how to use machine guns.
In the end, the short is little more than an advertisement for The Predator on Blu-ray, but as ads go it's a well produced and fun one. As holiday specials go, The Predator Holiday Special still surpasses the Star Wars Holiday Special, if for no other reason than the fact that it's much shorter and doesn't have time to get bad.
Everybody celebrates the holidays a little differently and while many might prefer more traditional holiday entertainment, this will certainly work for some people. If you're a fan of the Night the Reindeer Died opening to Scrooged or "Weird Al" Yankovic's "The Night Santa Went Crazy" then this will be the perfect addition to that playlist.
I'm not sure if The Predator is going to be a regular Christmas movie for anybody, the movie actually takes place around Halloween if we're getting technical, but if eggnog and alien big game hunters are the sorts of things that go together for you, then you'll probably want to pick up The Predator on Blu-ray, which this short makes sure to remind you that you can do.
CinemaBlend's resident theme park junkie and amateur Disney historian. Armchair Imagineer. Epcot Stan. Future Club 33 Member.
Your Daily Blend of Entertainment News
Thank you for signing up to CinemaBlend. You will receive a verification email shortly.
There was a problem. Please refresh the page and try again.