The Top 10 Movies Of 2018, According To CinemaBlend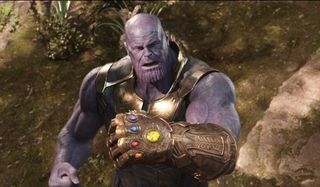 We here at CinemaBlend love movies. It's kinda why we dedicate a significant part of our lives to the medium. Every year members of our staff go out to see all kinds of features on the big screen -- each one enriching our personal palettes, changing our perspectives, and serving at least some entertainment value. Fortunately, 2018 was an amazing year to go to the local cineplex, as each month from January to December has offered up at least one special title that we are still talking about today.
Naturally, each member of the staff has different views on what movies are the best of the year, but this feature is based on our average grades for each film. In order to qualify, each title had to be seen by at least three writers, who were asked to grade every new feature they saw in 2018 with a score out of five (it's worth highlighting that 219 new releases this year were seen by at least one member of our team). After crunching the numbers we got a Top 10 -- and you can find the results below!
T-#9. Bad Times At The El Royale
Average Score: 4.25/5
Drew Goddard made one of the most auspicious directorial debuts of recent memory back in 2012 when he delivered us The Cabin In The Woods, and we've been hungrily awaiting his next effort ever since. Thankfully, he didn't disappoint with Bad Times At The El Royale, which is a twisty, dark, and wonderfully complex feature the likes of which we rarely see in modern cinema.
The clever, non-linear script is wild, packing extra punches with surprising reveals evoked simply from alternate perspectives, and the cast is one of the best ensembles of the year, with Jeff Bridges and Cynthia Erivo in particular stealing the show. Goddard continues to fascinate as a filmmaker, and we'll continue to sit on the edge of our seats in anticipation of anything he's cooking up.
T-#9. Eighth Grade
Average Score: 4.25/5
It's hard not to love a great coming-of-age story, as the best examples of the genre succeed because of their immense relatability. When we recognize and know exactly what a young protagonist is dealing with, it creates a special kind of bond between viewer and cinema that is found in few other kinds of movies. In that respect, Bo Burnham's Eighth Grade is most definitely an exceptional representation for the storytelling style in 2018, and has landed in ninth place with five votes cast.
It doesn't exactly have the splashy action, thrills, and belly laughs that a lot of the other titles on this list do, but what it does deliver is miles of heart, and an awesome breakthrough performance from star Elsie Fisher. Bo Burnham is already a recognizable name in many households, but he's now launched an impressive new career as a writer/director.
#8. Deadpool 2
Average Score: 4.2308/5
We're huge Deadpool fans here at CinemaBlend. As a staff we love the ridiculous antics of the Merc With The Mouth, which is why his first movie back in 2016 also made our site's Top 10 list. With an average score of 4.4 out of 5, Deadpool ranked as our ninth favorite of the year, our team appreciating the witty writing and phenomenal performance by Ryan Reynolds. Fast forward to May 2018, David Leitch's Deadpool 2 arrived to great celebration as well, and while its average score is a bit lower, it has landed one spot higher in the rankings.
The best follow-ups are those that capitalize on what worked best in the original without overdoing the duplication, and Deadpool 2 is a perfect example. The movie instead doubles down and enhances everything that is great about the lead character, and introduces some amazing new friends with Cable (Josh Brolin) and Domino (Zazie Beetz). Even in an amazing year for comic book adaptations this one still very much stood out.
#7. Mary Poppins Returns
Average Score: 4.25/5
The original Mary Poppins is a childhood staple for a reason. There are few family films that can sweep you away quite like it, with the magic of Julie Andrews' titular nanny both wowing and inspiring. Given the impact of the 1964 original, you'd think it would have been impossible to recapture the spirit for a sequel 54 years later, but impressively that's exactly what Rob Marshall's Mary Poppins Returns does.
There is plenty to love about the film, from its amazing musical numbers to its fantastic blend of live-action and classic 2D animation, but ultimately it's all about Emily Blunt's performance. She unquestionably had a lot to live up to, but she bears the weight with perfect grace and class -- evoking the exact same energy as her predecessor.
#6. Hereditary
Average Score: 4.3125/5
After a phenomenal 2017, the horror genre continued its impressive on-going boom this year, as we saw not only more big box office hits, but also a high level of quality. There are a lot of great titles that didn't make this list, including Suspiria, Halloween, and Annihilation, but Ari Aster's Hereditary most definitely deserves this spot after scaring the hell out of us this past summer.
Toni Collette delivers legitimately one of the best performances of 2018 (one that seems like it's destined to be overlooked), and it's shocking just how long the film can maintain keep chills running up and down your spine. It also features what is unquestionably one of the most horrifying and memorable recent big screen surprises, leaving viewers with an image that will leave an impact and influence nightmares for years.
#5. Avengers: Infinity War
Average Score: 4.3333/5
In the last 10 years the Marvel Cinematic Universe has revealed itself as an immensely special pop culture force of nature. Never before have we seen a big screen franchise dedicate itself so fully to such a massive continuity, all the while expecting audiences to follow along, and the results have been unbelievable -- both in terms of quality and box office. Joe and Anthony Russo's Avengers: Infinity War is the latest capstone to really drive that point home, and we're still shaking from the experience.
This is a story primarily driven by a giant purple alien questing to kill half of all life in the universe, and what unfolds is an epic and unforgettable movie experience featuring dozens of characters audiences have spent years falling in love with. This one was seen by more members of the CinemaBlend staff than any other this year (big surprise), and nobody gave it less than a four.
T-#3. A Quiet Place
Average Score: 4.375/5
What is it about great comedic actors somehow becoming awesome horror directors? Last year it was Jordan Peele totally blowing us away with Get Out, and this year it was John Krasinski a.k.a. Jim Halpert putting us on the edge of our seats with A Quiet Place. The premise is simple -- horrifically fast and dangerous aliens arrive and kill anything that makes a sound -- but it's orchestrated phenomenally and anchored by a brilliant ensemble and fantastic script.
Another excellent entry from the on-going horror boom, A Quiet Place is shockingly scary from beginning to end, and even though there is extremely little dialogue it's impressive how well we get to know and start to care about the characters. Its world-building is contained but excellent, and we are waiting on the follow-up with baited breath.
T-#3. Roma
Average Score: 4.375/5
It's been five years since Alfonso Cuaron made his last feature, but Roma is a film that ultimately proved most definitely worth the wait. The new movie couldn't be more different from his last feature, the space-set, intense thriller Gravity, but what he offers with the tale of a young woman living in Mexico City is far more subtle and equally beautiful.
Roma isn't a film that is heavy on plot, simply chronicling the simple-yet-extraordinary life of a housekeeper named Cleo (Yalitza Aparicio) after she discovers that she is pregnant, but the tale it weaves is wonderful. The black-and-white cinematography is absolutely gorgeous, and while playing primarily on Netflix, is worth seeking out on the big screen if you can.
#2. Paddington 2
Average Score: 4.4375/5
There's a lot of animosity and acrimony in the world nowadays, and sometimes it's great to have a film that can carry you away from all of it, and let you live in a fantasy of pure feel-goodness. For 2018, Paul King's Paddington 2 is that film. Its predecessor was a shocking bit of enchantment, released back in 2014, and the follow-up is the cinematic equivalent of a warm blanket on a long, cold winter's night.
While "whimsical" can be the adjective reserved for Mary Poppins Returns, the word "delightful" is probably the best way to describe Paddington 2 -- a story that takes the titular talking bear (Ben Whishaw) on a weird adventure searching for a special London pop-up book for his Aunt Lucy's 100th birthday. Hugh Bonneville, Sally Hawkins, and Peter Capaldi are all once again wonders, while new additions like Brendan Gleeson and Hugh Grant add a fantastic charm that is just the right touch.
#1. Spider-Man: Into The Spider-Verse
Average Score: 5/5
This was a big year for Spider-Man on the big screen. Through the first eleven months of the year we not only saw him battle aliens in outer space and turn to dust, but also saw his good name a bit desecrated due to association with Venom. Because of this, we didn't fully know how to prepare for the arrival of Spider-Man: Into The Spider-Verse -- but it turned out it didn't matter. This is because the movie is a phenomenal and unique vision for which nobody could have properly prepared, as it stands not only as one of the best superhero films of all time, but also one of the best animated features ever.
The way in which Spider-Man: Into The Spider-Verse cuts to the core of what makes the webslinger such a special entity in pop culture is the beating heart of the movie, but truly this is a cinematic adventure that has everything. The performances by the fantastic ensemble and script are both hilarious and emotional, and visually it's unlike anything human's eyeballs have ever encountered in a multiplex. Every single person on our team who has seen the film has given it a five-out-of-five -- which made it an easy win as our number one film of 2018.
NJ native who calls LA home; lives in a Dreamatorium. A decade-plus CinemaBlend veteran; endlessly enthusiastic about the career he's dreamt of since seventh grade.
Your Daily Blend of Entertainment News
Thank you for signing up to CinemaBlend. You will receive a verification email shortly.
There was a problem. Please refresh the page and try again.