In total honesty, no one expected director Paul King's Paddington to make any sort of a splash upon its release in 2015. Adaptations of classic characters, modernized for today's youth, have always been a tricky thing, and for the most part the results had been unremarkable. But King and his team hit a mountain of gold when it came to the legendary bear with a heart of Marmalade, as the film not only tapped into the whimsy of Michael Bond's source material, but it did so with a very appropriate modern flare. It gives me immense pleasure to say that if you were worried Paddington 2 would fail to repeat that feat, you're absolutely wrong.
Three years after he moved to London, Paddington (Ben Whishaw) is looking to get his Aunt Lucy the perfect birthday present -- an antique pop-up book of London. What starts as a bunch of odd jobs in the name of raising funds for an absurdly expensive book turns into a quest to prove his innocence, as the book is stolen and Paddington is the main suspect. With Mr. and Mrs. Brown (Hugh Bonneville, Sally Hawkins) leading the charge, the race is on to clear this bear's good name, before it's too late.
I'll start by saying this: Paddington 2 is what every good sequel should be. Paul King and Simon Farnaby's follow-up to the beautiful first film never forgets or betrays the world that's been previously set up. In fact, the film builds on top of the characters and surroundings of Windsor Gardens in such a way that when Paddington disappears for extended portions of the film, the story makes a point to show the audience just what the world would be like without the superbly polite ursine youth to keep everyone on their toes. This also leads to some fun callbacks to gags from the first film, but since the script is all about continuing to lend depth to this franchise's universe, it's never forced and always a pleasure.
So what's new with Paddington 2? Well, in addition to introducing a bunch of new neighbors in Windsor Gardens, there's two major characters that help spice things up: Hugh Grant's aging and extremely vain actor, Phoenix Buchanan; and Brendan Gleeson's hardened criminal Knuckles McGinty. Both men play very different roles in Paddington's narrative, but they are equally important, and a lot of fun to watch. Grant walks the line of the natural hammy nature of Phoenix, without allowing him to totally slip into one dimensional parody, and seeing as he's the film's villain, he still portrays a bit of menace in his quest. As for Gleeson, watching him go from hardened to slightly less hardened and friendly with a bear is another absolute treat, as he is equally up to the task.
But perhaps the newest aspect to Paddington 2 is the fact that the sequel takes some darker turns than one would expect in a typical children's film. And the best part is, that darkness isn't unwarranted. Rather than just present another simply whimsical romp for Paddington and The Browns to amble their way through, we're instead given a film that challenges its audience with a story that encourages empathy, as well as extolls the virtues of being in a community. You'll still get that message with the adventurous zest, and colorful visuals that Paddington traded in. But even more so than its predecessor, the film delivers a positive message that is now, more than ever, extremely timely.
Every piece of Paddington 2's machinery hums with such joyful efficiency that it feels like magic is somehow at work with this series. It keeps everything to love about the first film, and takes it into a new and fresh direction that's squarely at home in the universe it has created. If you're looking for a good kids movie that translates well with parents, an emotional masterpiece that digs deep while keeping you smiling, and a pure example of why sequels can still be a good thing, Paddington 2 is all of the above.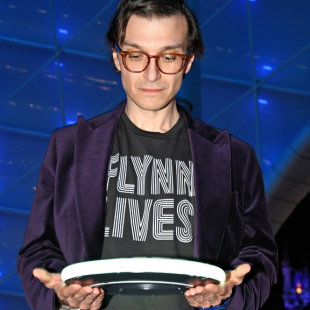 Senior Movies Contributor
CinemaBlend's James Bond (expert). Also versed in Large Scale Aggressors, time travel, and Guillermo del Toro. He fights for The User.