One Thing Rami Malek Was Really Not Prepared For Playing Freddie Mercury In Bohemian Rhapsody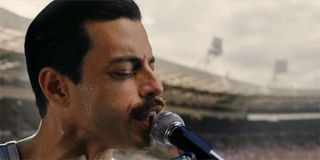 Some minor spoilers for Bohemian Rhapsody can be found in this article. They probably won't take away from your enjoyment of the movie, but just in case!
We've heard about Rami Malek putting in fake teeth to approximate Freddie Mercury's own mouth. We've heard about his tight wardrobe. We've heard about singing lessons and piano lessons and even movement lessons. Still, there was one thing Rami Malek was really unprepared for when it came to playing Freddie Mercury on the big screen: playing piano upside down. Per Malek:
Speaking on the red carpet during E! Live From The Red Carpet ahead of the 2019 Golden Globes, Rami Malek revealed during the telecast that he had a brief moment of panic when he first started reading the script for Bohemian Rhapsody. Right there on the page he was told not only was he going to have to learn to play piano, he was going to have to learn to do it upside down in an approximation of Freddie Mercury's unusual talents.
Previously Rami Malek actually told Jimmy Fallon on The Tonight Show that he was legitimately scared of learning to play piano when he was growing up, so this was an even bigger challenge for the actor than it might have been for someone else. Just learning to play the piano was a challenge for Malek, who called the instrument "a foreign thing" when on the late night TV show. Learning to play it upside down was a whole level further into crazy town.
If you've seen Bohemian Rhapsody, you should know the upside-down piano scene comes when Freddie Mercury is figuring out how he wants the song "Bohemian Rhapsody" to sound. In real life, Freddie Mercury was double-jointed and his hands could bend back to accommodate the piano that he was using as a headboard.
The story of Freddie Mercury playing in bed made its way into Bohemian Rhapsody and the rest is history. Or at least some approximation of it.
Obviously, some of the timelines in Bohemian Rhapsody have been shuffled. In addition, so facts have been changed to make a more compelling story. The movie itself has clearly been a crowd pleaser, going on to make over $743 million in theaters so far. Last night, it actually won the award for Best Drama at the Golden Globes, surprising many who thought other movies like A Star Is Born (or others) would take the big prize.
We'll have to wait and see if it continues this upward trajectory as awards season wears on and other award nominees, including the coveted Academy Awards, are announced. In the meantime, you can take a look at the full list of Golden Globes winners.
Your Daily Blend of Entertainment News
Reality TV fan with a pinch of Disney fairy dust thrown in. Theme park junkie. If you've created a rom-com I've probably watched it.