2018's Biggest Box Office Surprises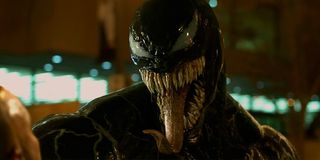 Box office prognostication is a lot like weather forecasting: there is a science to it, past trends to look at, and data like advance ticket sales that can provide insight and clues about what is going to happen. But every once in a while, you predict a couple of inches of snow and wind up with a couple feet. Likewise, movies that you expect to bomb deliver huge and sure things prove to be anything but.
This year is on track to be the biggest ever at the box office, and it had no shortage of surprises. But now, as we reach year's end, some of them stand out more than others for their perceived unlikelihood and how flabbergasted they left us. These surprises challenged our preconceived notions and reminded us that, just as you never really know the weather until you walk out the door, we can never be sure how a movie is going to do until it opens in theaters.
Here are 2018's biggest box office surprises.
Jumanji Dominating January
Interestingly, one of 2018's biggest box office surprises was in fact a 2017 film. Jumanji: Welcome to the Jungle opened in theaters on December 20, 2017, a mere five days after Star Wars: The Last Jedi. And while the Disney juggernaut dominated December, once the calendar turned to January, it began to drop and in its place rose Jumanji. In an amazing display of staying power and box office legs, Jumanji: Welcome to the Jungle rose to number 1, and stayed at number 1, and remained all the way until the last full weekend in January when it fell to number 2. Then, it rose back to number 1 the week after just to remind everyone it was still around.
All in all Jumani spent five weekends at the top of the box office, beginning with its third weekend in release. That's some truly Smolder Bravestone-esque intensity and endurance right there. It was a remarkable and baffling performance for a film that blew away even the most optimistic of expectations, grossing nearly $1 billion worldwide. Such is the power of nostalgia, The Rock and a light, fun, family action-comedy.
The Nun Tops The Conjuring Universe
Since James Wan's 2013 film The Conjuring, the Conjuring Universe has sprung up organically and boasts five films to date with a combined worldwide total of over $1.5 billion. Despite the hit and miss nature of critical responses, the films have been a success at the box office and none more so than this year's The Nun from director Corin Hardy. Although it came in 2nd behind the original The Conjuring domestically, The Nun bested all of its Conjuring Universe stablemates worldwide with a haul of $365.6 million.
That a low-budget horror movie was a box office success is anything but a surprise, because there are entire studios built around that model. What is surprising is that a spinoff film did better than what, for lack of a better term, are the mainline films in the franchise. Both other spinoffs, Annabelle and Annabelle: Creation, lag behind The Conjuring and The Conjuring 2 in domestic and worldwide box office, but The Nun came out on top of all of them worldwide. Buoyed by Latino and Mexican audiences, the performance of The Nun shows the richness of this universe and surprisingly, how much people really want to see spinoffs of these horror elements.
The Black Panther Phenomenon
There's not much to be said about Black Panther at this point that hasn't already been said. Simply put, it may not have been the highest-grossing film of 2018, but it was the box office story of the year. It surpassed every other MCU film that's not an Avengers movie on the worldwide charts with $1.34 billion. Its performance was truly remarkable and showed the financial viability of having an expensive movie with an almost all-black cast.
MCU movies always do well, but just how big Black Panther was is something that no one could have predicted. And even more surprising than Black Panther's worldwide performance is its domestic haul. Specifically, Black Panther made $700 million in North America. That bests Avengers: Infinity War's $678.8 million. So a movie about a relatively unknown superhero made more money in North America than a team-up film that Marvel Studios has been working towards for the past decade. That is what you call surprising.
Documentaries Delivered On The Big Screen
It's not often that we talk about the box office performances of documentaries. Documentaries seem to get more traction and buzz these days when they are broken up into a series for a streaming service. However, 2018 was a great year for big screen documentaries, evidenced not just by their quality, but by their performances at the box office.
Four of 2018's documentaries landed in the top 30 highest grossing documentaries according to Box Office Mojo. The shocking Three Identical Strangers made $12.3 million while Free Solo, which begs to be seen on the big screen, made a little under $11 million. Even more impressive was RBG, which enjoyed two weekends in the top 10 and made $14 million. The all-star though was the Mr. Rogers documentary Won't You Be My Neighbor. That uplifting and necessary film managed three consecutive weekends in the top 10 and made $22.6 million. Although it is surprising, it is good to know that documentary filmmakers and subjects can still find an audience on the big screen.
The Rock Isn't Always Box Office Gold
Dwayne Johnson started 2018 off strong with Jumanji: Welcome to the Jungle, but the rest of his year didn't prove quite as fruitful. First he had the latest video game adaptation, this time one of an old 1980s arcade game, in Rampage. Despite the drawing power of The Rock and the brand name of the property, Rampage barely cracked $100 million in its domestic run on a $120 million budget. It went on to do well overseas, lifting it to $428 million worldwide, which is pretty good for a video game adaptation, but it wasn't what you would call a runaway success.
The drawing power of Dwayne Johnson was tested to an even greater degree with July's Skyscraper. Lacking an established IP, Skyscraper had to get by on the strength of its star and its story that echoed Die Hard and The Towering Inferno. Skyscraper debuted in third place and struggled throughout its run, making only $67.8 million domestically and $304.1 million worldwide on a $125 million budget. The combined worldwide grosses of these two films don't come close to Jumanji's. It was a surprise, but we now know that even the star power of The Rock has its limits.
Incredibles 2 Became Pixar's Most Successful Film
If you think about Pixar's most popular brands, properties like Toy Story, Cars and Finding Nemo/Dory are probably the first to come to mind, not The Incredibles. Brad Bird's 2004 film is in the middle of the pack box office-wise for Pixar and it went over a decade without a sequel. So it came as something of a surprise when this summer, Incredibles 2 performed heroically at the box office to become the most successful Pixar movie ever made and the fourth-biggest film of 2018.
It wasn't a surprise that Incredibles 2 did well, animated sequels usually do and Pixar ones especially, but for it to do as well as it did indeed was a surprise. Incredibles 2 performed incredibly, making $608 million domestically and $1.24 billion worldwide, surpassing Pixar stablemates like Finding Dory and Toy Story 3. It had been 14 years since the original film, but clearly absence made the heart grow fonder.
Solo: A Star Wars Story Underperforms
If Black Panther was the positive box office story of the year, coming in at the other end of the spectrum was Solo: A Star Wars Story. This was a Star Wars film, so we were naturally expecting showers of money at the box office, but what actually happened was more of a drought. Solo was the first Star Wars film in the Disney Era to fail to make $1 billion. More than that, its worldwide total was over $100 million less than what the previous spinoff, Rogue One: A Star Wars Story, made domestically.
Solo made just $213.7 million domestically and $392.9 million worldwide. Sure, there were people who thought we didn't need this movie and it wasn't expected to perform at the level of the Saga films, but it was still a Star Wars movie and it was about franchise hero Han freaking Solo. So for it to underperform to the degree that it did goes beyond surprising to truly shocking. A lot of digital ink has been dedicated to analyzing its failure, but it is clear that this surprise has had major implications, with Disney potentially changing up its Star Wars strategy going forward.
The Mission: Impossible Franchise Keeps Growing
The Mission: Impossible series is one of the most fascinating franchises going these days. Unlike something like the Bond films, which fluctuate in quality drastically from entry to entry, Mission: Impossible seems to keep getting better each time out. That in and of itself defies the norm, but for the sixth film in the over twenty-year-old series to defy the usual box office logic with sequels and surpass all of the previous entries, that is truly surprising.
Mission: Impossible Fallout is the sixth-biggest film on the worldwide charts in 2018 with $791 million, ranking right up there with the superhero films that dominate the box office and the zeitgeist. That haul tops the 2nd most successful film in the franchise, 2011's Mission: Impossible Ghost Protocol, by almost $100 million. Not only is Mission: Impossible going strong, but the series actually grew with the latest entry. That is definitely a surprise and because the quality is there, it's a pleasant one.
Crazy Rich Asians Does Crazy Business
Falling in to the category of things that should have been obvious but weren't, it turns out that audiences that don't traditionally see themselves represented onscreen, actually like to. That lesson was driven home with August's Crazy Rich Asians. Based on the novel by Kevin Kwan, Jon M. Chu's film, which was made for a modest $30 million, made over $174 million domestically and $238 million worldwide.
Crazy Rich Asians owned the late August box office, spending three weekends in the number 1 spot and beating out more star-driven vehicles like Mile 22. Domestically it outgrossed blockbusters like The Meg and Ready Player One. It's also the highest-grossing romantic comedy in almost a decade and two sequels are in the works. The surprising success of Crazy Rich Asians may have sent a message to the industry too, not unlike Black Panther. Marvel is now developing its first Asian superhero movie about Shang-Chi, Master of Kung-Fu.
Venom Obliterates Expectations
If you want to talk about defying expectations, perhaps no 2018 movie better exemplified that than Sony's Venom. I don't think it is unfair to say that a not insignificant portion of people expected Sony's Spider-Verse to be DOA and Venom to be a critical and commercial dud. And critically, Venom was just that, but in one of the truly remarkable examples of critical and audience disconnect, people loved Venom and they expressed that love at the box office.
Venom did okay domestically, but really excelled overseas. Ruben Fleischer's movie made $855 million worldwide, passing movies like Wonder Woman and this year's Deadpool 2 at the box office. For the first film in a budding cinematic universe, with no Spider-Man and that was critically panned to do as well as it did is positively dumbfounding. Venom really connected with audiences, confirming the popularity of the character, validating the PG-13 rating and thus ensuring the future of Sony's Spider-Verse, at least for now.
Nick grew up in Maryland has degrees in Film Studies and Communications. His life goal is to walk the earth, meet people and get into adventures. He's also still looking for The Adventures of Pete and Pete season 3 on DVD if anyone has a lead.
Your Daily Blend of Entertainment News
Thank you for signing up to CinemaBlend. You will receive a verification email shortly.
There was a problem. Please refresh the page and try again.