This Rotten Week: Predicting The LEGO Movie 2, Cold Pursuit, The Prodigy, And What Men Want Reviews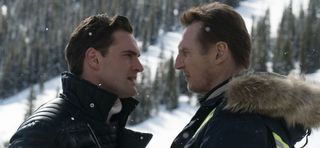 Sure, the Super Bowl was the main entertainment attraction this past weekend, but that doesn't mean we can't start looking ahead to an awesome week of movies. Four flicks are hitting the big screen in wide release, with The LEGO Movie 2: The Second Part, Cold Pursuit, The Prodigy, and What Men Want.
Just remember, I'm not reviewing these movies, but rather predicting where they'll end up on the Tomatometer. Let's take a look at This Rotten Week has to offer.
The Phil Lord and Christopher Miller writing team is back to, no doubt, bring us another winner. Fresh off of crushing it with Spider-Man: Into the Spider-Verse (97%), the pair is following up the surprisingly amazing The LEGO Movie (95%) - albeit only as writers, not directors. The guys just spin a good story each time, and from Cloudy With A Chance Of Meatballs to 21 Jump Street they basically kill it every time out. Now we have Mike Mitchell's The LEGO Movie 2: The Second Part, and it looks like it will be continuing their win stream.
There are some serious expectations for the return to Bricksburg with Emmet (Chris Pratt) and friends taking on a new foe in the form General Mayhem (Stephanie Beatriz) and Queen Watevra Wa'Nabi (Tiffany Haddish) of the Systar System. It looks predictably hilarious, and early reviews are overwhelmingly positive - the embargo having lifted earlier this week. Through 40 reviews it's sitting at 92% on the Tomatometer, and I don't expect that the number will slip that much as the week continues and we get closer to The LEGO Movie 2: The Second Part's release.
I'm counting Cold Pursuit as roughly the sixth film in which Liam Neeson is tasked with using a particular set of lethal skills to survive/take down a criminal plot. These flicks include, but aren't limited to:
Run All Night (59%)
Taken 3 (12%)
A Walk Among the Tombstones (67%)
Non-Stop (60%)
Taken 2 (22%)
Taken (58%)
The Grey (79%)
In Cold Pursuit, Neeson is just your run of the mill Mr. Plow in Alaska or something whose son is killed by the local drug cartel. He sets out with plans of murdering the lowest members of the group first and slowly working his way up. Critics are loving it so far, with the movie sitting at 90% with more than 20 reviews posted. Folks seem to appreciate the tongue-in-cheek nature of the plot. I think it drops a little over the course of the next few days, but still finishes certified fresh.
When it's nighttime and that creepy whispering starts from places unknown and your child is standing silently in a hallway, it might be time to cut bait with your (probably) demon kid. But movie families always learn this the hard way and hang on to the possessed little bastard for just a little too long... and it seems that we have a fresh case of that in the form of The Prodigy. In short, this is a movie that we've seen many times before, and I don't see this one blowing anybody away.
The Prodigy looks creepy, but also looks like your standard kid-is-possessed horror film that we've seen many times. The movie is the first mainstream feature from writer/director Nicholas McCarthy, so it's a bit hard to know exactly what we are getting with this one, but based on the trailer it doesn't look like it's going to be the next great release from the genre.
Are you ever sitting around just thinking "Hey, remember 17 years ago there was the mediocre Mel Gibson rom-com where he could hear everything women were thinking? We definitely need a follow up to that!" Me neither. However, it seems that Hollywood very much thinks that way, and as a result we are getting a semi-remake of What Women Want called What Men Want - this time with Taraji P. Henson playing the lead role.
The inevitable twist on this silly idea lands us in the sports world with a high-powered female agent now able to hear all of the thoughts of the men around her. How does she use this legit superpower? To climb the corporate ladder, of course. What Women Want looks like the worst kind of pandering, and I basically cut out of the trailer 75% of the way through. If it's anything but total critical garbage I'd be shocked, hence the super low prediction.
Last week was a pretty bad miss with Miss Bala (Predicted: 52% Actual: 30%). Though 22 points isn't necessarily an embarrassing whiff, I really shouldn't have gone positive with a movie like this. I think I got a little too sucked into the strong female lead narrative and thought that alone would win the day. It didn't, and critics basically panned this movie, resulting in another early 2019 dud.
Next time around we've got Alita: Battle Angel, Happy Death Day 2U, and Isn't it Romantic. It's gonna be a Rotten Week!
Your Daily Blend of Entertainment News
Doug began writing for CinemaBlend back when Terminator: The Sarah Connor Chronicles actually existed. Since then he's been writing This Rotten Week, predicting RottenTomatoes scores for movies you don't even remember for the better part of a decade. He can be found re-watching The Office for the infinity time.
Your Daily Blend of Entertainment News
Thank you for signing up to CinemaBlend. You will receive a verification email shortly.
There was a problem. Please refresh the page and try again.