6 Actors Who Could Replace Ben Affleck As Batman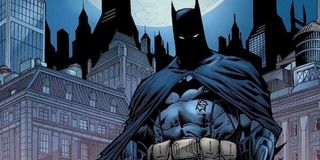 Ben Affleck is out as Batman and the hunt is on to find Hollywood's next Caped Crusader. DC fans have been fantasy casting their top choices for the role, although they've not always jived with the fact Matt Reeves is looking for a younger Batman. Check out our list of folks that fit the bill and areour top choices to consider for the character to play the character in The Batman, and beyond.
Michael Fassbender
What's not to love about Michael Fassbender as Batman? He's no stranger to superhero films, he gains solid award show recognition (although not many wins), and that jawline would be the perfect accent to Batman's cowl. Plus the last time we handed off the character to a foreign actor, he knocked it out of the park. Fassbender's resume shows he could do the same, if given the opportunity to suit up.
Availability could be a bit of an issue, of course, as Fassbender is an actor who has tried to stay busy over the last handful of years. This includes his commitment as Magneto in the X-Men franchise, which could keep him away from other potential long-term commitments like Batman. That's not to say he couldn't do both, but with as in demand as he is in Hollywood, he may want to keep his schedule free to entertain other options.
Wes Bentley
Look up a picture of Batman in the dictionary, and you probably won't find one because dictionaries usually don't have pictures. Regardless, Wes Bentley has that Bruce Wayne look, especially when looking at animated versions of the character in DC comics. Bentley's been more of a TV actor in the past couple of years, but he's still kicking around silver screen territory with a recent appearance in Mission Impossible - Fallout and the upcoming feature The Best Of Enemies.
Bentley has said in the past he would've been interested in playing Batman (via Screen Rant), but not anymore. In his words back in 2016, DC and Marvel were starting to "scrape the bottom of the barrel" when it came to heroes. Perhaps his opinion has changed, although one would think he'd start putting the word out otherwise if he were interested. If he is, perhaps he can get Interstellar director Christopher Nolan to put in a good word for him?
Jake Gyllenhaal
After all the hub-bub and rumors last year, it's only natural that Jake Gyllenhaal's name goes back into the mix as possible actors to portray Batman. Matt Reeves is reportedly looking for a famous face after all, and Gyllenhaal's going to be just as famous as ever following his stint as Mysterio in Spider-Man: Far From Home. Will 2019 finally be the time that the actor gets the role?
It's hard to say, especially since Jake Gyllenhaal has discredited the rumors that he was on Matt Reeves short list to play the role. At the same time, the rumors seemed to get a lot of folks excited, so if he wasn't on the short list then, he may be now that Ben Affleck is officially out of the project. It feels foolish to not at least consider him, especially in light of his Marvel debut.
Taron Egerton
Egerton is the youngest entry on this list, and to be quite honest, not the best option if DC is trying to keep some similarity between Affleck's Batman and the successor. With that said, the word around town is that DC isn't putting too much emphasis on its shared universe anymore, so chances are The Batman won't be too concerned with screwing up the DCEU continuity with a younger Bats.
A younger Batman would be nicer to see on the big screen, although the grumpy attitude and brooding are more typical of older men. We've seen that version of Batman for so long, so why not switch things up and take us to a time where Bruce was still bad ass, but not as beaten down as he once was? Not necessarily Year One Batman, but one who has the moves but still some room for growth as a hero.
Oscar Isaac
Is there anyone who's going to sit here and act like Oscar Isaac is incapable of a show-stopping performance as Bruce Wayne? He's hard candidate to argue against, especially given his superstar status and ability to fall into major franchises at will. Should we just hand him the suit now, and accept the position is his to turn down?
Rumors surfaced last year that Isaac was rumored to be involved in The Batman, so it's not crazy to think he's not on a short-list for the character. Granted, these rumors surfaced when Ben Affleck was still attached, so it's possible Isaac already has a role in the movie, and isn't interested in suiting up due to potential future plans with Star Wars or other films. What other character in the Batman universe would Isaac be suited for?
Robert Pattinson
Stop the collective groans, it's been years since the last Twilight movie. Besides, whether or not Batman fans love Edward Cullen doesn't change the fact that rumors are out the actor is being looked at to play the superhero. It's an idea that sounds so wild, and so out there, it actually makes sense. Who better to get the world on board with Batman again then Robert Pattinson?
Not only does Pattinson look the part, but he's a choice that would undoubtedly be so polarizing to hardcore fans, the bar for The Batman would be set very low. If Pattinson does even a halfway decent job, acclaim would be through the roof, and goodness knows DC hasn't exactly flourished in that department with its last couple character outings. No performance is so bad it'll ruin Batman, so why not roll the dice and give it a shot?
Readers can vote for their top choice of these names in our poll below, and of course write about their love of Jon Hamm in the comments. For more on The Batman, be sure to read up on the classic villain that may be appearing in the upcoming film.
This poll is no longer available.
Mick likes good television, but also reality television. He grew up on Star Wars, DC, Marvel, and pro wrestling and loves to discuss and dissect most of it. He's been writing online for over a decade and never dreamed he'd be in the position he is today.
Your Daily Blend of Entertainment News
Thank you for signing up to CinemaBlend. You will receive a verification email shortly.
There was a problem. Please refresh the page and try again.