Sinister Serial Killer Movies Based On Real-Life Crimes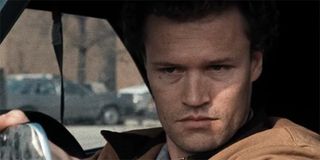 In recent years the true crime genre has experienced a surge in popularity across different forms of media. Be it the realm of podcasts with Serial, streaming docuseries like Making a Murderer and Conversations with a Killer: The Ted Bundy Tapes or dramatic programs like Mindhunter, audiences can't get enough of stories about real-life crimes.
Perhaps the true crime topic that most captivates people is that of serial killers. Something about our humanity is fascinated by the lack of it in the notorious and prolific killers who committed such heinous acts throughout history. For those who have exhausted all the books and documentaries or just want to see a dramatic interpretation, there are plenty of serial killer movies based on the real life crimes.
While stuff like Psycho, Texas Chainsaw Massacre and Silence of the Lambs took varying degrees of inspiration from actual events, this list features movies that are more closely about the real life crimes and the real serial killers who perpetrated them, making them more unnerving than any work of pure fiction, even if some are fairly loose translations. Here are a few sinister serial killer movies based on real-life crimes.
Zodiac
In 1995, David Fincher created one of the most-discussed serial killer movies ever with Se7en. then, in 2007 he returned with another film about detectives chasing down an elusive and enigmatic serial killer, Zodiac. Starring a positively lights out cast led by Jake Gyllenhaal, Mark Ruffalo and Robert Downey Jr., Zodiac tells the story of the Zodiac Killer, a serial killer that operated in Northern California in the late '60s and early '70s, killing at least 5 people and sending taunting letters to the press.
Zodiac is considered to be one of the best serial killer movies ever, with incredible performances and some truly disturbing and frightening moments. It is made all the more chilling by the fact that just like in real life, the case goes unsolved and we never find out the identity of the Zodiac Killer. It is an incredible mystery with a true-to-life ending that offers no easy answers. Zodiac is also probably the most historically accurate film on this list.
Monster
Wonder Woman's Patty Jenkins made her feature directorial debut with Monster, a 2003 film that won Charlize Theron a Best Actress Oscar for her unrecognizable portrayal of serial killer Aileen Wuornos. It is based on the real life of Aileen Wuornos, one of America's most famous female serial killers and known as "The Damsel of Death." While working as a prostitute between 1989 and 1990, Aileen killed seven men, shooting them at point-blank range.
Although she claimed the men were trying to rape her and the murders were self-defense, Aileen Wuornos was found guilty of six of the murders and sentenced to death. Monster follows her from the first murder all the way through her trial. Whenever a serial killer movie focuses on the killer and not the investigation it runs the risk of being too sympathetic and making excuses for their crimes, but through Charlize Theron's performance, Monster is able to strike a balance, showing the tragedy of Aileen's life while still making her a horrifying creature befitting the film's title.
Henry: Portrait of a Serial Killer
To many film fans, Michael Rooker might be Yondu from Guardians of the Galaxy, Merle from The Walking Dead or the unfortunate recipient of a chocolate-covered pretzel in Mallrats, but in 1986 he played a truly sinister serial killer. From the director of Wild Things, Henry: Portrait of a Serial Killer is somewhat based on the crimes of Henry Lee Lucas, who operated in the 60s and 70s and was convicted for 11 murders.
What's fascinating is that Henry Lee Lucas confessed to hundreds of murders, but authorities later believed most of those confessions to be false. This film is inspired by those false confessions though and Henry plays without much of a story, as it just follows Michael Rooker, in a deeply unnerving performance as he goes about his day and occasionally kills people. Although not necessarily gory by today's standards, Henry: Portrait of a Serial Killer is super dark and was at the time of its release in 1986 considered exploitative, which earned it an "X" rating from the MPAA.
The Snowtown Murders (Snowtown)
Before he directed Michael Fassbender in Macbeth and Assassin's Creed, Australian director Justin Kurzel debuted with The Snowtown Murders, about one of the most publicized and heinous crimes in Australian history. Also known as the bodies-in-barrels murders, the Snowtown Murders were a series of murders that took place in the 1990s in South Australia. A group of men tortured and killed nearly a dozen people in the most brutal ways.
The Snowtown Murders depicts the events of these murders in an ultra-realistic and thus ultra-violent way. Justin Kurzel primarily used a cast of locals with no acting experience from the area where the murders occurred and filmed in some of the places where the murders happened as well. These killings are as sinister as they come and The Snowtown Murders is unflinching in its depiction of them. This is a highly disturbing, difficult watch, the kind of film that you can't unsee; described by some as 'snuff,' The Snowtown Murders is a captivating and intense film that stays with you if you have the stomach to sit through it.
Dahmer
Jeffrey Dahmer is one of history's most deranged and infamous serial killers. From the late 1970s to the early 1990s, Jeffrey Dahmer murdered 17 men and boys. Beyond just the killing, Dahmer would rape his victims, dismember them and after their death sometimes engage in necrophilic and cannibalistic acts with the bodies. He would even keep the skulls and body parts of his victims as trophies. In the little-known 2003 film Dahmer, none other than Hawkeye himself, Jeremy Renner, plays the serial killer.
While not a truly great movie by most metrics, like Monster, Dahmer is still worth checking out for if only for the lead performance. Jeremy Renner's creepy and compelling portrayal of the unfeeling serial killer is truly unsettling and will show you the range of the affable actor. Dahmer is structured with two timelines with flashbacks to the killer's troubled youth, leading up to his first kill. Those looking for more Jeffrey Dahmer and the making of the killer, can also check out 2017's My Friend Dahmer, which is probably a better film but is more origin story than serial killer movie.
Wolf Creek
2005's horror film Wolf Creek is a looser adaptation than most of the entries on this list, but the crimes it is based on were very real and very sinister. Between 1989 and 1993 in New South Wales, Australia, seven young people were murdered by Ivan Milat. Known as the Backpacker murders, these killings, as well as the murder of a backpacker by Bradley John Murdoch in 2001, served as the inspiration for Wolf Creek.
In the film John Jarratt plays Mick Taylor, a psychopath in the mold of Milat and with the look of Crocodile Dundee, who hunts down three young backpackers in the outback. Wolf Creek gets super gruesome and sadistic and has something of a grindhouse vibe. The Australian horror film from writer-director Greg McLean isn't for everyone, but it has become something of a cult horror hit, spawning both a sequel film and a TV series where John Jarratt reprises his role as serial killer Mick Taylor.
The Frozen Ground
When it comes to despicable villains, they don't get much worse than Ramsey Bolton on Game of Thrones, who hunted and tortured his victims. Sadly, Ramsey has something of a real life analog in Robert Christian Hansen, a serial killer who hunted his victims like animals. The man the media dubbed "Butcher Baker" confessed to raping 30 women and throughout the '70s and early '80s he hunted and killed 17 women in Alaska.
The Frozen Ground stars Nicolas Cage as a state trooper trying to capture the serial killer plaguing Anchorage. He partners with a young prostitute who escaped Hansen in order to help him. The young girl Cindy, played by Vanessa Hudgens gets a lot of the focus in the film, which also stars Breaking Bad's Dean Norris, rapper 50 Cent and John Cusack as Robert Hansen. Although it received mixed reviews, Nicolas Cage was praised for his performance as the Alaska state trooper.
These are just a few of the serial killer movies based on real crimes that are out there to fascinate and repulse. Later this year the Ted Bundy film Extremely Wicked, Shockingly Evil, And Vile starring Zac Efron will release on Netflix and like some of the titles on this list and any dramatic depiction of real life trauma, it is already the subject of controversy.
Check out our 2019 Release Schedule to keep track of all the biggest movies headed your way this year.
Your Daily Blend of Entertainment News
Nick grew up in Maryland has degrees in Film Studies and Communications. His life goal is to walk the earth, meet people and get into adventures. He's also still looking for The Adventures of Pete and Pete season 3 on DVD if anyone has a lead.