Did The Avengers: Endgame Trailer Tease A New Hawkeye?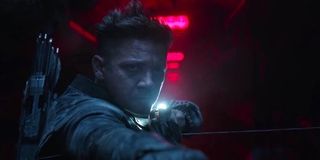 It's been three years since we last saw Jeremy Renner's Clint Barton in action in the Marvel Cinematic Universe, but he's finally back next month in Avengers: Endgame. This time around, he's adopted a look reminiscent of his time as Ronin in the Marvel Comics, but obviously Clint is known best in both the comics and this film franchise as Hawkeye, archer extraordinaire. That said, it's become common in the comics for multiple individuals in the comics to share the same superhero identity, Hawkeye being one of them. A new Endgame trailer dropped today, and there's a moment that has us wondering if someone new will be taking over the Hawkeye mantle in the MCU.
What little we've seen of Clint Barton in the Avengers: Endgame previews so far have indicated he's going through a particularly rough time post-Decimation. After all, he'd already retired from the superhero life at the end of Avengers: Age of Ultron, and after picking his bow and arrows back up during Captain America: Civil War, he was imprisoned and made a house arrest deal so that he could be with his family. But once again, he's back in the field, this time with a drastically different costume and a mohawk. Many people have assumed that Clint's wife and children were turned to dust along with half of all other life in the universe, which explains his new look and darker demeanor, but that has yet to be confirmed.
However, there's one brief moment of happiness for Clint Barton in the latest Avengers: Endgame trailer, as he's shown have a good time with a girl showing off her own archery skills. Check it out:
At the very least, this snippet highlights a happier time in Clint Barton's life, either in the past or potentially in the future, assuming he makes it out of Avengers: Endgame intact. But this is the MCU; the smallest of moments can be teases for something bigger to come later. In this case, perhaps Clint training this young woman in archery means that she'll take over as Hawkeye in the coming years. In other words, is the MCU bringing in Kate Bishop?
Created by writer Allan Heinberg and artist Jim Cheung, and introduced in 2005's Young Avengers #1, Kate Bishop, who comes from a rich Manhattanite family, encountered the Young Avengers as a civilian during one of their early missions, but it didn't take long for her and Cassie Lang, daughter of then-Ant-Man Scott Lang, to find the superhero team and invite themselves on as members. Initially Kate wore a variety of battle gear that belonged to various Marvel heroes and villains, including Hawkeye's bow.
Although the main Avengers team demanded that the Young Avengers disband, Kate and the others refused, and when member Patriot was injured in battle, Kate blamed Captain America for he and Earth's Mightiest Heroes not taking the time to train them. Impressed by Kate standing up to Steve Rogers, and noting that the only other person she'd seen do that to the Star Spangled Avenger was Clint Barton, Jessica Jones gave Clint's old bow and arrows to Kate, leading to her becoming the new Hawkeye.
After Kate Bishop inherited the Hawkeye codename, Clint Barton was resurrected from the dead and had decided to wear Captain America's uniform and shield since Steve Rogers had "died" after the Civil War conflict. Crossing paths with Clint, Kate, unaware of who he truly was, berated him for wearing Cap's costume, noting that even though she's going by Hawkeye, she didn't copy his costume because that would have been disrespectful, and if Hawkeye were still alive, she would have taken a different codename too. Her words inspired Clint to go down his own path and become Ronin, and later he revealed his true identity to Kate and gave her his blessing to continue as Hawkeye. Clint would later revert to go back to Hawkeye, but Kate still holds that mantle as well, and the two have become crimefighting partners.
The MCU hasn't delved into the concept of legacy heroes yet, but with Avengers: Endgame concluding the current iteration of this franchise and paving the way for a new era, that could change. Unlike Robert Downey Jr. and Chris Evans, Jeremy Renner's MCU future hasn't really been a topic of conversation. While it hasn't been rumored he's done after Endgame, there's also no indication he'll be back for another movie or will lead his own Disney+ series. If Clint makes it out of Endgame alive and his family is brought back as well, one would imagine he'd want to return to his life of retirement. That leaves the Hawkeye mantle up for the taking, and Kate Bishop could easily fill that position, although the circumstances of her and Clint meeting would obviously be much different.
There's also the possibility that it won't be Kate Bishop who takes over as the new Hawkeye in the MCU, but Clint Barton's own daughter, Lila. The problem with this theory is that the timeline, as sketchy as it is, doesn't line up. Approximately 3-4 years pass between Avengers: Age of Ultron and Avengers: Infinity War, and Avengers: Endgame looks to be picking up shortly after Infinity War. But even with that amount of time having passed, Lila doesn't look like she's old enough to be the girl in the Endgame trailer.
That said, there have been plenty of rumors that Avengers: Endgame will visit the future, and it was rumored last year that Emma Furhman is playing an older version of Cassie Lang. Given his hairstyle, Clint obviously isn't his Ronin self in this scene with the girl, so instead, this could is a flash forward to after Thanos has been defeated and everything has returned to normal… well, as normal as things can be in the MCU. If that's the case, then that girl could easily be a teenaged Lila, and thus there's setup for her to become Hawkeye even further down the road.
Whether Kate Bishop, Lila Barton or someone else takes over as Hawkeye in the MCU, or if we'll even get a new Hawkeye, just like with the other starring heroes in Avengers: Endgame, this story will be a major turning point for Clint Barton. This is clearly a dark time for him, and while he was lucky enough to survive The Decimation, there's no guarantee he'll make it out of this latest mission alive. Still, I'm leaning towards Clint surviving, and if even if we don't see Jeremy Renner in another MCU movie after this, his character's left behind a notable heroic legacy, and it would be cool for a young woman, whoever she may be, to step in and continue where he left off as part of a new generation of heroes.
Avengers: Endgame opens in theaters on April 26, so stay tuned to CinemaBlend for continuing coverage. In the meantime, look through our Marvel movies guide to learn what's lined up for Phase 4 and our 2019 release schedule to learn what other movies are coming out later this year.
Connoisseur of Marvel, DC, Star Wars, John Wick, MonsterVerse and Doctor Who lore. He's aware he looks like Harry Potter and Clark Kent.
Your Daily Blend of Entertainment News
Thank you for signing up to CinemaBlend. You will receive a verification email shortly.
There was a problem. Please refresh the page and try again.