Dumbo Box Office: The Baby Elephant Doesn't Quite Soar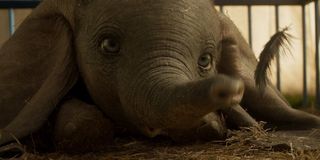 Disney has pretty much every one of its major brands in operation this year - with Marvel, Pixar, and Walt Disney Animation all putting out big titles - but one area where the studio is really going all-in this year is with its live-action remakes of animated classics. There are a total of four titles being released between now and the end of December, with movies including The Lion King, Aladdin, and Maleficent: Mistress of Evil, but after this past weekend one wonders if there might be some concern growing. Because while Tim Burton's Dumbo did nab the top spot at the box office, it's numbers aren't exactly spectacular. Check out the Top 10 below, and join me after for analysis!
Overall this was a strong weekend at the box office, and Disney is seeing cash rolling in from two of the top three movies in the country, but the studio certainly must have had higher expectations for Dumbo. Prognostications from earlier this month estimated that the three day haul for the elephant-centric family feature would be around $50 million, and it's not wonderful that the film fell $5 million short of that bar. It's worse when you consider that the first predictions suggested a high end of $65 million.
Those estimates were proven to be too high, but when you look at the numbers, it's not hard to figure out why the pros were a bit off. Disney has been having a tremendous amount of success in recent years with their live-action remakes of animated classics, and with the exception of the 2016 sequel Alice Through the Looking Glass they all arrived with strong openings. Prior to the release of Dumbo, the lowest first weekend total was Kenneth Branagh's Cinderella, which made $67.9 million back in March 2015. That film wound up making over $200 million domestically - but at this point it doesn't look like the 2019 release will be crossing that particular milestone.
It's definitely all far from doom and gloom, however, thanks to a few positive factors. For starters, while Dumbo received a mostly tepid response from critics, those who went to go see it seem to be digging it, and delivered it an "A-" on CinemaScore. As for the numbers, the film is also obviously going to get a big boost from international ticket sales. It has already made over $70 million from foreign markets. So while it won't be the billion dollar hit that Tim Burton's Alice In Wonderland was back in 2010 (arguably the release that fueled this entire trend), it still will be a profitable release for Disney.
Sticking with the Mouse House for a minute, while Dumbo may not wind up being a member of the three comma club, Anna Boden and Ryan Fleck's Captain Marvel absolutely will. And while the film didn't quite get there this weekend, it most definitely will be happening in the next few days. The ticket sales abroad over the last three days, as well as the $20.5 million it made here at home, have now brought its global total to $990.6 million. To put that in some perspective, that means it is now the seventh most successful Marvel Cinematic Universe film, having passed the $880.2 million that Spider-Man: Homecoming made in 2017. What's more, it's not entirely out of the question that it could wind up beating Captain America: Civil War as well, which made $1.2 billion three years ago. That's one hell of a launch for a hero expected to play a massive role in the franchise going forward.
Jumping back to the number two slot, Jordan Peele's Us had a solid, if not unspectacular second weekend, dropping about 52 percent and adding $33.6 million to its domestic total. Not only was the money more than enough to push the film across the $100 million mark, but it also now looks like it is indeed on pace to make more money at the box office than Peele's Get Out did in 2017. The director's sophomore effort did have a budget four times the size of its predecessor - $20 million vs. $4.5 million - but that's basically negligible when you consider the numbers that the release is ultimately looking at. Factoring in the money from outside North America, it's already gone north of $174 million, and one nice trick it has in its back pocket is that it's a feature that begs to be seen more than once. There is no questioning Peele's status as a blockbuster director at this point, and expectations are only going to get higher for whatever he does next.
What's also helping take a bit of heat off of Dumbo is the disappointing release of Harmony Korine's The Beach Bum - which sadly now exists as the worst opening of Matthew McConaughey's career, and is the second big disappointment for the Oscar winner this year following the release of Serenity back in January. The movie had a much smaller release than most titles found in this weekend's Top 10, only showing in 1,100 theaters nationwide, but it doesn't exactly have a high per screen average either. It's not all-together unexpected, as the film got a fairly tepid response when it premiered a few weeks ago at SXSW, and that buzz has been consistent since. Still, it won't look good in the history books next to Korine's last feature, Spring Breakers, which made a surprising $31.7 million in its worldwide theatrical run back in 2013.
Looking ahead, we should see some major shake ups in the Top Five this week, as we are about to see some anticipated features arrive in wide release. The first is another dose of kick-ass superhero action, this time arriving in the form of David F. Sandberg's Shazam! (which is looking at a three day total between $40 and $45 million, and is expected to become the new number one movie in America). Also arriving, though, is the latest Stephen King adaptation: Kevin Kolsch and Dennis Widmyer's Pet Sematary - which could not only steal some attention from the new DC Extended Universe feature, but also Us. How will things shake out? You'll have to come back next Sunday for our box office column to find out.
NJ native who calls LA home; lives in a Dreamatorium. A decade-plus CinemaBlend veteran; endlessly enthusiastic about the career he's dreamt of since seventh grade.
Your Daily Blend of Entertainment News
Thank you for signing up to CinemaBlend. You will receive a verification email shortly.
There was a problem. Please refresh the page and try again.