The Lion King Live Action Movie: Here's What We Know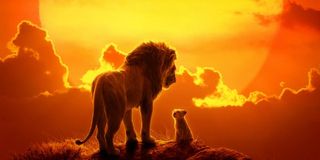 Disney has an impressive library of animated movies, but since the start of the decade, the studio has been selecting numerous tales from this collection to adapt for live action. This includes using the best special and visual effects the movie-making industry has to offer to achieve a live action look for Disney movies that couldn't be fully or partially adapted in traditional live action. The Jungle Book did that in 2016 with everything that wasn't Mowgli, and following in its footsteps is The Lion King, arguably the biggest hit from the Disney Renaissance era.
The 1994 Lion King is still one of Disney's most popular releases, so this "live action" remake has its job cut out to come anywhere close to the legacy its animated predecessor has built up. That being said, the news surrounding the movie indicates that this is shaping up to be one of the studio's most ambitious projects. With that in mind, we've gathered all the details that have been released so far about The Lion King so you have a better idea of what to expect from this new journey into the Pride Rock kingdom.
What Have We Seen From The Lion King?
It took a while, but after getting a teaser in late November 2018, we finally got the full trailer for The Lion King in early April 2019, and, as you can see from the above video, it gave fans of the original a good look at how the characters in this version will fulfill all our dreams of the classic. Got chills yet?
What Is The Lion King's Release Date?
The Lion King will be released in theaters on July 19, 2019, a little over 25 years after the animated movie was released. Disney's recent live action remakes have traditionally come out between March and May, so putting Lion King in the latter half of the summer movie season is an interesting move. The main reason for this is likely because Dumbo already came out on March 29 of this year, and Aladdin debuted on May 24, so this gives each remake a bit of breathing room.
Of course, this is Disney we're talking about; the studio's track record with movies in the summer (even if it's more on the commercial side than the critical) is typically great. Plus, the original Lion King movie remains one of Disney's most popular animated releases, so you can be sure that audiences will come out in droves to see this new adaptation. So, the July release date probably won't affect The Lion King's performance negatively, and it doesn't seem that this will change, since no other studio has scheduled its own highly-anticipated blockbuster for that same opening weekend.
What Is The Lion King's Rating?
It took a while for us to learn what The Lion King's official MPAA rating would be, but looking at the studio's other live action remakes and the target audience, we were able to logically surmise that it would end up being a PG feature. Look at 2016's The Jungle Book. That was rated PG for "some sequences of scary action and peril." While The Lion King doesn't have a human as its central character like The Jungle Book did, the animal-centric action from the latter was a good indicator that the former would earn a similar rating.
Disney wants this movie to be accessible to almost everyone, so while the remake may have taken some creative liberties to be darker than its predecessor, the studio wouldn't risk making it PG-13. The Lion King has been rated PG "for sequences of violence and peril, and some thematic elements." So, it might be wise to leave the little ones at home and let them enjoy the animated Lion King for a few years before exposing them to this more intense version.
The Lion King's Director
Jon Favreau kicked off his directing career with 2001's Made, and he followed that up with 2003's Elf and 2005's Zathura. 2008's Iron Man, however, marked his biggest blockbuster venture yet, and, along with 2010's Iron Man 2, he helped lay the groundwork for what the Marvel Cinematic Universe would become in later years. After scaling back his MCU duties, Favreau kept the blockbuster train going with 2011's Cowboys and Aliens, and three years after that, he released the acclaimed comedy-drama Chef, which he also wrote and starred in.
This brings us to 2016's The Jungle Book, which was one of Disney's biggest hits of that year and no doubt the reason Favreau was tasked with tackling The Lion King before The Jungle Book 2. Favreau has proven he can deliver a compelling story revolved around realistic-looking, talking animals, so giving audiences a good Lion King re-telling should be no sweat for him.
Is The Live Action Lion King A Musical?
Disney's live action remakes have varied in terms of how closely they match the animated movies they're based off of. Some are straightforward adaptations that have taken a few creative liberties, like Cinderella and Beauty and the Beast. Others have been significantly different from their animated predecessors, like Maleficent and Alice in Wonderland.
It remains to be seen how much of the live action Lion King's plot will deviate from the original movie, but it's been confirmed that this new version (which is being penned by Pirates of the Caribbean: Dead Men Tell No Tales writer Jeff Nathanson) will remain a musical that features songs that we remember Simba and the gang belting out. Like Beauty and the Beast, The Lion King remake has thrown in an original tune to add extra flair, and, as a side note, Hans Zimmer has also been brought back to score the remake. Here's the complete soundtrack list:
Simba
After J.D. McCrary from K.C. Undercover is done voicing young Simba in The Lion King remake, Donald Glover will take over as the adult prince. Some of you may know Glover better as the rapper Childish Gambino, but since the start of the decade, Glover's acting profile has soared to impressive heights. For years he was primarily known as Troy Barnes on the TV series Community, but since then, he's appeared in big movies like Magic Mike XXL, The Martian and Spider-Man: Homecoming, and he also played Lando Calrissian in last year's Han Solo movie.
Glover has also been keeping his foot in the TV world through his work on the Emmy-nominated Atlanta. Even though we won't see his face, Glover appearing in The Lion King (and following in Matthew Broderick's footsteps) will be a good way for him to reach a younger demographic that isn't old enough to watch his other work.
Mufasa
The Lion King remake has only brought back one actor from the original movie, but of all the original performers who could have returned, no doubt this is the person most people wanted back for a reprisal. James Earl Jones will be voicing Mufasa again, and this is a solid choice. Jones' voice is one of the best in Hollywood, and if he's willing to bring life to the king of Pride Rock for a second time on the silver screen, then all power to him. This is the second character that Jones has recently revisited, as he reprised Darth Vader in Rogue One: A Star Wars Story and the Star Wars Rebels TV series.
Nala
It's now official: Beyonce has snagged the role of Nala, taking over once Shahadi Wright Joseph from Hairspray Live! is through voicing the lioness. It was reported at the end of March 2017 that Beyonce was Favreau's top choice to voice Nala, but at the time, she hadn't made a decision about accepting the role because of her pregnancy. By August 2017, Beyonce was said to be nearing a "huge deal" to portray the lioness, and months later, she was finally announced as part of the cast.
We also know that her involvement won't just be acting-related. She was reportedly in talks to produce The Lion King's soundtrack, filling the same position that Elton John did in the animated movie. While that doesn't seem to have come to pass, she will be singing at least one song for the remake. With a colossal production like this, her talents will be incredibly valued.
Scar
Having signed on the dotted line, Chiwetel Ejiofor will succeed Jeremy Irons as the voice of Scar in The Lion King remake. This will be Ejiofor's first foray into voice acting, but his face has become all too familiar on the Hollywood circuit. Some of you may remember Ejiofor's earlier appearances in movies like Love Actually and Kinky Boots, but he scored worldwide acclaim in 2013 with his performance as Solomon Northup in 12 Years a Slave.
Since then, he's had major roles in The Martian, Triple 9 and Doctor Strange. Ejiofor typically plays good guys on the big screen, but with that deep voice of his, we have no doubt he can deliver an intimidating Scar to the masses.
Timon
Simba left Pride Rock at a young age, but, thankfully, he has two figures to guide him into adulthood and give him a unique perspective on life. One of those animals was Timon, who was originally voiced by Nathan Lane. For the remake, Billy Eichner will take over as the meerkat, whose voice is just as memorable as Lane's, albeit in a different way.
Eichner is best know for playing Craig Middlebrooks on Parks & Recreation and Bill Epstein on Difficult People, as well as for chatting up New York City pedestrians on Billy on the Street. With Eichner playing Timon, we can't help wondering if this version of the character will be louder as he's explaining the merits of Hakuna Matata.
Pumbaa
You can't have Timon without Pumbaa right by his side, and while Ernie Sabella has continued to voice the flatulent warthog in various Lion King spinoff material, Seth Rogen will take over for the remake. While Rogen is famous for being one of Hollywood's top comedy actors, most of his movies definitely aren't family friendly (don't be fooled by Sausage Party).
However, he did voice Hogsqueal in 2008's The Spiderwick Chronicles, B.O.B in 2009's Monsters vs. Aliens and Mantis in 2016's Kung Fu Panda 3, so he can build off those performances with The Lion King to broaden his reach to younger moviegoers. They'll still have to wait a few more years to see what he does in live action, though.
Zazu
Even great rulers need help running their kingdoms efficiently, and Mufasa was fortunate to have the hornbill Zazu aiding him. Rowan Atkinson breathed life into the uptight majordomo in the original Lion King, and for the remake, John Oliver is taking over as the bird-brained confidant. Oliver is primarily known for his political comedy work on The Daily Show and currently with Last Week Tonight, but he's also built an impressive resume of voice work, from Bob's Burgers to Rick and Morty to the first two Smurfs movies. We're confident Oliver can deliver a stellar performance as the new Zazu, so he shouldn't ruffle any feathers.
Rafiki
Another member of Musfasa's "staff" is Rafiki, the mandrill who serves as the shaman of Pride Rock. The late Robert Guillame's version of Rafiki is best remembered from the animated Lion King for holding up the baby Simba for all the animals in front of Pride Rock to see. For the live action remake, Captain America: Civil War's John Kani will take over as Rafiki, and we're confident that he'll remain an important ally to both Mufasa and Simba. The big question is if Rafiki will be just as eccentric as he originally was or if he'll be toned down for this re-telling.
Sarabi
Simba's mother, Sarabi, didn't have nearly as much to do in The Lion King as daddy Mufasa did, but her presence was nonetheless valued. We're hoping that Alfre Woodard's version of the lioness will have more to do in the remake than Madge Sinclair's version did (maybe she can more actively aid Simba in overthrowing Scar). Regardless, Woodard is still a welcome addition to the cast. Her recent credits include State of Affairs, Luke Cage, Burning Sands and A Series of Unfortunate Events.
The Hyenas
The final characters on this list are Scar's goons, the hyenas Shenzi, Banzai and Ed. Whoopi Goldberg, Cheech Marin and Jim Cummings voiced the trio, respectively, in the animated movie, and their realistic-looking counterparts will be played by Emerald City's Florence Kasumba, Man Seeking Woman's Eric Andre and Key & Peele's Keegan-Michael Key. However, while Kasumba's hyena is still named Shenzi, Andre and Key's hyenas have been renamed Azizi and Kamari, respectively.
It's unclear why there's been a name change, but let's not discount that they might be significantly altered in other ways. Perhaps the hyenas' comedic tendencies will be toned down in favor of making them scarier. The footage we've gotten so far from The Lion King hasn't given us a better idea of how they'll fit into the movie, but at the very least, you can expect them to continue carrying out Scar's will and to drop some sass while doing so.
The Lion King is just a little over a week from opening now, so be sure to bookmark this guide and stay tuned to CinemaBlend for important updates on Disney's live action remake!
Your Daily Blend of Entertainment News
Connoisseur of Marvel, DC, Star Wars, John Wick, MonsterVerse and Doctor Who lore. He's aware he looks like Harry Potter and Clark Kent.
Your Daily Blend of Entertainment News
Thank you for signing up to CinemaBlend. You will receive a verification email shortly.
There was a problem. Please refresh the page and try again.